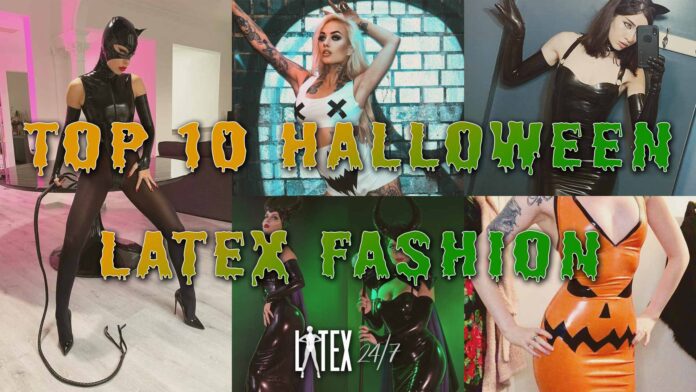 It's that time of the year already where thoughts to turn spook, witchcraft and ghostly ghouls. It's also a top excuse (like we need one!) to dress up and party, so take a look at our super-shiny rundown of the Top 10 Halloween 2020 inspired latex fashion outfits this spooky season
Did you know, you can now keep up to date with all the latest latex fashion news from Latex24/7 via the Google News App? Just head over to our publication or search "Latex24/7" in the app on your smartphone or tablet.
10. Miss Grey Latex Fashion has produced a stunning latex dress in an eye-popping orange and black colour scheme, with added bat emblems, perfect for the Halloween season. Photo by the talented Micha Beckers.
9. German latex fashion designer, Ausrie Felice, is responsible for this fantastic inverted cross set. Worn here by Caoili, this awesome set features a skirt and top with laser cut sleeves. Very sinful!
8. Twitch streamer and cosplayer norafawn channelled her inner pussycat for her Halloween inspired latex fashion this year. The social media star wore a purrfect black dress and gloves from Bright and Shiny Store teamed with a cute pair of kitty ears and mask.
7. Nothing says Halloween quite like pumpkins so we are totally in love with this unbelievable dress made by the hugely talented Velvet Rose Latex. The gorgeous latex dress features a wonderfully fearsome pumpkin carved face, absolutely perfect for this time of the year. Anyone for pumpkin pie?
6. Proof that the devil does indeed wear latex fashion! This eye-catching set, made in stunning devilish red, was made by Eustratia Latex features a wonderfully designed pair of hot pants and a matching low-cut jacket. This image certainly gives us the creeps.
5. Nothing creeps us out more than spiders (Icky!!) but we absolutely adore them when worn by the gorgeous Miss Mandy Motionless. Mixing traditional Halloween colours with everyone's least favourite arachnid is a winner for us. Latex dress designed by the huge talent over at Fetasia Latex.
4. Channelling her inner Morticia Addams, it wouldn't be a Halloween inspired latex fashion rundown without the stunning Amanda Holden wearing the unbelievable designs of William Wilde.
3. No Top 10 countdown is ever complete without including cosplay extraordinaire Purplemuffinz, and this Halloween is no different. The highly talented creator and designer self-crafted a stunning Maleficent outfit for this years season.
2. We just absolutely adore this phenomenal set from latex festival designers EXALTme. Totally perfect for any Halloween party, the set features a wonderful pair of high-waisted hot pants and crop top with spooky details.
We may have already featured Catwoman in the countdown (but with no Michelle Pfeiffer in sight) but when there is something as good as this it's rude not to. Jessica Goicoechea wears latex bodysuit, gloves and mask from the fantastic Coco Latex.
Be sure to let us know, in the comments section below, which is your favourite Halloween inspired latex fashion outfit.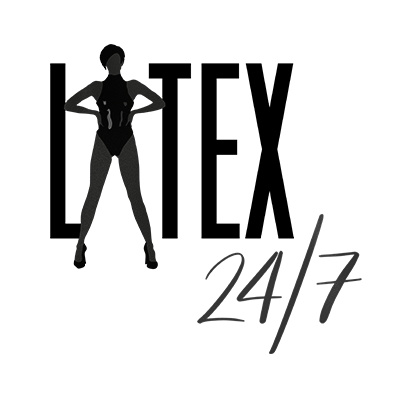 We're here, around the clock, bringing you the latest and greatest celebrity, designer, blogger, vlogger and modelling latex fashion news and reviews from around the world. If it's shiny then we'll be covering it!