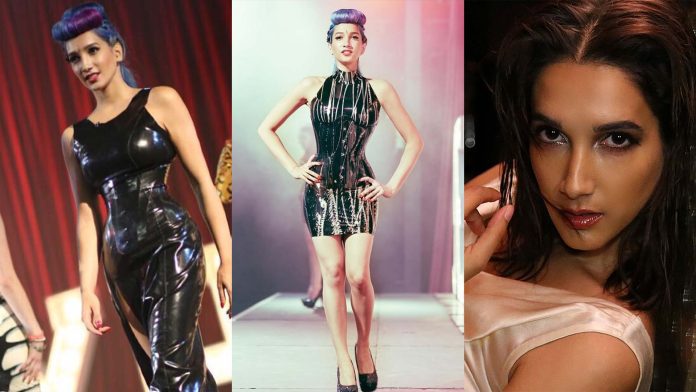 In little over nine years, SUKKI has gone from being an IT worker based in the UK to becoming an award-winning burlesque artist and club owner in Singapore, a global streaming television star thanks to her appearances on Portobello Film Festival's Nights of Burlesque, LatexFashionTV and Netflix's Singapore Social, and a women's rights activist. She even once got to enjoy tea, by royal appointment, at Buckingham Palace! Embodying a wealth of cultures (she is part Keralite, half Singaporean and half British) the multi-talented performer and entrepreneur, who you may know best as "Sukki Singapora" or "Sukki Menon," has forged her own path in a bid to break 'taboos'.
We spoke to her recently about her career, her charity and humanitarian work and, of course, her love and admiration of latex fashion and how her appearance on LatexFashionTV helped to cement her delight in appearing in front of the camera.
Have you followed the Latex24/7 Instagram page yet? Be the first to hear about new articles and content straight from your IG feed. Head over to our IG page to follow us.
Q: Millions of people around the world will know you as Sukki Singapora, the burlesque dancer. How did you first discover burlesque and become so involved in the art form?
A: I discovered burlesque through vintage fashion (the two tend to go hand in hand) and I discovered vintage fashion as part of a quest to fit in. Fitting in has historically been a struggle for me being both biracial and multicultural. In Singapore I was "too pale" to be fully Indian Singaporean, in the UK I was "too brown" to be fully British. This made childhood extremely tumultuous when it came to grounding myself with an identity. Discovering vintage fashion released me of that. The vintage fashion scene didn't care where you were from, or what you looked like, it was all about being part of a community. Through that I stumbled across burlesque, and immediately knew I wanted to try it. It was everything I needed at that time: a way to express myself, the creative outlet I wasn't encouraged in pursuing as a child, and the discovery and ownership of my sexuality and body confidence as a woman, which is so often a taboo in Asian households such as mine. Burlesque gave me a medium for which to express myself. It was an exhilarating art form, yes, but more than that it was a symbol of freedom.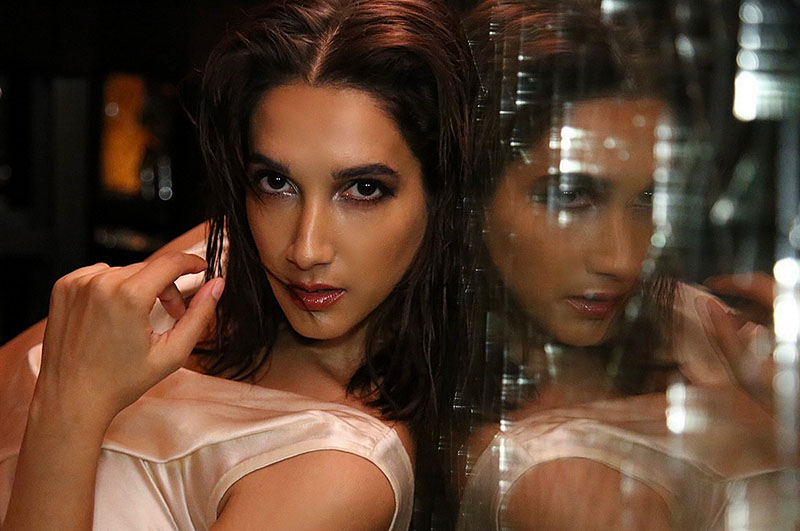 Q: Once you had gained the experience and notoriety of being a burlesque dancer, you returned to Singapore and became the prominent voice to legitimise the art form in the country. This led you to perform the first full striptease routine in Singapore in January 2015. What experience, and struggles, as well as satisfaction did you get from achieving this and how do you feel this has helped you in your career?
A: I must confess, I didn't start burlesque to make a difference to others, I was trying to find myself. But as I grew as an artist, and saw that it wasn't just me who had been repressed, but that there were so many of us, I was moved to become impassioned to help others. I've always been a passionate person, but I think seeing others not be allowed to reach their full potential, which is how I felt about my own existence at the time, just ignited something in me to fight. It really shaped me as a human, and morphed into my purpose, which I suppose is what I execute when I navigate my career. When I won, and burlesque became accepted in Singapore as a legitimate art, I realised that helping others didn't stop there, and so really it turned into the driving force behind everything I do. Of course there's an element of wanting to express myself as an artist, whether or not people understand my art, but overall I live to serve. The purpose of life is to create purpose, and this has become mine. It's also allowed me to have this "take it or leave it" mentality about my career. I enjoy what I'm doing more than anything, and I want it very much, but equally, if I lost it all, I have found a greater joy that exists outside of stages and television screens.
Q: As well as being the driving force behind burlesque in Singapore, you are also an award-winning activist (winner of a Generation T Award and finalist for the Women of the Future Awards, United Nations Women's HeForShe Impact Awards and the Asian Women of Achievement Awards) and ambassador for many organisations that fight for women's rights and help vulnerable women, especially South Asian women. Can you tell us a little bit about who you are involved with and the work which you do?
A: Right now I'm predominantly involved in three organisations. I'm a global ambassador for The Sharan Project, a UK based charity providing support and advice to vulnerable women, particularly of South Asian origin, who have been or are at risk of being disowned due to abuse or persecution for choosing a life their family or community don't agree with. Part of the responsibilities involve being present as a force for public lobbying or charity events, and also raising awareness whenever and wherever I can, such as this interview! I'm also an alumni of The Women of the Future Programme, which I became involved in after being a nominee and finalist for their award in Arts & Culture. Whilst at the awards I was deeply inspired by their founder, Pinky Lilani, and the way that she seemed to selflessly dedicate her time to raise up other women, as if we were all her children, and that really resonated with me as that's often how I feel: extremely maternal to those around me. So after the awards finished, I continued to support her and the next generation of women who are coming after me. Most recently I travelled to Lithuania to volunteer as a humanitarian aid worker for Asociacija Lygiai, an independent organization currently working to provide urgent female humanitarian aid and resources for Ukrainian women who have been deeply affected by the Ukraine-Russia war – and it is a war. I flew over after I read an article in a newspaper. Right now the world is struggling, and it needs more than performative post-sharing, it needs action.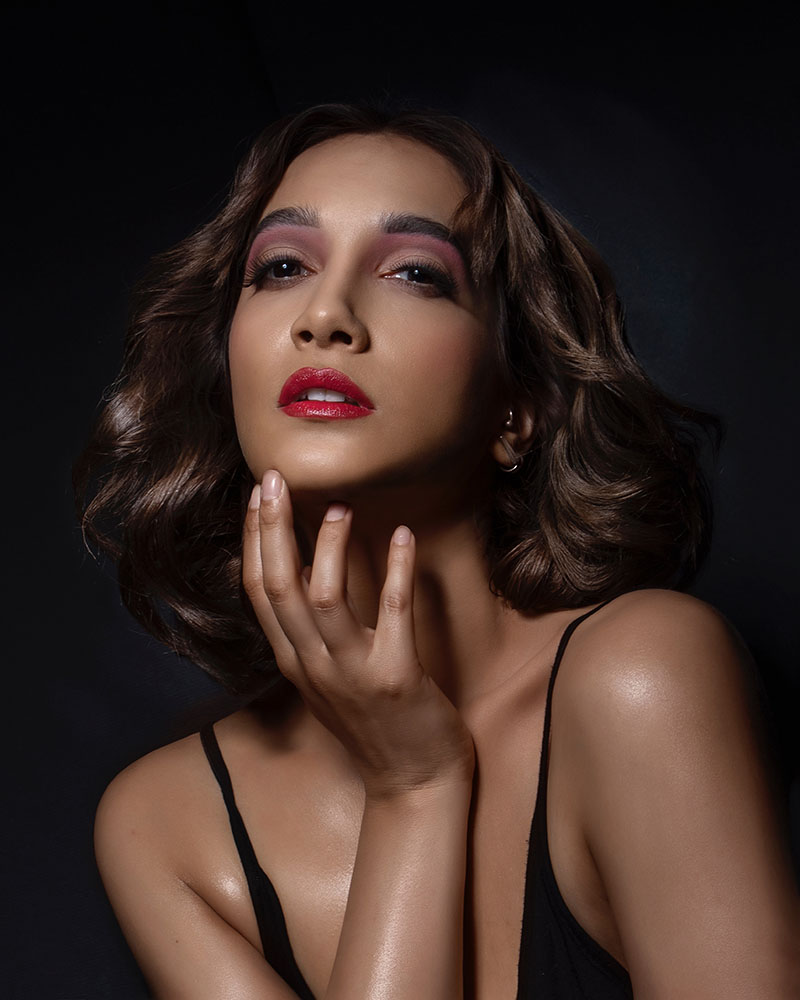 Q: In 2020, you were featured in Netflix's 'Singapore Social' and the name 'Sukki Singapora' became synonymous with burlesque around the world when millions of people watched as you and a group of young Singaporeans push the boundaries of what it means to be from the country. How did this opportunity come about and what was the experience like?
A: Gosh! Thank you. Throughout my career as a burlesque artist, I've always had a sense that this is a tool to reach my final destination: being at peace with myself and expressing myself. Burlesque was a vehicle which helped me travel through a journey of self-discovery, rather than a destination. I only notice it now, but throughout that journey, different things kept pulling me towards film and television. First it was the documentary, Nights of Burlesque, then it was LatexFashionTV, then it was interviews on CNBC, BBC, performing burlesque in film shorts etc. It's as if destiny knew that film and television would be my calling, but I hadn't been brave enough to fully acknowledge it yet. When Netflix approached me, shortly after the movie Crazy Rich Asians came out, suddenly everything made sense. What's more, I don't know if I'd have got that part had I not gone on an incredible journey with burlesque. By pushing the envelope on burlesque and using it to fight for women's rights, in a way that made me the perfect candidate for a Netflix story which wanted to focus on Singaporeans breaking the mould. The experience was a mixture of both theatrics and exhilaration, but what emerged was a certainty of the direction I wanted to take with my career. It's true when they of success "everyone will see it as if it happened overnight," and yet in a full-circle way it's as if my whole life led up to that moment. Now acting – and I'm certain at some point in the future writing/directing – makes so much sense. My life was one big evolution as an artist to inform the way I can deliver this incarnation of my creativity.
Q: As part of performing burlesque, and in 'Singapore Social', you get to wear extravagant and unique costumes and outfits. What impact does this have on you as a person? Do you find it empowering and transformative?
A: Fashion has always been an extension of my personality. I tend to flow through life like a living art installation! My mood often dictates what I wear, but equally, when I wear something, it has the power to dictate my mood. Both my stage costumes and my outfits on Singapore Social did that. It's absolutely transformative to me. When I wear something playful, my body language mirrors that. When I wear something sexy, I feel bold and confident. Fashion does more than just clothe me, it empowers me and possesses me.
Q: Latex is a unique material and totally different from the majority of other fabrics which are commonly used during the making of fashion garments. What was your reaction the first time you ever wore latex clothing? How did it make you feel?
A: Wow yes, it's a completely different medium, which I absolutely love. When I wear latex it's almost akin to wearing a sculpture. It also makes you very aware you're wearing it. Unlike traditional fabrics, the slight unyielding nature of latex definitely makes you hyper-aware of your body. There's sometimes a self-consciousness, depending on what you wear, which turns into something unavoidably performative. You become aware of your angles and how you're holding yourself. I personally used to wear it a lot when I went through my rebellious goth phrase in my teens, however I think a defining moment for me professionally in latex was when I wore it on LatexFashionTV.
Q: Starring on LatexFashionTV, wearing latex during an interview for the channel and appearing in latex on their televised runway shows was a huge moment for latex fashion. What first sparked your interest or first got you involved in latex fashion? How did you discover the material? Was it a personal interest or intrigue, maybe seeing celebrities wearing outfits made from latex, were you approached by a designer?
A: Looking back, I actually think I might have discovered latex fashion through music. I'm a huge fan of music from the 1980s, and back then a lot of music artists brought punk, goth and alt culture into the mainstream. The Cramps, Siousie Sioux, Roger Waters fetishising enemies of war with PVC trench coats in The Wall, then of course there was The Rocky Horror Picture Show – all of these references pulled me in to that scene.
Q: Was the experience of being filmed for LatexFashionTV something which made you feel more comfortable in front of the camera, or gave you more confidence? Do you feel it played a part in Netflix choosing you for 'Singapore Social'?
A: I'm naturally comfortable in front of a camera, even as a child I always used to play up to the camera, but I think LatexFashionTV was just another television project that cemented the desire to make it centre stage to the trajectory of my career. There's performing on stage in a theatre, and then there's performing on stage in a theatre whilst it's being filmed. Whenever the cameras were thrown into the mix, I felt like I was exactly where I was born to be, and I was hooked.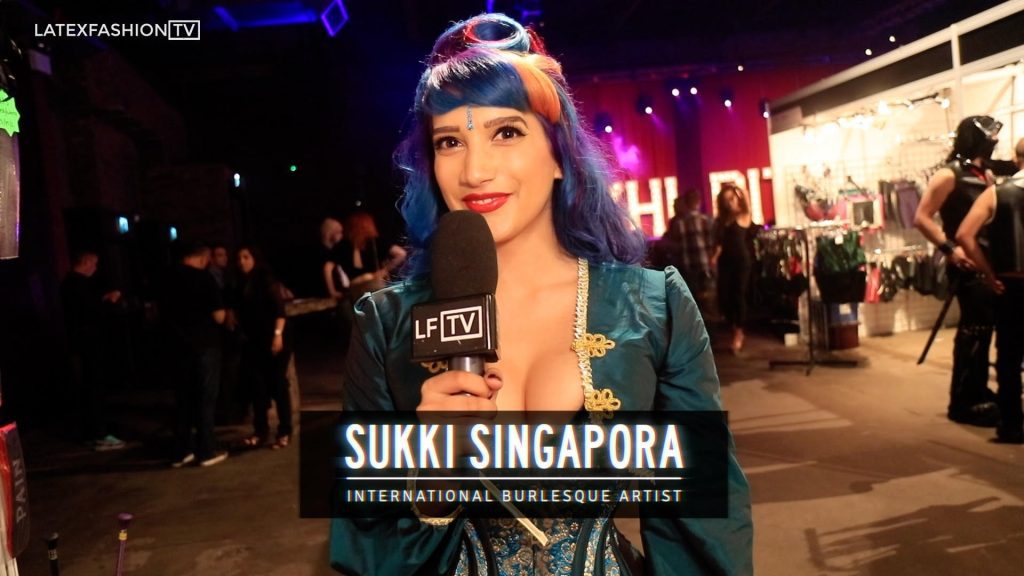 Q: Does wearing latex have the same effect for you as performing burlesque does? Are there any similarities between burlesque and wearing latex clothing? Do you find them both empowering, like a performance or feel that they allow you to be a different person?
A: I mean I guess they're both similar in that both corsetry and latex can sometimes feel quite restrictive haha! However for me both have been like firm hugs. I think latex and burlesque corsetry have a wonderful affect on posture. Wearing both, I find I hold myself with poise, partly because you simply have to with some of the designs!
Q: Which latex fashion brands have you worked, or collaborated with? What were their outfits like to model?
A: I've worked with quite a few, but I think one of my favourites was Yummy Gummy Latex, whom I also wore several times when appearing on the Latex Fashion TV show. I loved their fusion of latex and corsetry, and I also loved that they didn't spare on material when it came to bellowing bias cut skirts. There's something regal and rich about ambitious structural use of latex which I love.
Q: What is the best reaction you have ever received whilst wearing the shiny stuff? How do those not used to latex fashion react? Is it generally positive or negative?
A: Gosh yes definitely positive! I think the best reaction was when I worked with a designer to create my own custom piece for when I was producing events for The Singapore Burlesque Club. I combined latex with a cheongsam, and it was tailored perfectly. It also felt like an amalgamation of modern meets my roots, being Singaporean – we live in a blended society of cultural appreciation, which is quite unique to Singapore, in that Indian kids grow up equally wearing cheongsams as they do saris or kebaya.
Q: Latex fashion has become more and more of a normality in mainstream thanks to the music, film and celebrity industries. Do you see this trend increasing or do you think outfits made using the material will always be a niche item?
A: I think latex used to be pigeonholed into "fetish" and no one dared touch it outside of those parameters. Now, however, it's being celebrated as it deserves to be – as an incredible material for a plethora of design uses. To be honest, I think gone are the days when it was a niche item. I'd like to think it's having its mainstream moment right now, and long may that continue!
Q: What would you say to anyone interested in wearing the material? What would be your best piece of advice for anyone who is thinking of trying latex but hasn't done so yet? What do you feel are the most significant barriers for people who haven't worn latex fashion before? What stops them from taking the plunge?
A: I'd say make sure you stock up on talcum powder!!! But seriously, I think one of the biggest misconceptions are that to wear latex you have to sign up for tight fitting erotic clothing, and that's absolutely not the case. Also latex is for all body shapes and sizes, and there are so many designers out there to pick from. There's also absolutely such a thing as modest latex fashion! Really it's a case of just researching and exploring. I guarantee once you try it, you won't regret having those latex pieces in your wardrobe, and they're super easy to upkeep!
Q: What is next for SUKKI now that you've become a familiar face on television? Are there any upcoming projects in which you will be involved, that you could give us a sneak peek of? Where should we look out for you next?
A: Absolutely! I've got two upcoming television projects in the US, one set in Los Angeles, the other set in New York, and I've also been offered a project I'm quite excited about in Bollywood. Right now it's all about riding that momentum post-pandemic. The gloves are off, and it's back on! I couldn't be more excited.
Here at Latex24/7 we can't wait to see the inevitable huge success of these projects, hopefully including some latex fashion, but whatever happens we can be sure that SUKKI will give it her all! Be sure to follow SUKKI on her social media profiles at Facebook, Instagram and over on her YouTube channel to keep up to date with all her work.
And, don't forget, Latex24/7 has many other latex fashion interviews available right now for you to discover more about the world of latex clothing.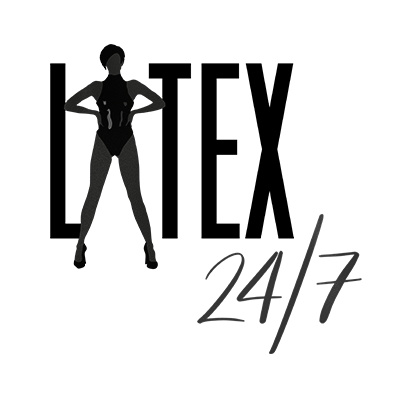 We're here, around the clock, bringing you the latest and greatest celebrity, designer, blogger, vlogger and modelling latex fashion news and reviews from around the world. If it's shiny then we'll be covering it!