Here at Latex24/7 we know you love a good interview, so we recently sat down with the amazing Leora Nyx to talk about her modelling career, love of latex fashion and highlights of her career.  A Sheffield, UK, based latex fashion model, Leora Nyx has worked with some of the most prolific names in the industry and has built up a wide, and varied, collection of latex items.
You can keep up to date with all the latest latex shoots from Leora Nyx via her social media profiles on Facebook, Instagram and TikTok.
Q: Please provide a short overview of yourself and your modelling career so far. For example, when and how did you first get into modelling?
A: I first started modelling at the age of 12, I modelled clothing and accessories but unfortunately no work really came from that. I then decided to knock it on the head for a while. When I was 15 the opportunity came up to do a catwalk for charity wearing lingerie and swimwear. It was then I decided I wanted to pursue modelling more seriously and at the age of 16 I started cosplaying and modelling again, mostly shooting in my costumes and lingerie for fun. My first big modelling job was Sexhibition in 2015 at the of age 19 where I walked for latex101, and again for them at Sexhibition in 2016. Since then I've modelled more and more latex and have built myself quite a nice collection of pieces, my favourite piece being my latex classic Harley Quinn suit which was made by latex101. Shortly after that I took a two year break from it for personal reasons. I still cosplay and model although, I'm just now in 2021 getting to be comfortable in my own skin and getting back out there. I hope to reappear on the cosplay scene next year and as for my modelling I have some fun shoots planned over the coming months. I most recently collaborated with Shhh! Couture.
Q: Can you describe what is involved with a typical modelling assignment? When do discussions begin around locations and themes, what does the day of a shoot normally entail?
A: Well… Where do I even begin with this one? Some days I can get up and just decide I want to do a shoot, and other shoots can take literally months of planning. My most recent shoot with Shhh! for example, we started planning that back in November and I finally got into the studio to shoot it in April! There were several outfits picked out and I had to plan a theme and style for each of them. 5 outfits, 5 different makeup looks and hairstyles, earrings, accessories and props. A typical shoot day starts the night before, when I have to make a checklist, pack everything up and make sure everything is there ready for the morning. I then get up in the morning, do my makeup based around my first planned look and get on the road. Once I arrive at the studio it's a case of unpacking everything and hanging up outfits, laying everything out, makeup, accessories, shiner and hairpieces. Once everything is out on the desk it's time to start and from there on it's non stop, just a mad day of changing outfits and looks. A shoot can last from 3-6 hours depending on how much stuff I need to get through. I've recently started roping my partner in to help me change and shine me, haha. I usually have false nails on and I cannot put my latex on quickly out of pure fear of damaging it. He's a very helpful egg, he even helps me curl and straighten my hair because I can't reach the back of my head. The day usually ends with me throwing on some comfy clothes, taking my makeup off and getting some kind of fast food on the way home.
Q: Throughout a models career there are often standout projects, and shoots, which a model is particularly proud of. What do you feel have been the highlights of your modelling career so far?
A: Definitely modelling at Sexhibition in 2015 and 2016. Without a doubt that is the highlight of my career so far. It was so much fun and gave me a real feel for what it was like to be a real model. Plus, not to mention that Richard and his partner Stewart (the previous owners of latex101) were an absolute joy to work with.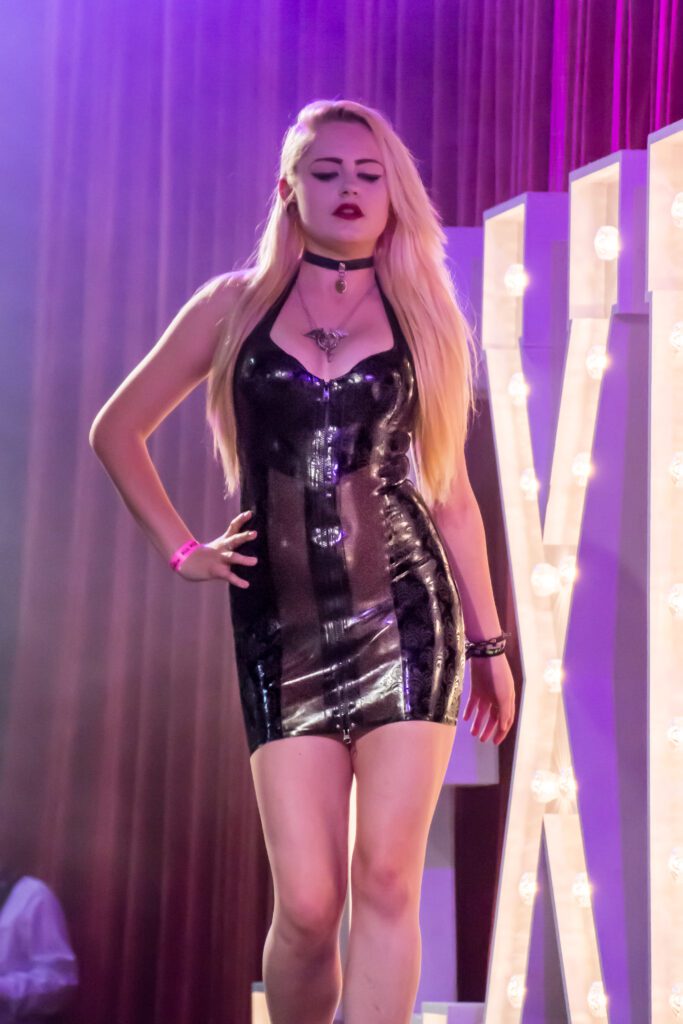 Q: What is it that makes you keep coming back to modelling time and time again? Is it the people, the challenge, the sense of achievement, the positive comments?
A: There's not really one straight answer to this question. I think mostly I just enjoy it, I enjoy the way I feel when I'm in front of the camera. I like to feel pretty and look good, it's a really nice boost to my confidence. I was diagnosed with depression at 13 and body dysmorphia and anxiety when I was 17. I was really badly bullied for almost all of my school years and was always told I was ugly and unattractive. When I modelled during my school years I got so much hassle for it. But then I left school and was determined to stick at it and show my bullies that their words were just that, 'words', and I wasn't going to let them stop me from doing what I wanted to do. A few of them even follow me now and have told me they like my work, which is pretty funny to me. Talking about my mental health issues when I do the sort of modelling I do sounds so backwards when I'm wearing so little on camera, but in my day to day life I really struggle with my body image. I took the 2 year break because I gained a lot of weight and fell out of love with myself. I have now lost the weight (by choice and through a healthy eating) and I'm just starting to feel comfortable in my own skin again. Modelling and cosplay was always in the back of my mind and something I always wanted to go back to, but I just needed time and here we are today, back at it and raring to go! I'm a strong believer in that you should never be ashamed to sit back and take time for yourself if you really need it. At the end of the day, we're all only human and sometimes life gets a bit too much and that's okay. Just take a step back, take care of yourself and in time the hobbies you thought you'd lost love for forever will find their way back to you, if they don't then that's fine too. In summary, I think modelling for me is a really positive and fun way to gain confidence and feel good about myself. I'd also be lying if I didn't admit that the comments and love I get from my followers on social media is quite nice too, who doesn't like to be told they look good? Let's be honest, haha.
Q: Moving onto the world of latex fashion and the wonderful shiny stuff, how long have you been modelling latex outfits and adding the genre to your portfolio?
A: I first modelled latex at Sexhibition in 2015 and I've been in love with wearing latex and shooting it ever since. However, it's only in recent years I've added so many photos to my portfolio as I've been trying to build my collection. I have slowly collected little bits and pieces over the years and now I'm the proud owner of a very pretty collection and I don't intend on stopping adding to it any time soon.
Q: What first sparked your interest or first got you involved in modelling latex fashion garments? How did you discover the material? Was it a personal interest or intrigue, maybe seeing celebrities wearing outfits made from latex, were you approached by a designer?
A: I had been aware of latex since I was in my teens, and I fell in love with latex clothing as soon as I clapped eyes on it. It wasn't until I was a little older when I attended my first fetish event when I was 18 or 19 where I was introduced to some lovely people there and that's when I first really saw people wearing latex out. I loved the feel, the colours, the designs and the shininess, not to mention the sheer variety of garments. I also loved that it was so diverse and seeing all different kinds of people wearing it. This event was actually where I was introduced to Latex101, which is what led me to modelling for them in the future.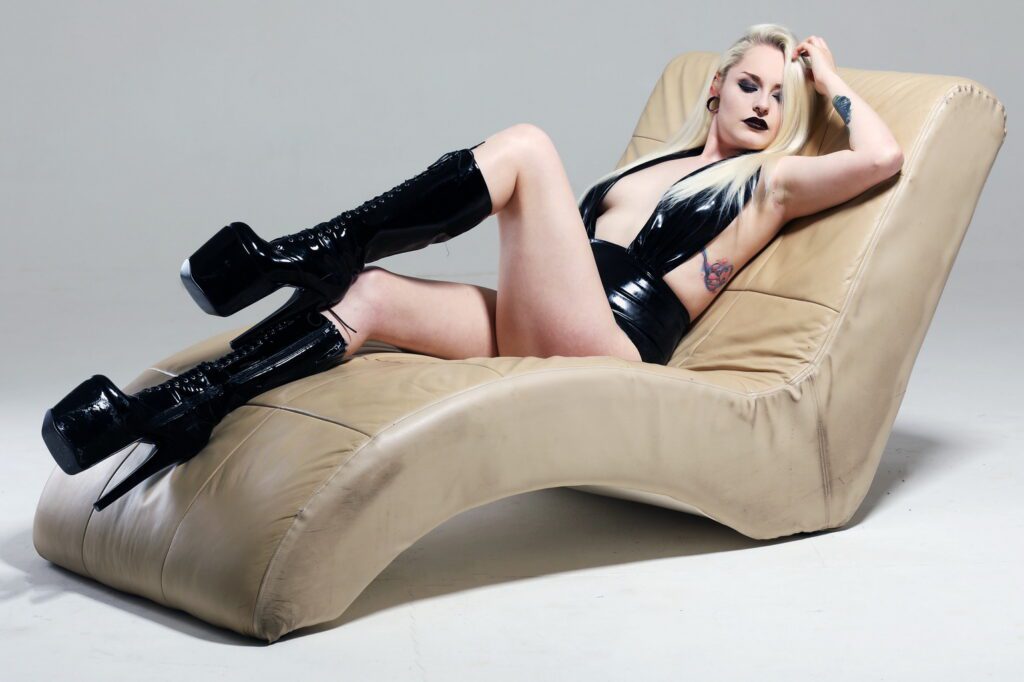 Q: Which latex fashion brands have you worked, or collaborated with? What were their outfits like to model?
A: I first modelled for latex101 as mentioned numerous times already haha. Their dresses were beautiful and all made with the most amazing custom laser-etched latex. Their outfits were a joy to wear and so comfortable, they also fit extremely well. I then did a catwalk for Evie Phury Designs, her pieces were incredibly well made, such fun designs, comfortable and so frickin bright! The other models and I looked like we'd been sneezed on by a unicorn, in the best possible way. Then finally my most recent collaboration was with Shhh! Couture Latex. This designer's pieces were very simple yet stunning and each outfit was very different from the other. They felt great on, and were incredibly easy to style. I had so much fun wearing each and every one of them and I simply couldn't resist buying one of the dresses to keep for my collection.
Q: There are many latex fashion designers around the world who cover a wide and varied range of latex clothing styles. Who are your favourite designers? If you could model for any designer, or any style of latex clothing, what would it be?
A: OOoooo! I'd happily sell an organ to work with any of my top five favourite designers. Seven Sin Latex, Dark Virtue Designs, Lady Lucie Latex, Cathouse Clothing and Jane Doe Latex.
Q: Latex is a unique material and totally different from the majority of other fabrics which are commonly used during the making of fashion garments. What was your reaction the first time you ever wore latex clothing? How does it make you feel?
A: I was only in my teens the first time I put on latex and at the time I instantly felt more grown-up and more like a woman than a girl for the first time in my life. I have always been alternative (apart from a brief 3 week glitch as a chav age 11 but we don't talk about that, I have suppressed that memory). I always loved being different and that's how I've always felt comfortable. But I've never felt as comfortable in my own skin and as sexy as I do when I wear latex. There's just something about when I wear latex that shoots my confidence through the roof. I just love everything about it and the way it makes my body look. I will wear my outfits as often as I can and if I'm given an excuse to wear it I will. Which is one of the reasons I started bringing latex to my cosplaying hobby. I just love it and when I wear it there's always a good reaction from myself and others around me. It also helps that quite a few of my friends are also latex lovers, I love it when we're all shiny together.
Q: With the uniqueness of the material, and like any form of niche modelling, there are often increased challenges which would not be present with traditional photoshoots. What challenges does latex pose for you as a model?
A: There's definitely an increased sexuality involved with modelling latex and a lot of people associate it with the fetish scene. Now, I know a large portion of it is just that and I'm in no way ashamed, a portion of my own latex content is fetishes based. But, I suppose it does sometimes make it look like that's all I do and that's all I'll be good at modelling, I think maybe it sometimes puts clothing brands off working with me. It's a shame because my favourite item of clothing is a hoodie that is two or three sizes too big for me. I think latex can be a little misunderstood too as there are so many beautiful fashion pieces that are made to be styled for nights out and even daily wear and I think that side of latex doesn't get a fair chance.
Q: What do you feel is the main appeal of latex fashion?
A: It's different and looks great on everyone. There are also very few limits on what can't be done with it as a medium. It allows creativity to run wild and leaves the door wide open for custom and one-off pieces that allow you to express yourself and your individual personality. For example, my partner and I recently worked closely with Evie Phury Designs on a custom outfit and the whole experience from starting designs to seeing and wearing the finished product was amazing and so much fun, and I now own a one of kind piece that expresses my favourite colours and weird ideas and I love it.
Q: Who is your biggest influence and who do you respect most in the genre of latex fashion?
A: I don't have one if I'm being completely honest. I've met so many interesting designers over the years and I follow so many others that I haven't met and they all have different things about them and their designs that I love for different reasons. I just couldn't pin down one specific designer.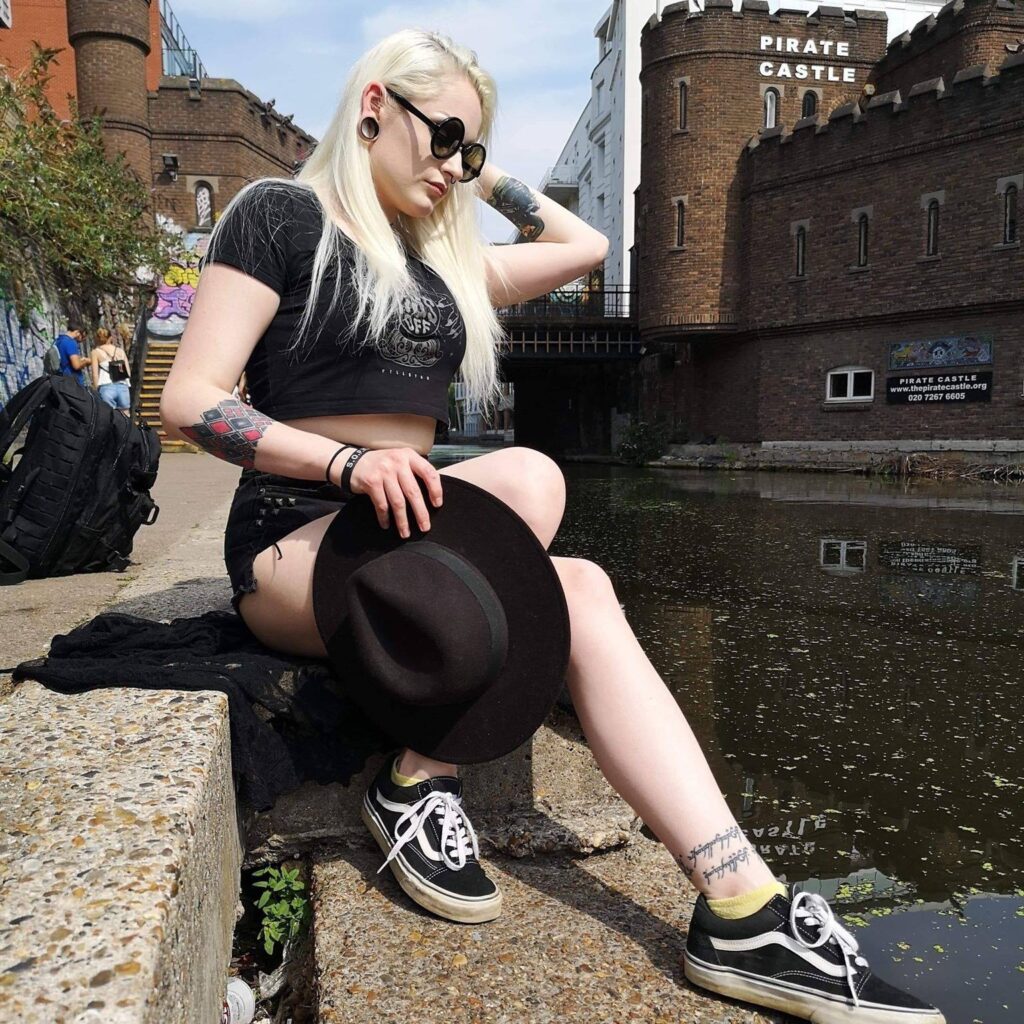 Q: Latex clothing means different things to different people, ranging from the empowering to the outlandish. What does latex fashion mean to you?
A: Body confidence, regular confidence, self expression, creativity, happiness and all-round feeling good and comfortable in my own skin.
Q: What is the best reaction you have ever received whilst wearing the shiny stuff?
How do those not used to latex fashion react? Is it generally positive or negative?
A: I can luckily say I have never had a bad reaction to me wearing latex. I've had a couple of friends make jokes when I was younger and call my dresses "condom dresses" but it's just a joke. The best reactions have probably come from my Classic Harley suit, I debuted it at London MCM October 2017 and I got nothing but love and photos all day. People that aren't used to seeing it, their first reaction is usually "can I touch it, ew its lubey" or "I bet you're really warm". I can tell you now, outside in October, I definitely wasn't warm. I was freezing.
Q: Latex fashion has become more and more of a normality in mainstream thanks to the music, film and celebrity industries. Do you see this trend increasing or do you think outfits made using the material will always be a niche item? Do you feel there will ever be a day when latex garments will be mainstream and can be brought "off the peg" at normal high street stores and shops?
A: I hope not. I don't know if I'm cynical or what haha, but I like it being niche and different. I'd hate it if it became another high street trend. I also feel like it's not something that could become high street as the pieces are so hard to make well and good quality. It would cost far too much money to sustain and provide to the masses, plus where's the fun in being like everyone else?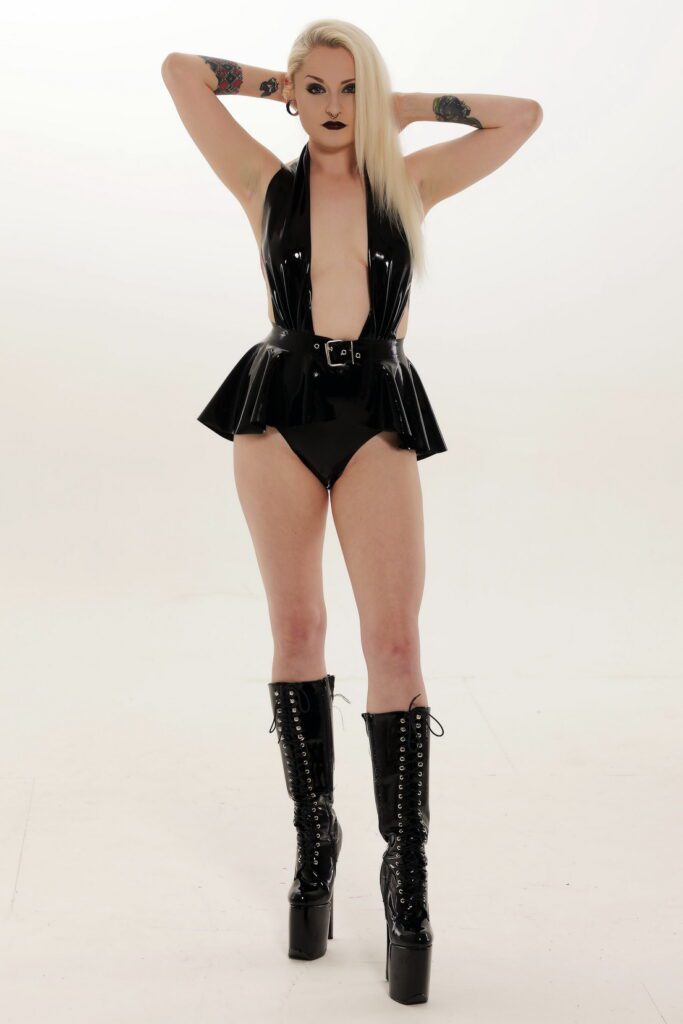 Q: What would you say to anyone interested in wearing the material? What would be your best piece of advice for anyone who is thinking of trying latex but hasn't done so yet?
A: Latex isn't for everyone and it can feel like 'to quote sexy Flanders from the Simpsons', "it's like you're wearing nothing at all," which can be a little unnerving at first. But if you're considering it I would say go for it! Even if you just buy yourself something small to ease yourself in and see if you enjoy it. But be warned latex is very addictive and you can end up with a very full wardrobe very quickly.
Q: What do you feel are the biggest barriers for people who haven't worn latex fashion before? What stops them from taking the plunge?
A: As a latex lover who couldn't wait to get my hands on my first piece, I'm unsure why you wouldn't want to try it, it's great. But I think some people are worried about what other people may think because of certain stigmas that are attached to the latex fashion industry. I also think that some people feel that latex might not suit them or their body shape or they're too old for latex maybe? But at the end of the day… Screw what other people think. It's YOUR body and your body is beautiful. It doesn't matter what size, age or shape you are. You rock whatever you want queen/king! If you want to try latex and you think someone will disapprove, well hunny, you don't have time for that kind of negativity in your life. You do you and take that plunge if you want. People will get over it as soon as they see you looking fierce and if they don't, well that's their loss.
Q: How do you feel is the best way to integrate latex into an everyday "public" outfit. How would you mix it with other materials?
A: A latex bra with some high waisted denim shorts, a shirt or jacket over the top, some socks or tights and some boots. Alternatively, a vest top tucked into a latex skater skirt, some sock plain or fancy finished with some vans also looks cute. But if you want to keep it super low key a simple black latex collar goes with everything.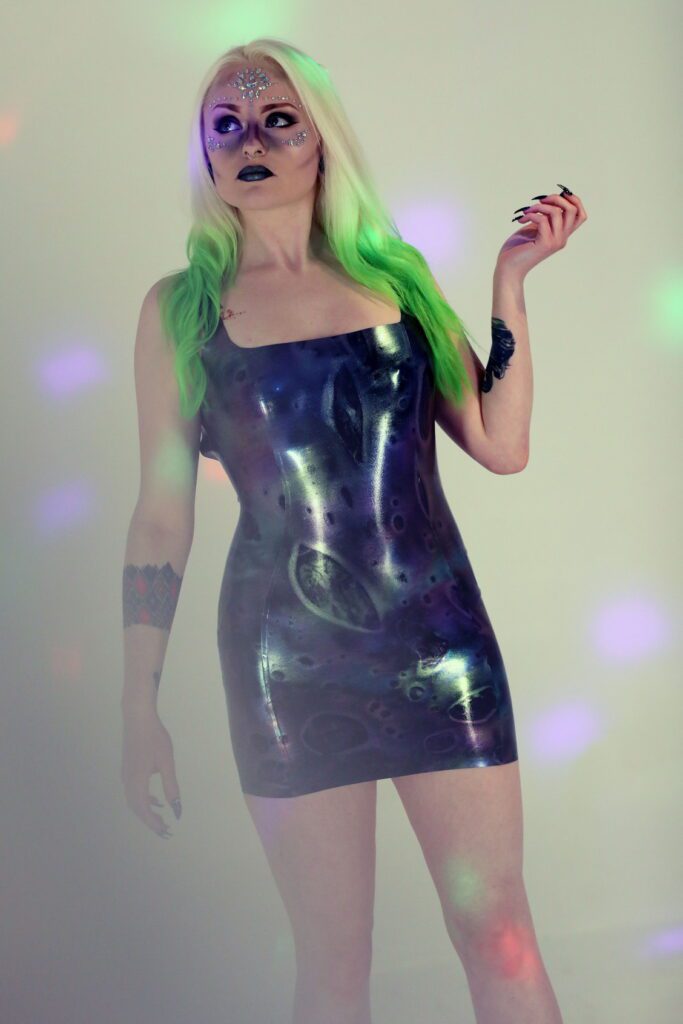 Q: Returning to your experiences of modelling. For models new to latex clothing, or those who are about to shoot in it for the first time, what tips and suggestions would you give them?
A: I never go to a shoot where I'm modelling latex or anything remotely lewd without a chaperone. A chaperone can be anyone you feel safe with, your safety comes first and if something doesn't feel right in your gut, your gut is probably right. Don't ever feel like it's not okay to change your mind or back out of a shoot even if it's at the last minute. Your safety and comfort come first! On the less protective side, don't forget your shiner, dressing aid and talc. Shiner because nobody wants dull latex and dressing aid and talc are a godsend when wiggling into latex. I also find baby wipes or a towel are also an essential for cleaning that talc off your exposed skin so you look clean and shiny. Finally bring your best sassy confident attitude, those things go best with latex and make for the best pictures.
Q: As a professional model, whose image is everything, what is it that keeps you returning to modelling latex clothing?
A: A professional? Me? Haha I'm more like a woman just kind of fumbling from one shoot to the next lol. But on a serious note, and as I've mentioned previously I just love latex and how it makes me feel. It is by far my favourite thing to model, I just love the variety of different styles, colour combinations and fun you can have with it.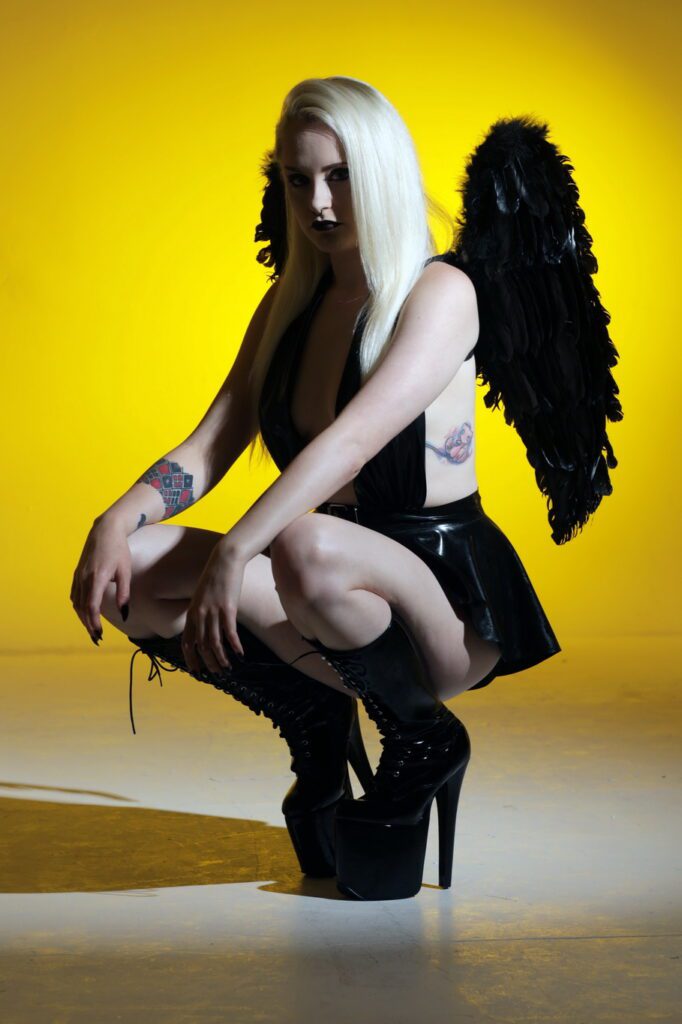 Q: Are there any upcoming projects which you will be involved in, which you could give us a sneak peek of? Where should we look out for you next?
A: I have a few things in the works right now. I have spoken to a couple of latex brands including Affordable Latex and there should be some fun stuff coming in the next year. I also have plans to shoot my toxic waste themed set by Evie Phury Designs and I will be taking some super cool shots soon using some existing outfits from my collection with a close friend and his R33 Skyline (one of my other loves in life is cars). Lastly, I'm working on a super-secret new cosplay outfit with Evie Phury Designs, which if all goes to plan should debut at London MCM in May 2022.
If you'd like to check out a whole host of other latex fashion interviews, check out our shiny interview section frequently.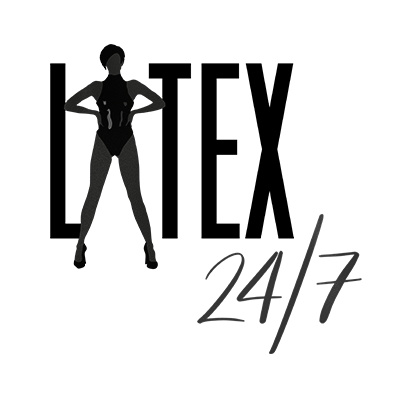 We're here, around the clock, bringing you the latest and greatest celebrity, designer, blogger, vlogger and modelling latex fashion news and reviews from around the world.  If it's shiny then we'll be covering it!