Star of Married at First Sight UK Ella Morgan stunned in a figure-hugging latex dress from Honour Clothing as she attended the Pink News Awards last night.
Did you know that Latex24/7 has its very own YouTube channel?
Subscribe now
for instant access to upcoming shiny latex clothing content.
PinkNews is a UK-based online newspaper covering topics, and raising awareness of issues and prejudice, around the LGBTQ+ community in the UK and worldwide. The yearly Pink News Awards celebrates world-leading progressive thinking and queer culture across entertainment, politics, sport, and business and this year was no exception.
But it was clearly reality TV star Ella Morgan who stole the show as she wowed audiences and social media follows alike with her incredible choice of outfit. Styled by Lucas Marmitage and Megan Boyes, Ella, who was the first trans contenstant on the Channel 4 series, wore an all black buckle halterneck latex dress, which features eye-catching neck straps complete with the afore mentioned buckles and underwired cup to accentuate her curves. This was combined with a matching set of this years must have latex accessory – a pair of seamless elbow length latex gloves adding the final elegant touch and which were both from Honour Skin Two. The stunning ensemble was completed with a pair of Jimmy Choo heels.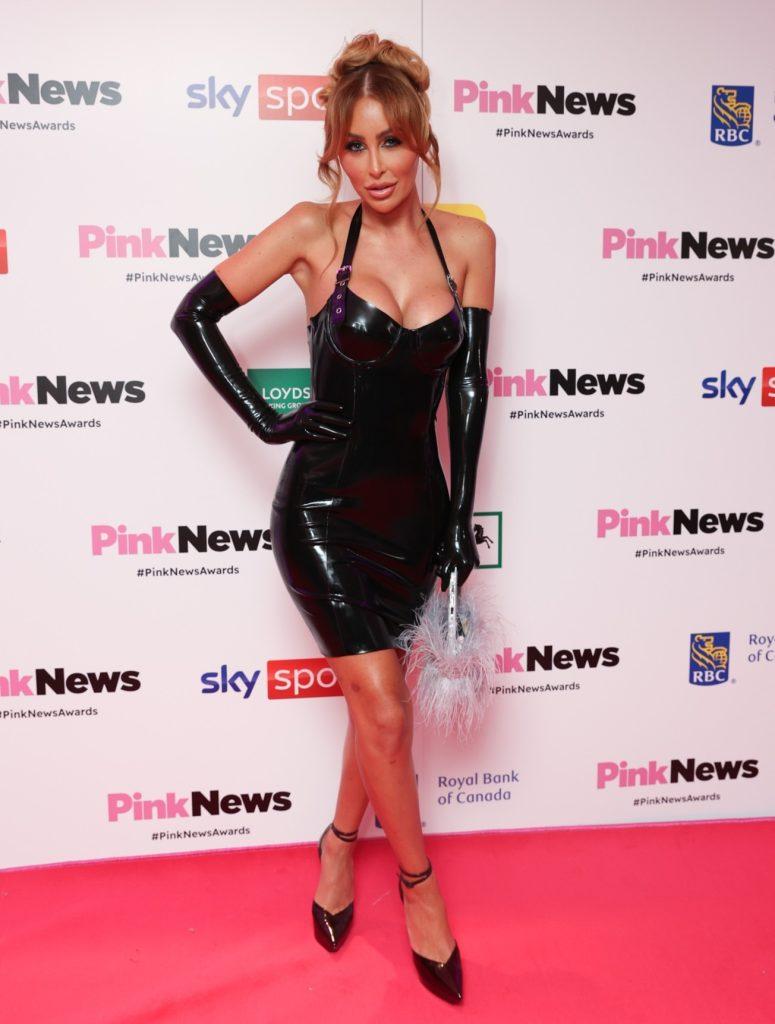 Morgan was clearly relishing the experience as she oozed confidence posing in the reception area of her hotel and just before the awards evening commenced.
Here's hoping this isn't the last time we see Ella Morgan in latex attire.
Get The Latex Look
You too can join the world of latex fashion, or maybe you are looking for something a little different? Then don't forget to check out the Internets largest and most complete
Latex Directory
to find your perfect latex outfit.
Buckle Halterneck Latex Dress

The Buckle Halterneck Latex Dress is stunning - its buckles on the halter neck straps provide a focal feature. The cut of this dress highlights your curves, as the latex clings to your body. The rear entry full-length zip makes putting it on easy, and just as importantly it means you can remove it quickly when the need arises. Perfect for any occasion.

Seamless Elbow Length Gloves

Classic and stylish, unisex, Black Seamless Elbow Length Latex Gloves, an essential item for any fetishist's wardrobe. Available in black, red or clear and in small, medium and large.
And, don't forget, for more celebrity latex fashion news, be sure to check out our specially curated
celeb latex news section
regularly.
About Honour Clothing
Honour Clothing has a rich history and a remarkable reputation in the world of latex fashion. Established in the early 1990s, the brand quickly became a leading brand known for its exceptional quality and attention to detail. With a team of skilled artisans and designers, they have consistently pushed the boundaries of latex fashion, combining innovative designs with traditional craftsmanship. Honour Clothing has catered to a diverse clientele whilst providing an extraordinary and unforgettable experience. Their creations, meticulously handcrafted using the finest latex materials, offer a perfect blend of sensuality, elegance, and avant-garde aesthetics as they continue to captivate fashion lovers and leave an indelible mark on the latex fashion industry.
And for those of you with a more adventurous streak don't forget to check out Honour's partner store, Skin Two, for even more shiny outfits. Read more about the transformation of Honour into Skin Two as we covered it previously here at Latex24/7.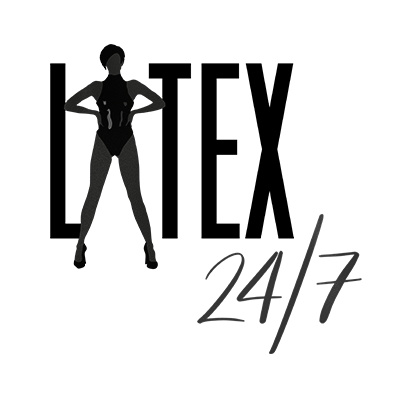 We're here, around the clock, bringing you the latest and greatest celebrity, designer, blogger, vlogger and modelling latex fashion news and reviews from around the world.  If it's shiny then we'll be covering it!