In the ever-evolving world of fashion, staying ahead of the curve is essential. As the leaves turn and the weather cools, we find ourselves faced with a unique sartorial challenge: how to seamlessly transition our wardrobe from the carefree days of summer to the cozy elegance of autumn. Fortunately, fashion influencer and style aficionado Jheanelle Corine has us covered with her latest YouTube video, a masterclass on incorporating the catsuit trend into your fall fashion repertoire. In this article, we'll dive deep into Jheanelle's video, exploring the art of wearing catsuits with elegance, in various fall colors and materials, most notably latex. So, let's embark on this fashionable journey together and discover the secrets to making a bold yet graceful fashion statement this autumn.
Fall Fashion Meets Elegance
Jheanelle's video is a comprehensive education in the world of catsuits, providing invaluable insights on how to elegantly incorporate them into your fall wardrobe. If you're eager to stay trendy and cozy this season, her guide is the ideal place to start. Fall fashion enthusiasts and those simply curious about latex catsuits alike will benefit from the wealth of tips and ideas offered in this video.
Choosing the Perfect Colors
One of the crucial aspects of embracing the catsuit trend in the fall is selecting the right colors. The transition from the vibrant hues of summer to the earthy, warm tones of autumn is an art in itself. Jheanelle takes us through the process of choosing fall-appropriate colors for catsuits that not only complement the season but also harmonize with various skin tones.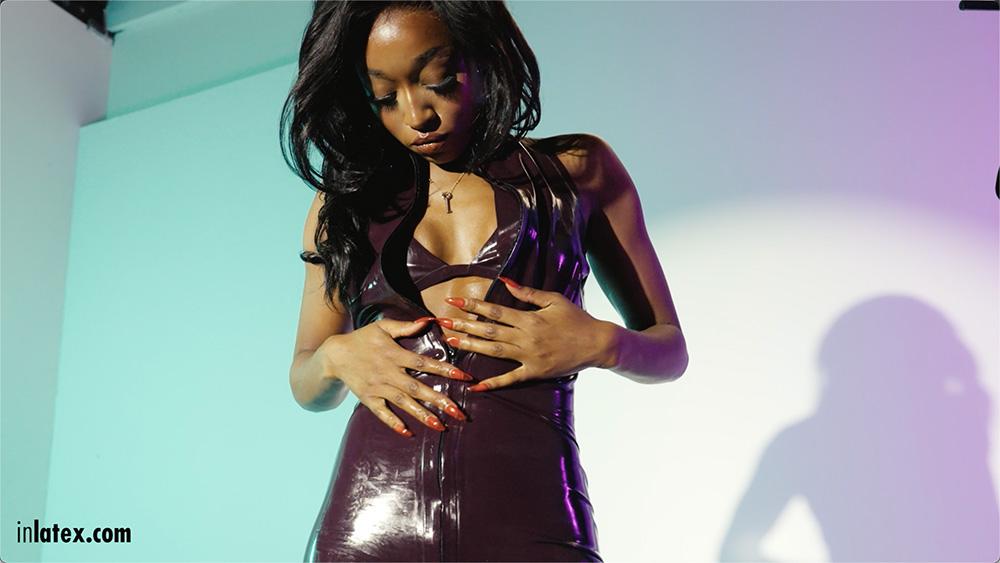 As the leaves turn shades of gold, amber, and russet, so too should your wardrobe. Rich, earthy colors are the hallmark of autumn, and Jheanelle encourages us to explore these hues in our catsuit choices. From deep burgundies and luscious forest greens to classic browns and elegant maroons, these shades capture the essence of fall and create an eye-catching contrast. Moreover, these colors are perfectly exemplified in her Supatex ruby catsuit, demonstrated at the very beginning of the video.
However, it's not just about choosing any shade from the autumn palette. Jheanelle expertly guides us on how to select the colors that best complement our individual complexions. Understanding your undertones and personal color preferences is key to ensuring you look stunning in your fall catsuit. Hence Jheanelle offers up another style suggestion, a smokey translucent black bodysuit paired with matching stockings. By considering factors like your skin's warmth or coolness, you can make a more informed decision and embrace the season with style.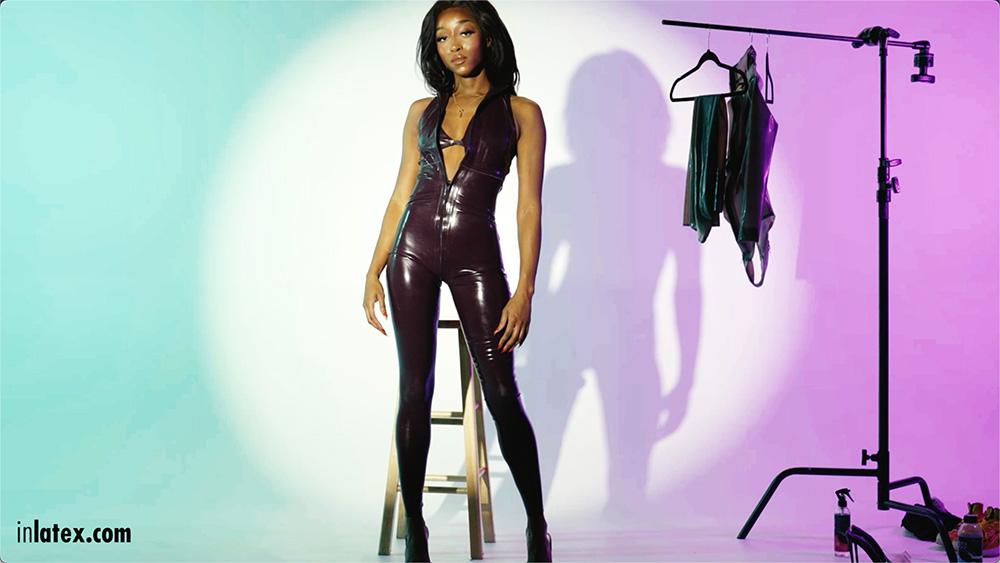 The Best Fit for Comfort & Style
Jheanelle emphasizes that when it comes to catsuits, not all materials are created equal. In the video, she provides a comprehensive overview of the materials that offer both comfort and style for the fall season, ideally latex. Whether you're leaning towards a cozy bodysuit or a sleek and shiny jumpsuit, her expert advice helps you make the best choice according to your personal taste and the autumn setting.
Latex is a bold choice for the fall and is the standout material Jheanelle discusses in her educational fashion video. This daring choice may not be the first thing that comes to mind when thinking of fall fashion, but it can add a dramatic and chic dimension to your catsuit collection. Latex offers a shiny, sleek, and body-hugging texture that can make a striking statement in the fall season.
The advantages of latex go beyond the visual impact. It's a versatile material that acts as a second skin, making it perfect for layering cozy knits or thick fleeces for cooler weather. Jheanelle recommends opting for darker latex shades, such as deep reds, inky blacks, or sultry deep purples, to complement the fall color palette. When styled appropriately, a latex catsuit exudes confidence, edginess, and sensuality – a combination that's perfect for making a bold fashion statement in the fall.
Of course, latex isn't without its challenges. It requires meticulous care and a keen understanding of how to wear it long term without discomfort. Jheanelle shares tips on ensuring your latex catsuit fits like a glove while at work or play, allowing you to embrace its unique allure anytime with confidence.
Accessorizing for a Complete Look
No outfit is complete without the right accessories, and Jheanelle is a true expert in this department. In her video, she shares valuable tips on selecting accessories that enhance your fall catsuit ensemble, from stockings to footwear. These accessories are the finishing touches that elevate your style game to the next level.
Hosiery: The Art of Stockings… When it comes to catsuits, stockings play a significant role in achieving the perfect look. Jheanelle guides viewers on selecting stockings that are not only comfortable but also in tune with the fall vibe. She recommends choosing stockings in autumnal colors, such as opaque tights in deep, warm shades or transparent latex stockings, as is demonstrated in ensemble two.
Layers: Versatility and Warmth… Autumn is a season of layering, and this concept extends to catsuit styling as well. Jheanelle suggests adding layers to your catsuit ensemble for both style and warmth. A cropped jacket, a cozy cardigan, or a stylish duster coat can be the perfect addition to your catsuit look.
These layers not only provide insulation but also allow for creativity in your outfit. You can mix and match different textures and colors to create a personalized look that's unique to your style. Jheanelle's video demonstrates various layering options that can transform your catsuit into a versatile and seasonally appropriate ensemble.
Footwear: The Foundation of Style Your choice of footwear can significantly impact the overall feel of your catsuit look. Jheanelle suggests several options, depending on the style and purpose of your outfit. Here are a few recommendations:

Ankle Boots: These are versatile and go well with most catsuits. They add a touch of sophistication and can be paired with a variety of accessories.
Knee-High Boots: For a more dramatic and statement-making look, knee-high boots can be an excellent choice. They pair particularly well with latex catsuits, creating a bold and high-fashion appearance.
Heels: Adding heels to your catsuit ensemble instantly elevates your style. Stiletto heels, block heels, or even heeled ankle boots can enhance the overall aesthetic and make your legs look longer and more shapely.
Flats: For a more casual and comfortable approach, flats can be a great choice. Loafers, ballet flats, or mules offer comfort without compromising on style.
Elevate your style game effortlessly by considering your choice of footwear, ensuring it complements your catsuit and the overall look you aim to achieve.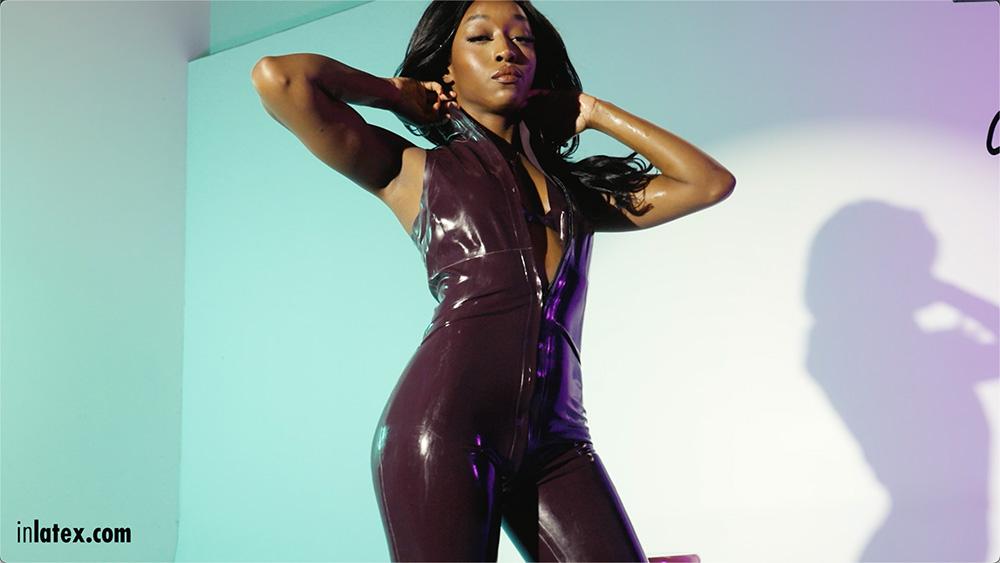 Conclusion
Jheanelle Corine is more than just a fashion influencer; she's a burgeoning fashion expert, ready to share her knowledge with the world. Her guidance in this video ensures that you feel confident and fabulous in your fall catsuit. From color selection to material choices, accessories, and more, her insights are invaluable in mastering the intersection of comfort and elegance in fashion.
This fall, you can stay warm and fashionable, and Jheanelle Corine's video guide is your passport to this exciting fashion journey. With her guidance, you'll confidently rock the catsuit trend, making a statement that captures the essence of the season and leaves a lasting impression. So, don't forget to like, subscribe, and hit that notification bell for more of Jheanelle's exciting fashion education content. Your journey towards a more elegant and stylish fall wardrobe begins here! 💃🍂
For more latex clothes styling tips and how-to articles be sure to check out our style guide section regularly.

Jheanelle Corine's journey as a filmmaker and latex fashion influencer has redefined the perception of latex clothing. Through her captivating try-on hauls and expressive videos, viewers can get excited about a number of latex catsuits, jumpsuits, and outfits. Whether you're new to the world of latex or an avid enthusiast, Jheanelle's content offers a gorgeous gateway into the transformative power of our favourite fashion genre.