Spanish fashion designer Luis De Javier unveiled his "La Ruta" Spring-Summer 2024 collection at this years LA Fashion Week and the upcoming range included collaborations from highly respected latex brands.
Did you know that Latex24/7 has its very own YouTube channel?
Subscribe now
for instant access to upcoming shiny latex clothing content.
Inspired by the 90's hardcore rave movement in Spain called "La Ruta del Bacalao", which was suppressed by an oppressive government, De Javier's collection tries to imagine a utopian world where this vibrant movement continues to thrive. Speaking about the collection, Luis De Javier commented that "Fashion has always mirrored and explored socio-political issues. With this collection, we aim to reflect, question, and spark a dialogue on pressing matters…". It's clear that the London based designer is aiming to channel fearlessness and to create a collection to challend, provoke and inspire.
The collection features elements of leather, corsetry, jersey and workwear but it was clearly the latex elements which caught our attention. British based brand MMLatex were responsible for the latex garments which featured in the collection. Speaking to us exclusively Tilly, from MMLatex, explained how they came to be involved in the project.
"We were first approached by Luis last year to collaborate on his AW23 collection, which was an amazing experience. It pushed us to step out of our comfort zone and create latex garments that were unlike anything we'd ever experimented with before. We learned so much during the process, it was a lot of trial and error. Working with Luis, who's used to dealing with fabric and leather, encouraged us to change our perspective on latex. Instead of just rubber, we began treating it more like a versatile fabric."
"So when they asked us to collaborate on their next collection, we said yes straight away! This time around, our focus shifted to corsetry and oversized sculptural pieces. We spent some time in London with Luis developing a lot of the pieces, and then Luis came to visit us in our studio in rural Cheshire – which was a lot of fun! For 2024, we took the lead in producing the majority of the latex garments for the collection, and we couldn't be happier with the final result. Not only is Luis a talented designer, but he's also a genuinely lovely person."
On the day of the show it was clear that additional garments would be required and so LA based BUSTED Brand were quickly drafted in to make duplicates from a couple of styles.
You can view the full collection presentation below:
For the latest latex clothing collection reveals and releases be sure to check back often to our specially curated new releases section here at Latex24/7.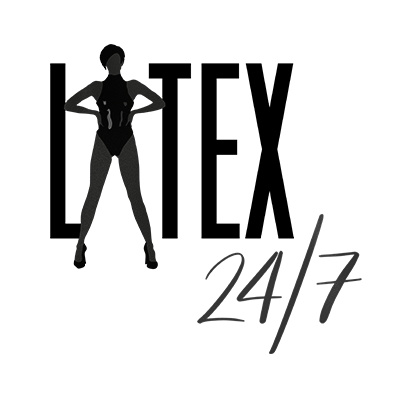 We're here, around the clock, bringing you the latest and greatest celebrity, designer, blogger, vlogger and modelling latex fashion news and reviews from around the world.  If it's shiny then we'll be covering it!