Here at Latex24/7 we know how much our lovely readers enjoy our latex fashion interviews. With that in mind, we're super pleased to announce our latest Q&A collaboration with Manchester-based latex fashion model Lauren Lascivious.
Be sure to follow Lauren Lascivious on social media via:
Facebook
Twitter
Instagram
Read on for the full in-depth interview.
Q: Firstly Lauren, many thanks for taking the time to speak to you. Please provide a short overview of yourself and your modelling career so far. For example, when and how did you first get into modelling?
A: I've been modelling since 2009 – a full decade!
My first shoot was a nightclub promotional shoot that was 1950's pinup girl themed
Q: Can you describe what is involved with a typical modelling assignment? When do discussions begin around locations and themes, what does the day of a shoot normally entail?
A: I'm not sure how typical a shoot is depending on the assignment. But ideally, it'll be planned quite far in advance with myself, any designers, MUA's, hair stylists and the photographer involved with panning the creative direction of the shoot.
For me shoot prep usually starts the day before, when I'll plan and pack my outfits and accessories if clothing isn't being provided by a designer/stylist. I'll try and prep my hair and face the night before, pin curls are my go to! On the day of I'll be up early to paint on my face (if there's no MUA) and catch the train to the location of said shoot! That's when the magic happens.
Q: Throughout a model's career there are often standout projects, and shoots, which a model is particularly proud of. What do you feel have been the highlights of your modelling career so far?
A: There's definitely a few – working with Perou was a pretty big deal! It was for a range of tattoo aftercare balms that aren't manufactured anymore, unfortunately; but it was a once in a lifetime experience and he's super cool and friendly to boot!
I think my work gets better each year so this year when I shot for Cathouse latex with Jamie Mahon – those images really stand out and I believe show that I'm honing my craft (I hope!)
Q: What is it that makes you keep coming back to modelling time and time again? Is it the people, the challenge, the sense of achievement, the positive comments?
A: I don't do it for the outside validation. It's my creative outlet, I have an office job during the week, and I get to play dress-up on the weekend.
Q: Moving onto the world of latex fashion and the wonderful shiny stuff, how long have you been modelling latex outfits and adding the genre to your portfolio?
A: Almost a decade!
Q: What first sparked your interest or first got you involved in modelling latex fashion garments? How did you discover the material? Was it a personal interest or intrigue, maybe seeing celebrities wearing outfits made from latex, were you approached by a designer?
A: I was a bizarre ultravixen back in the day and the material was being modelled by all the cover stars and I thought that it looked amazing on
Q: Which latex fashion brands have you worked, or collaborated with? What were their outfits like to model?
A: I really hope I don't miss anyone out but:
Fetasia, Catalyst, Maleficent, Cathouse, Pretty Deviant, Amentium, LatexFashionTV and Black Sheep so far. You could say I'm somewhat of a latex veteran. Each has a different and distinctive style and their merits!
Q: There are many latex fashion designers around the world who cover a wide and varied range of latex clothing styles. Who are your favourite designers? If you could model for any designer, or any style of latex clothing, what would it be?
A: It'd be awesome to model for Dark Virtue Designs
Q: Latex is a unique material and totally different from the majority of other fabrics which are commonly used during the making of fashion garments. What was your reaction the first time you ever wore latex clothing? How does it make you feel?
A: I'm not going to lie it's not the easiest or most convenient material to work with. It's difficult to get on, it can be very sweaty and uncomfortable. However, when it's on as I once said to Cole Black of LatexFashionTV – You kind of feel (and look) like a superhero! It's badass.
Q: With the uniqueness of the material, and like any form of niche modelling, there are often increased challenges which would not be present with traditional photoshoots. What challenges does latex pose for you as a model?
A: Getting into it definitely, depending on the outfit can be extremely difficult, i.e. catsuits and leggings I personally find the hardest. You usually need assistance and talc!
Q: What do you feel is the main appeal of latex fashion?
A: The aesthetic for me is the biggest appeal.
Q: Who is your biggest influence and who do you respect most in the genre of latex fashion?
A: I find it difficult to say there's one big influence on me, I'm influenced by the work of others, designers, photographers, my peers, other models, changing fashion and especially the fetish aesthetic. I've always been a big fan of Mosh as a model.
Q: What is the best reaction you have ever received whilst wearing the shiny stuff?
How do those not used to latex fashion react? Is it generally positive or negative?
A: I think people are still quick to make assumptions about a person and their lifestyle based on the way they present themselves which is unfortunate.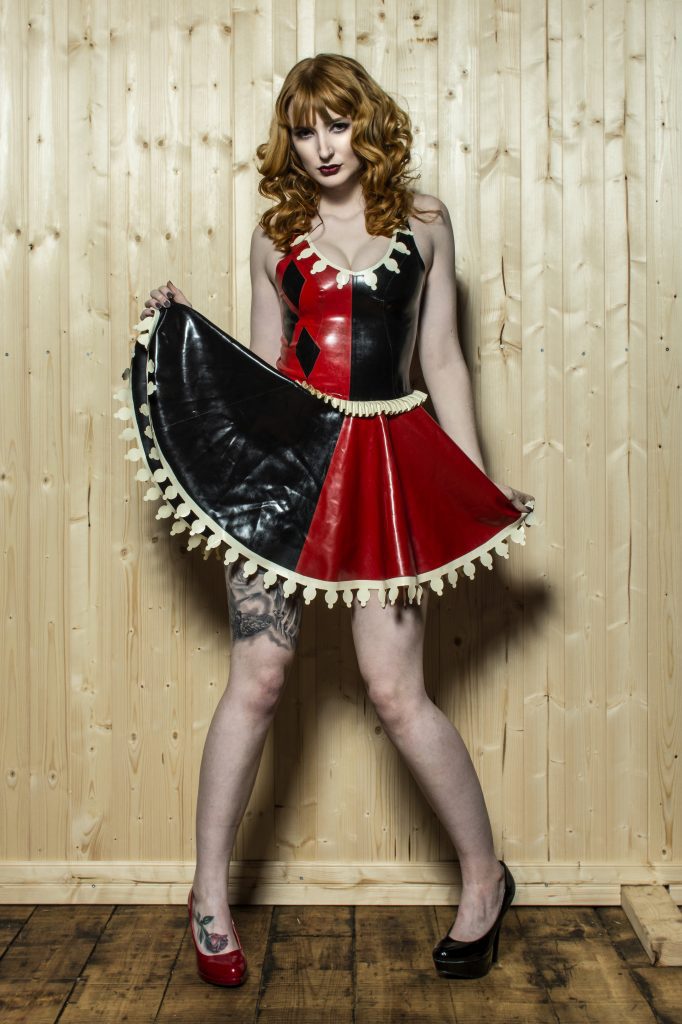 Q: Latex fashion has become more and more of a normality in mainstream thanks to the music, film and celebrity industries. Do you see this trend increasing or do you think outfits made using the material will always be a niche item? Do you feel there will ever be a day when latex garments will be mainstream and can be brought "off the peg" at normal high street stores and shops?
A: I think we are already beginning to it them on the Highstreet, Ann Summers and ASOS sell latex now.
Q: What would you say to anyone interested in wearing the material? What would be your best piece of advice for anyone who is thinking of trying latex but hasn't done so yet?
A: Try something small like gloves, accessories, get used to the material and look into the correct prep and aftercare.
Q: What do you feel are the biggest barriers for people who haven't worn latex fashion before? What stops them from taking the plunge?
A: Confidence
Q: How do you feel is the best way to integrate latex into an everyday "public" outfit. How would you mix it with other materials?
A: Accessories, a collar, some gauntlets, a hair bow etc.
Q: Returning to your experiences of modelling. For models new to latex clothing, or those who are about to shoot in it for the first time, what tips and suggestions would you give them?
A: Again, look into the proper care for the material and ask for assistance if you need it
Q: As a professional model, whose image is everything, what is it that keeps you returning to modelling latex clothing?
A: There's not really a material that's comparable, but I'm always excited by new designs.
Q: Are there any upcoming projects which you will be involved in, which you could give us a sneak peek of? Where should we look out for you next?
A: Hopefully some more work with Cathouse, Fetasia and Dirty Pretty next year!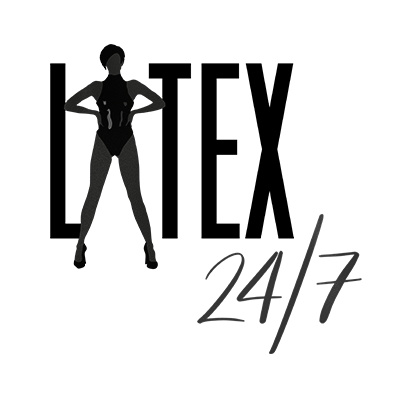 We're here, around the clock, bringing you the latest and greatest celebrity, designer, blogger, vlogger and modelling latex fashion news and reviews from around the world. If it's shiny then we'll be covering it!