It's that time of the year again where both the Internet and the high-street shops go crazy with incredible deals squarely marketed as Black Friday. However, unlike the majority of Black Friday deals around some of the world's top latex designers have some incredible deals and money-saving offers currently available. But you'd better be quick as many of these deals only last a few days – don't miss out while you can!
Have we got you interested? Then check out our no BS rundown below of this year's best latex fashion Black Friday deals.
Head over to their website at https://www.amentium.co.uk/ and enter code FRIYAY at checkout to save a mind-blowing 30%.
Save an awesome 20% on all items available online via http://www.honour.co.uk
The majority of Libidex's entire range is already discounted by a whopping 20%. Save an extra 5% when ordering in black. Available via https://libidex.com/
Save an additional 30% on all garments, including those already in Christmas sale, by entering code BF30 at checkout. Code expires at midnight on 29/11/19. Available at https://www.westwardbound.com/
An eye-watering 60% reduction on selected items at https://www.catalystlatex.com/. This incredible sale runs until Sunday.
Up to 40% off all ready to wear garments and orders. No code required! Simply head over to https://www.elissapoppy.com/new-rtw/
25% off all orders through their website at https://www.blacklickorish.com/. No code needed.
By entering code VEXBLACK at checkout, save an unbelievable 30% on selected items. Available through till Monday via https://vexclothing.com/
An unmissable 20% reductions on many items via https://www.etsy.com/uk/shop/LiquoriceAndLace. Simply enter code BFRIDAY19 at checkout.
Huge price reductions on many items such as those shown on https://www.instagram.com/latexx.nl/. Send Latexx.nl a DM to purchase.
UK based latex designer extraordinaire NikitaLatex have all items (excluding catsuits) reducing by a fantastic 20%. Simply head over to https://shop.nikitalatex.com/ to start saving.
No need to enter a unique code from this designer – simply visit their website at https://eustratia.com/ and all purchases will save an incredible 25%
Purchase a garment in black and save by entering code BLACK20 at checkout. Available from https://www.cherrylatex.com/
Let us know in the comments below what you'll be buying. Which of these amazing Black Friday latex fashion deals are you most excited about, or have already taken advantage of?
Don't forget to check out our specially curated Sales and Offers section on this website for more great deals.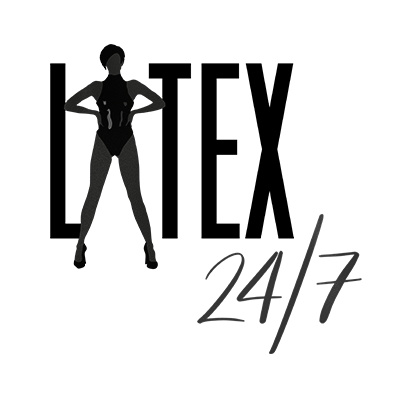 We're here, around the clock, bringing you the latest and greatest celebrity, designer, blogger, vlogger and modelling latex fashion news and reviews from around the world. If it's shiny then we'll be covering it!