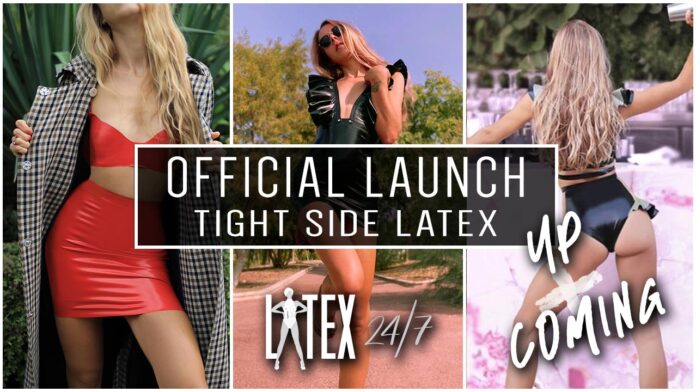 One of the most exciting parts of working in the latex fashion industry is seeing the conception of a new latex brand. As part of our "Up + Coming" series, where we speak to new and exciting labels, we were extremely pleased to speak to the wonderful Tight Side Latex about the launch of the brand, along with their hopes and dreams for the future.
Be sure to check out https://www.tightsidelatex.com/ and discover their amazing collection of dresses, skirts, tops, underwear and more.
Latex24/7: Firstly, thank you for taking the time to speak to us.
Q: Please provide a short overview of yourself and your background in fashion and clothing design. For example, do you have specific qualifications and training which assist you in your current trade? How did you get into fashion design?
A: I studied at De Montfort University in the UK and graduated in 2012 with a 1st class degree in fashion buying with design. From there I have worked at a number of larger retailers including ASOS and Tommy Hilfiger in buying and merchandising roles and in 2018 was voted as Drapers 30 under 30, ones to watch in the industry. I have always wanted to start my own business in fashion and reconnect with the more creative side of my skills. After delving into the world of latex clothing I knew I found the passion I wanted to pursue!
Q: What skills do you think are important for any fashion designer to hold?
A: Passion has to be number one! If you have passion for what you are doing, it is always on your mind and your eyes are always open to new experiences and the environment around you, which you can take inspiration from. If it is a plant you're looking at from the window, or the dust on top of the tv you are watching, somehow your brain can mould and process this in a way that might inspire you best ever collection!
Q: What was your biggest fear when going out and starting your own line?
A: Laying myself bare is a huge fear. It is a risk that people might not like your designs or your brand aesthetic, however, I am trying to be authentically me in everything we offer. If people don't like it, it's more personal but I will always know success or failure. I took the opportunity to build this brand with both hands and did it my way.
Q: What first sparked and started your interest in making latex fashion garments? How did you discover the material? Was it a personal interest or intrigue, maybe seeing celebrities wearing outfits made from latex?
A: I struggled a lot with self-confidence issues throughout my early 20's as many young women do. This, unfortunately, led me to develop an eating disorder that I lived with for many years. After researching some articles about self-confidence, I found a video on YouTube of a woman wearing latex and talking about the empowering nature of the garments and the way it made her feel, sexy and powerful. This is what first sparked my interest and led me to purchase the first few pieces. As great as the clothes were, I wanted something more custom made and garments that highlighted the things I was learning to love about my body…hence Tight Side Latex was born!
Q: Can you describe what is involved with a typical latex garment design? What influences your initial design choices? What process do you follow? How long does it typically take to come up with and produce a new item?
A: I always carry around a notebook with me, I prefer to physically write and draw on paper rather than making notes on my phone. To me, it feels more organic and inspiring. I could be influenced by anything around me, from the weather to an amazing powerful person walking down the street. I will make a note or a quick sketch then pin my drawings and scribbles up in my studio. I will think about them and reflect on the ideas for a while and if I still like them after a few days or weeks I know there is something in it that I need to pursue and delve deeper into. I will then start designing other pieces around this one central idea and begin to bring the collection to life in garment form.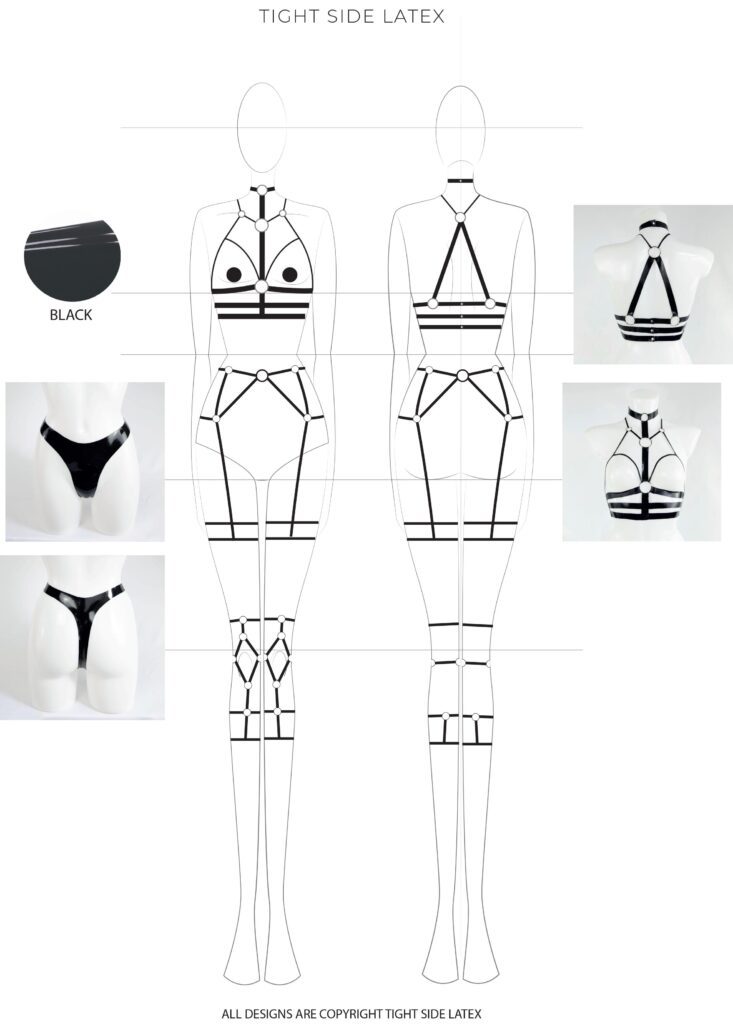 Q: What do you enjoy most about working with latex? What are the biggest challenges when working with the material? What has been your greatest learning experience since designing your first piece?
A: When I made my first few pieces I couldn't wait to try them on! To my extreme frustration, they would break at the seams….I learn pretty quickly patience pays off and letting the glue cure properly is always better in the long run!
I love the hands-on nature of the fabric. It is glued and not sewn so to me it feels like true craftsmanship because you don't need any machinery.
Q: Latex fashion tends to be associated with young, athletic and toned people. Do you feel there are any limits to who can wear the material; big and small, young and old?
A: Wearing latex is a mindset. It really doesn't matter who you are….if you have the confidence to pull it off it is literally open to everyone and anyone. Some of the most powerful and inspiring images I have seen are of plus-size models or older women who are saying **** you to the world. This is me, if you don't like it I couldn't care less!!
Q: Moving on to the customers who get to wear your awesome designs; how important is the reaction of your clients when they get to experience and try on their garment for the first time?
A: Of course we want return customers so their experience of the brand is super important to us. But more than that, no matter where they have purchased their latex from, I want every single person to experience the power and confidence I felt when I put on that first latex outfit. It's a special moment you will never forget 🙂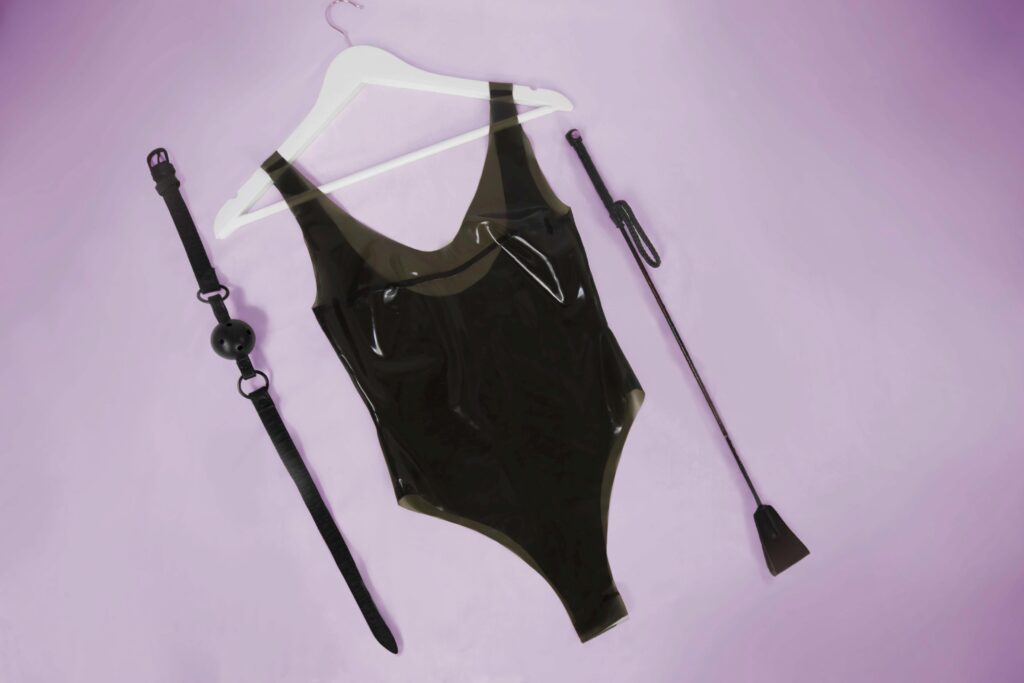 Q: What reactions have you seen, and how do those not used to latex fashion, tend to react to the use of the material and seeing it for the first time? Is it generally positive or negative?
A: When I tell people what I do, those who have never really experienced latex fashion before definitely jump to their own conclusions about who I am as a person for pursuing such a niche interest. It's not so much of a negative reaction, it's more that there is a stigma attached to 'latex'. When I show people the website and some of the designs, I think they quickly realise that latex is not just fashion, it's an art form and a skill. I hope people will be able to see that latex can be worn in many different ways and even mixed with everyday clothing!
Q: Turning to the material itself, how versatile is latex and how easy is it to create the designs of your dreams? Do you feel it is easier or more complex to do this than with traditional materials?
A: I personally love working with latex, more than any other material. At university, I made a collection from silk and the fabric which was a nightmare to sew, cut, pin and fit! With latex, the fabric is much easier to mould to fit the body and in my experience working with it, I can easily visualise if something will work or not. I would love to make a collection that mixed traditional fabric with latex one day.
Q: What do you feel is the main appeal of latex fashion? What are your favourite elements and reasons for enjoying latex?
A: I love the fit of latex, the way it moulds to the body and feels like a second skin. The shine is always incredible as well, there is nothing more satisfying than photographing a finished product when it's all shined up. It's like the icing on top of the cake!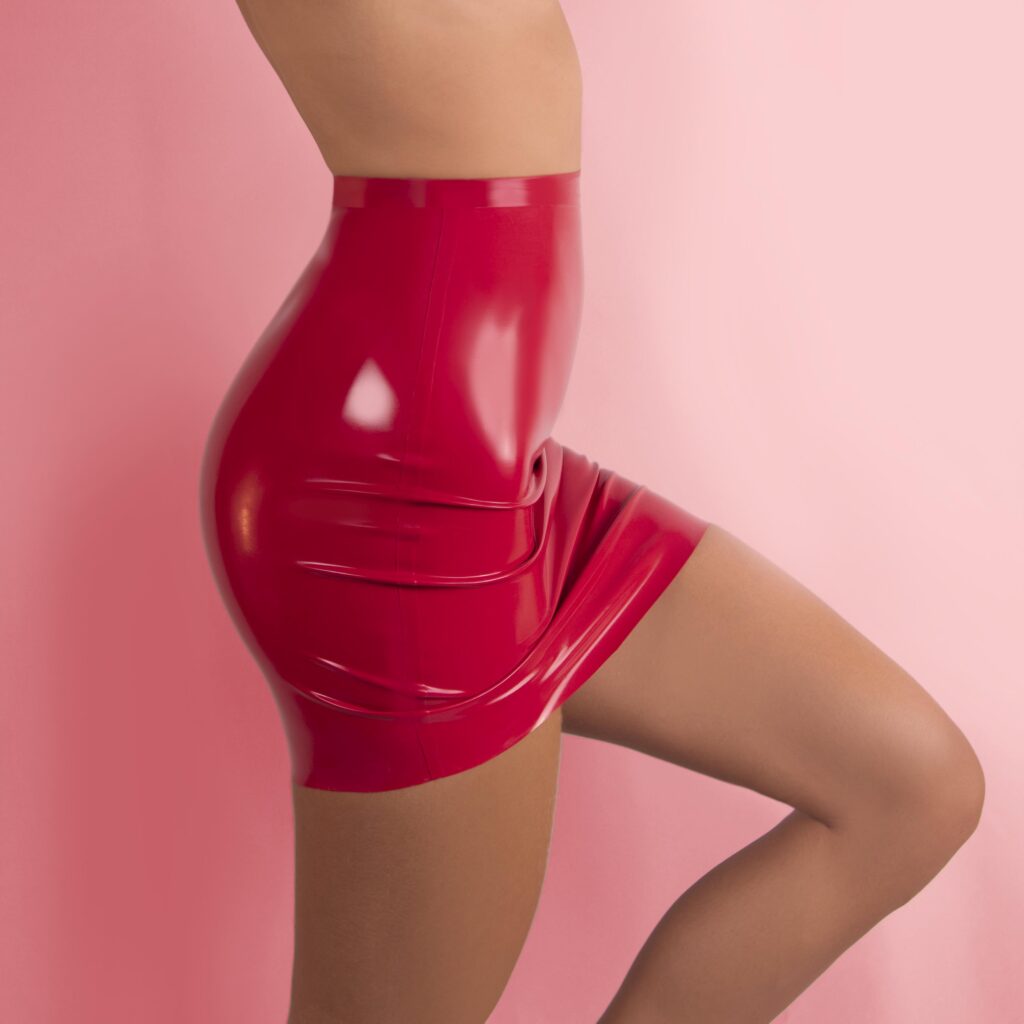 Q: Who or what are your biggest influences and who do you respect most in the genre of latex fashion?
A: Of course there are the big brands like Balmain and YSL that are now incorporating latex into their catwalk shows but for me, it is people like valerietramellofficial or peppertheslut_x who are true fans of latex. They are posting inspirational content that I love to see and be influenced by.
Q: Latex clothing means different things to different people, ranging from the empowering to the outlandish. What does latex fashion mean to you?
A: To me latex means confidence. It represents trying something new, getting out of your comfort zone and exploring fashion from a different perspective.
Q: Latex fashion has become more and more of a normality in mainstream thanks to the music, film and celebrity industries. Do you see this trend increasing or do you think outfits made using the material will always be a niche item? Do you feel there will ever be a day when latex garments will be mainstream and can be brought "off the peg" at normal high street stores and shops? If so, what items do you think would be included?
A: I personally don't think this will be the case. From all of my years working with factories for high street brands, I have never seen a factory that can mass-produce latex. Latex as a fabric isn't cheap, it's not just a throwaway item so I think you need to be a fan of the fabric to understand why some items can cost more than your average high street equivalent.
Q: How do you see the world of latex fashion changing over the next 5-10 years?
A: I think latex will become more mainstream, as it already is, and people will want to wear it as part of there everyday wardrobe. It is such a versatile product, I think we will see small brands growing as customers learn more about the sustainable benefits that latex fashion also brings.
Q: If you could create a latex outfit for anyone in the world, who would this be for and why? Can you give a description of the outfit you would design for them?
A: I would love to make something for Baddie Winkle. She is everything I want to be when I am in my 90's! I would make anything she wanted me to…maybe a colourful bodysuit with some cool accessories.
Q: What tips do you have for anyone who would like to include latex fashion into their "everyday" outfits? Is it possible to combine with other materials?
A: ABSOLUTELY! We were doing a photoshoot in the park and I was wearing a T-shirt with my latex skirt as we were moving to a new location. I was like 'actually this looks kinda cool, let's take some shots' and they came out so well! I had great reactions to the images on social media so I think my next shoot may involve mixing the materials more.
Q: Throughout a designers career there are often standout projects which the designer/team are particularly proud of. What do you feel have been the highlights of your latex producing career so far? What is your favourite item you have ever produced?
A: For me, my favourite design will always be the first one I made. It was special to me because I tried for a long time to make it work and figure out the design but when it all came together on set, it looked stunning. It was a simple bralette and thong but I still love and wear it now!
Q: What is it that drives you to continue to create new designs and collections?
A: Designing and drawing for me is an outlet for stress and anxiety. I like to relax in the evening with a sketchbook and some pencils and switch off from the world. This naturally drives me to design and create. I also get bored of doing the same thing for too long so I need to refresh the collections for my own sanity!
Q: What are your short term and long term goals for your designs, output and business as a whole?
A: In the short term I want to grow the brands reach, and show people latex can be an empowering, sexy, wearable fabric. I want to make beautiful products that make people happy. In the long term, I would love to one day open a store and train more people in the art of making latex so we can increase our volume and grow the brand.
Q: Are there any upcoming projects which you will be involved in, which you could give us a sneak peek of? Where should we look out for you next?
A: Follow Lexy Panterra on Instagram…she is a badass female singer and youtube sensation that will be wearing Tight Side Latex in her next music video!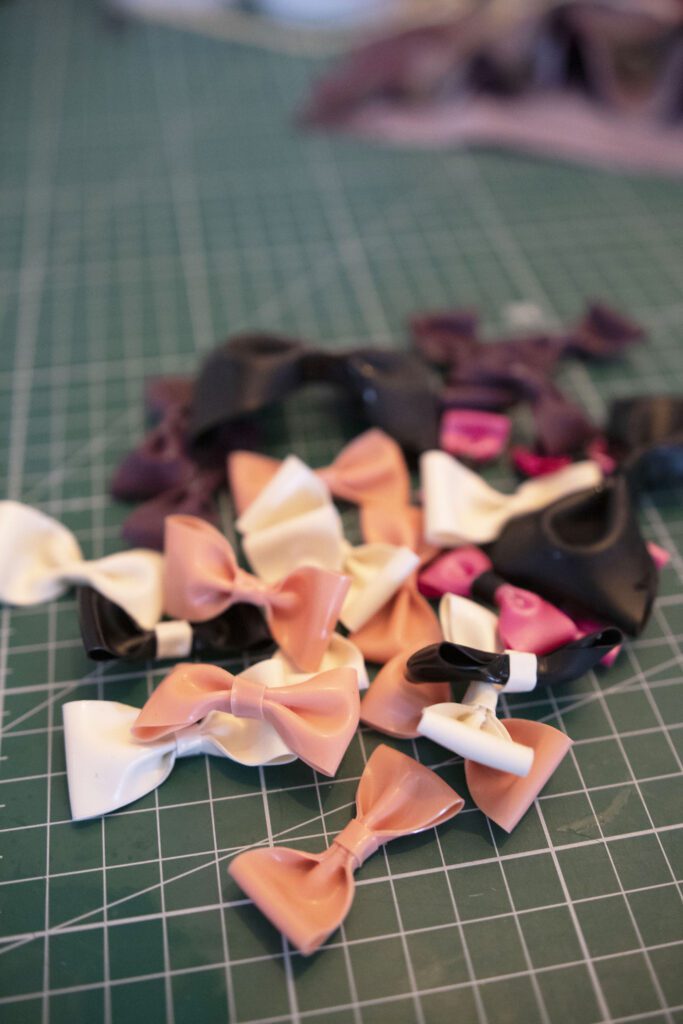 Q: Now that you are about to launch your new/first collection, please tell us a little about your collection. What design elements does it include? Where has your inspiration been drawn from? How many pieces are in the collection? Please feel free to provide as much information as you would like.
A: We have over 60 products on-site from briefs, to dresses and accessories. I wanted to give a nice all-round collection and items you can easily mix and match. There is a focus on the 'essentials'. These are pieces everyone should own at least one of, even if you have never worn latex before these are beautiful well-fitting items that will introduce you to a new world of fashion. We will launch new collections every 3 months, but the essentials will be our core staple, the foundation of the collections.
We wish Tight Side Latex the best of luck in the future and cannot wait to see them grow and expand. We'll be along for the ride!
To keep up to date with the latest from Tight Side Latex, be sure to follow them over on social media at Facebook, Instagram and Pinterest.
To take a look at other recent interviews with new brands check out our "Up + Coming" section.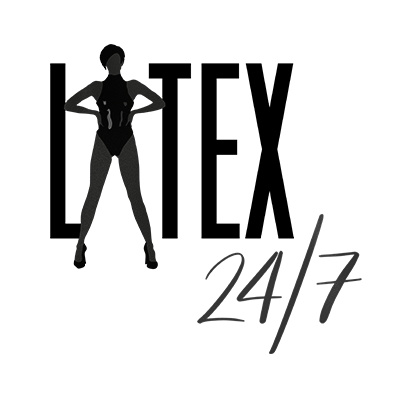 We're here, around the clock, bringing you the latest and greatest celebrity, designer, blogger, vlogger and modelling latex fashion news and reviews from around the world. If it's shiny then we'll be covering it!