After previously providing you all with a special BTS with Latex Fashion Model Blasphemer & Antidote Latex video, we received a huge amount of requests for more from the highly talented Blasphemer. So, as The Kinks once said, give the people what they want.
Latex24/7 recently sat down with Blasphemer to discuss her career as an alternative model, her love of latex and how our favourite material makes her feel. This article features publications from Dominate Me Magazine and Xpressions magazine.
Q: Please provide a short overview of yourself and your modelling career so far. For example, when and how did you first get into modelling?
A: I've been modelling for about five years now and I like to model lots of different styles, everything from lingerie, alternative fashion, fetish, boudoir and many different alternative and dark styles. I first got into modelling with a friend who was a photographer and then after making a PurplePort account online that's where everything started. PurplePort is a great website for networking with photographers and other models and ever since then I've built up my portfolio and now I'm lucky enough to collaborate with some wonderful designers, photographers and other creatives.
Q: Can you describe what is involved with a typical modelling assignment? When do discussions begin around locations and themes, what does the day of a shoot normally entail?
A: Well I am my own stylist, makeup artist, and sometimes photo editor. I usually come up with the concepts and talk with the photographer beforehand. I often find that I have quite a clear vision of what I want to do and sometimes I will arrange collaborations with designers on my social media accounts and then go from there really. A normal shoot is usually about 4 hours long, I like to at least do 3 different outfits and looks throughout.
Q: Throughout a models career there are often standout projects, and shoots, which a model is particularly proud of. What do you feel have been the highlights of your modelling career so far?
A: I would say that modelling for Antidote London Latex has definitely been a highlight so far, their designs are absolutely incredible and it's an honour to be able to work with them. Another highlight has been getting published in many magazines over the years and of course meeting some wonderful photographers such as Frankinsella, he is very talented and we have created some incredible images over the years. I would have to say that I am grateful for every opportunity that I get in my modelling career, to be honest.
Q: What is it that makes you keep coming back to modelling time and time again? Is it the people, the challenge, the sense of achievement, the positive comments?
A: The passion to create is my driving force. Modelling makes me very happy and it proves to myself what I'm capable of, I've learnt a lot about myself and my confidence grows more each year. Modelling is also my creative outlet, I like to do some more artistic stuff as well as the sexy content. I like to mix it up and I never want to stick to the same theme all of the time.
Q: Moving onto the world of latex fashion and the wonderful shiny stuff, how long have you been modelling latex outfits and adding the genre to your portfolio?
A: I have been modelling latex for about three years now and the first time I wore it I absolutely fell in love with it! Latex makes you feel so empowered as a woman, it makes you feel like a superhero and it's so super sexy, it's my favourite thing to model in.
Q: What first sparked your interest or first got you involved in modelling latex fashion garments? How did you discover the material? Was it a personal interest or intrigue, maybe seeing celebrities wearing outfits made from latex, were you approached by a designer?
A: My first experience modelling latex was with a photographer in London called Latex & Lingerie. I discovered them through PurplePort and was very pleased to have found them as they provide a whole wardrobe of amazing latex and heels to shoot in so I was in heaven! Since then I've never looked back and I am adding to my own personal latex collection bit by bit.
Q: Which latex fashion brands have you worked, or collaborated with? What were their outfits like to model?
A: My first shoot in latex was a purple bra and knicker set with suspenders and stockings by Westward Bound latex, this was owned by the tog. My next official collab was with Shokushu Boutique and Affordable Latex, both were worn for a catwalk show. I have also collaborated a lot with Antidote London Latex (who I was fortunate enough to be approached by via Instagram). I have to say that the quality and design of Antidote is out of this world! They create very Victorian/fantastical designs with lots of ruffles and each piece has a stage costume element to it. I have also modelled for Dirty Pretty latex as well, every single designers outfits have been amazing to wear and represent for. I've also modelled a lot for TLC Latex designs. I've been very lucky up to this point to work with so many talented people!
Q: There are many latex fashion designers around the world who cover a wide and varied range of latex clothing styles. Who are you favourite designers? If you could model for any designer, or any style of latex clothing, what would it be?
A: I would have to say that first and foremost my favourite latex designer is Westward Bound definitely! They have such a wide range of unique pieces. My next is Vinnoir Latex, they create a lot of Sci-Fi looking latex pieces and I would love to model for them one day. I also think that Yummy Gummy latex does some incredible designs and patterns and without being biased Antidote London Latex is one of my favourites, their designs are definitely my style.
Q: Latex is a unique material and totally different from the majority of other fabrics which are commonly used during the making of fashion garments. What was your reaction the first time you ever wore latex clothing? How does it make you feel?
A: My first time I felt like a superhero! I was so empowered! It gave me so much confidence I thought why have I never modelled this before?! I didn't realise there was so much preparation involved and aftercare, etc. It's definitely a whole new learning experience. I have never felt so sexy as I did when wearing it, it's amazing.
Q: With the uniqueness of the material, and like any form of niche modelling, there are often increased challenges which would not be present with traditional photoshoots. What challenges does latex pose for you as a model?
A: There are a lot of challenges with a latex shoot that have to be considered. It really helps if you have someone to assist with either getting it on or shining it. Modelling latex can be quite messy as well. The other thing you have to consider is ripping or tearing with certain poses, you always have to be careful with that. Another thing is aftercare, it's always important to look after latex properly to prolong its life. You have to learn how to care for it and tricks of the trade to assist getting it on, etc.
Q: What do you feel is the main appeal of latex fashion?
A: The main appeal of latex is that its super sexy!! It's basically a second skin of course. It's ideal for fetishes, people feel so empowered and confident when wearing it – no wonder it's so appealing and is growing in popularity. I also think that the sci-fi fantasy aspect to it is very appealing to people too.
Q: Who is your biggest influence and who do you respect most in the genre of latex fashion?
A: One of my biggest latex influences has to be Bianca Beauchamp and people like Nina Kate (who owns Jane Doe latex). Also Latex Lucy is pretty awesome and I really look up to Starfucked model.
Q: Latex clothing means different things to different people, ranging from the empowering to the outlandish. What does latex fashion mean to you?
A: Latex fashion to me means a look into the future, latex ultimately is a gaze into the future of fashion and what's possible with it. It's not just considered 'fetish' anymore like its origin. It also means, to me, a shift in female empowerment as they come out from the underground and is very prevalent within mainstream fashion and film now with the likes of celebrities wearing it.
Q: What is the best reaction you have ever received whilst wearing the shiny stuff? How do those not used to latex fashion react? Is it generally positive or negative?
A: I would have to say that wearing latex in public for shoots has been interesting and amusing at the same time. People get very interested and intrigued by it because its not something you see every day on the street. Of course, it attracts a lot of attention because it is so super-sexy, you can't help but look. It also is very outlandish and stands out but usually it's very positive responses. I can't pinpoint one exact reaction but the overall reactions I've had have all been positive.
Q: Latex fashion has become more and more of a normality in mainstream thanks to the music, film and celebrity industries. Do you see this trend increasing or do you think outfits made using the material will always be a niche item? Do you feel there will ever be a day when latex garments will be mainstream and can be brought "off the peg" at normal high street stores and shops?
A: Yes it has! I think this trend will absolutely increase! It's already used for films and tv shows so that will not die out! I think there is a huge possibility for high street stores like Anne Summers to start selling it, in fact I think that they already do! Its come from out of the underground into the norm and people want to explore alternatives to clothing, kinks and fetishes.
Q: What would you say to anyone interested in wearing the material? What would be your best piece of advice for anyone who is thinking of trying latex but hasn't done so yet?
A: I would absolutely advise them to do so! Once you try it for the first time then you're hooked! It has a feeling like no other and photographs incredibly! A person can slip into different characters and personas when wearing it, adding to the fantasy element of it, I love it so much! I would advise though to have lots of money if you want to be a serious collector because it's not cheap but it makes you realise things about yourself that you didn't before wearing it. It's been a huge positive influence in my life and I can't get enough of it!
Q: What do you feel are the biggest barriers for people who haven't worn latex fashion before? What stops them from taking the plunge?
A: I think the biggest barrier for some people is that it doesn't have to be considered as 'fetish' just because you wear it. It's very much based upon that but it can be used for cosplay, fashion shows, exploration into new materials, etc. I think that some people could be afraid it's too revealing and too sexy but we all have our own standards and limits. It's very much just another facet of the fashion industry, it's alternative but its also becoming more and more popular.
Q: How do you feel is the best way to integrate latex into an everyday "public" outfit. How would you mix it with other materials?
A: I think accessories are the key to integrating with latex such as big jewellery or a waist corset or a body harness. In public, you could wear a latex jacket or style it with more casual items of latex – something that not too skin tight I suppose. It depends on what look you are going for, of course, if it's super sexy then layering would not be needed at all but latex can also be baggy and more street fashion-oriented. I once modelled a full-length latex trench coat which was incredible! Something like that would be great for wearing on the street with big accessories and big heels.
Q: Returning to your experiences of modelling. For models new to latex clothing, or those who are about to shoot in it for the first time, what tips and suggestions would you give them?
A: The main tips I would give would be…..
To be patient with it as it can take a while to get on depending upon what the garment is. If it's a catsuit or latex stockings they need to be prepared with silicone or baby powder to get them on.
Be careful not to slip on shining spray, especially in heels!
If it's latex you personally own or for a collab look after it! This is a very important step!
Just have fun with it! AND OWN IT!!
If you want to start collecting then expect it not to be the cheapest thing. Good quality latex and intricate designs will cost more but it's so worth it.
Prepare to fall in love!
Q: As a professional model, whose image is everything, what is it that keeps you returning to modelling latex clothing?
A: To be honest I believe that even as a model image is not everything, believe it or not lol! What keeps me returning is the sheer volume of different latex designers out there, each with their own unique designs and ideas. I would also have to say the introduction of laser cut latex and different patterns and colours that are available now keep me coming back! The possibilities really are endless! I would love to model in a catsuit next as I haven't had the opportunity yet and I have a new latex set being made by Cathouse latex which I'm very excited about and I can't wait to shoot in it!
Q: Are there any upcoming projects which you will be involved in, which you could give us a sneak peek of? Where should we look out for you next?
A: I will hopefully be in a music video soon wearing a dress from TLC Latex but I won't go into too much detail just yet until the project is released of course! I will definitely be arranging some shoots in my new Cathouse latex as soon as I get it, I'm going to be moving forward with as many photoshoots as possible from now onwards. I will pursue more designers, other creators and also I'd like to work with more models doing duo shoots. I'm always looking for new creatives and designers to work with and I'm very passionate about shooting, especially in latex.
Be sure to follow Blasphemer, and see her latest model photos, via her Instagram profile and Twitter.
Here at Latex24/7 we love speaking to latex fashion designers, models, photographers, or anyone involved in the industry. If you'd like to check out some more latex fashion interviews then head over to our ever-expanding latex interviews section right now.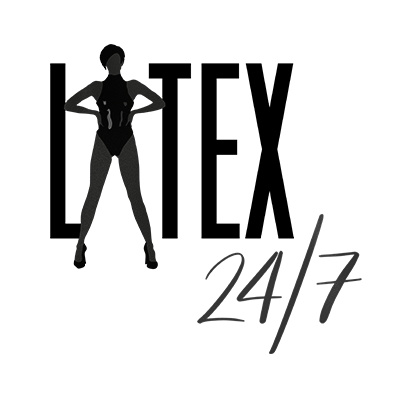 We're here, around the clock, bringing you the latest and greatest celebrity, designer, blogger, vlogger and modelling latex fashion news and reviews from around the world. If it's shiny then we'll be covering it!