One of the questions we get asked most here at Latex24/7 is where are the best places to buy latex clothing from. With some 300+ latex fashion outlets currently available on our Latex Fashion Directory, there is definitely no shortage of options and choice available. Online marketplace Etsy is aiming to make that decision even easier via their specially curated marketplace, featuring many of the best-known latex clothing designers. Join us as we start a new regular feature, Where to Buy Wednesday.
Did you know that Latex24/7 has its very own Discord server? Whether you are new to the world of latex fashion or have been adding to your wardrobe for many years, join our Discord community for hints and style tips, sale alerts and to share your greatest outfits.
Available now at https://www.etsy.com/market/latex_fashion, the Etsy latex clothing marketplace brings together latex fashion brands allowing you to instantly search for a particualr shiny garment, many of whom offer international shipping as well as custom orders. Highly respected brands such as Affordable Latex, Lady Lucie, Pandora Deluxe, Eustratia, Catalyst Latex and Kaori's Latex Dreams are all featured as well as recently established designers such as Latex Couture, Tight Side Latex, Dea Couture, Amentium, KvroKvlt, Rubber Idols and Fornikation UK.
Still Unsure?
Here's our 'Where to Buy Wednesday' rundown of the best latex clothing, available on Etsy, to start or extend your latex filled wardrobe.
Affordable Latex designs and manufactures a wide range of quality latex clothing for both Men and Women. All their clothing is available in a wide range of both sizes and colours. The company was first launched in 2014 and have continued to launch more ranges and products to give the customer as much choice as they possibly can.
Their Etsy shop sells everything from underwear and skirts to dresses, shorts and stockings. And don't forget those latex care products.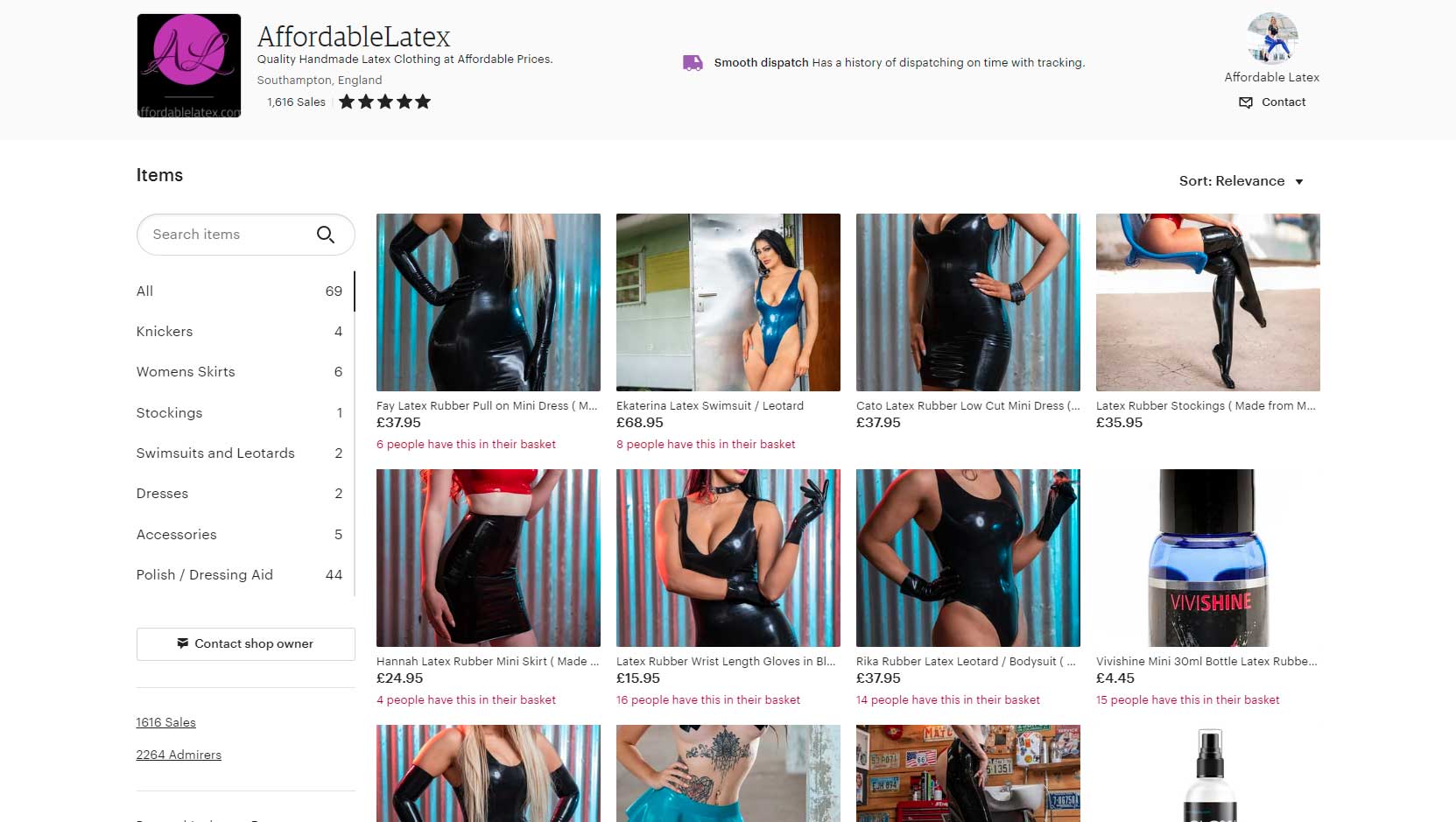 Lady Lucie creates beautiful, immaculate latex fashion. From clothing and lingerie to corsets and costumes, Lady Lucie specialises in elegant, glamorous & fun pieces that make the wearer look & feel beautiful. Launched in 2006, Lady Lucie Latex has become one of the most acclaimed designers in the international Latex scene. As a trained pattern cutter with a degree in fashion & textiles, Lady Lucie brings the principles of haute couture to fetish high fashion.
Don't miss out on stunning skirts, dresses, bikinis and knickers.
Amentium Latex pride themselves on the assiduous care taken on each and every one of their handcrafted garments as well as the bold eye-catching laser-cut prints. As a brand, Amentium Latex is inspired by French Renaissance designs and Ancient Roman aesthetics which are fused together to create an idiosyncratic style with a postmodern edge.
The brands Etsy shop features their gorgeous skirts, dresses, briefs and bodysuits. Definitely one of our favourites!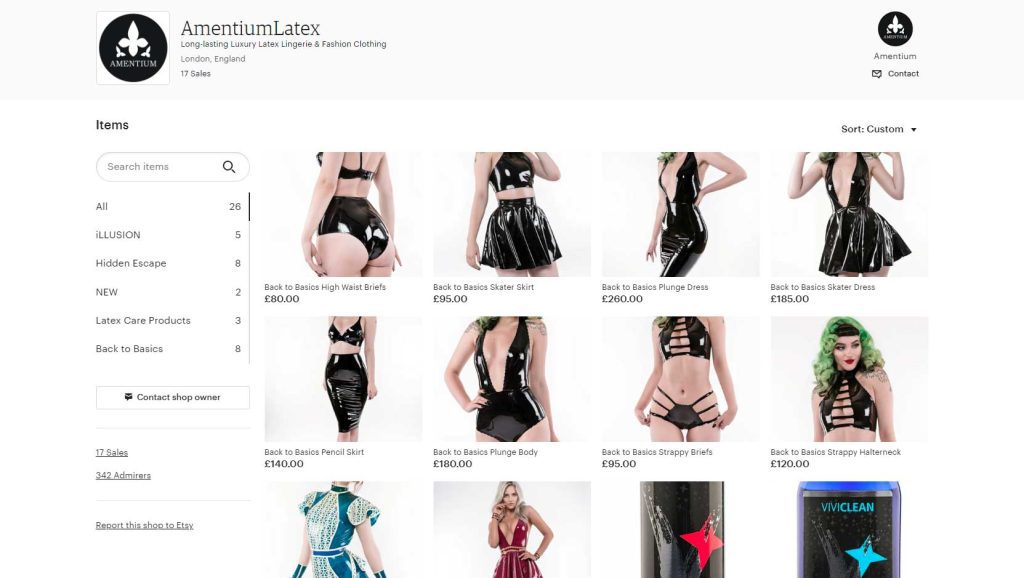 Pandora Deluxe is a London-based latex fetish fashion brand specialising in innovative, high-end designs for latex lovers.
Be sure to check out the brands sublime dresses, skirts, tops and lingerie.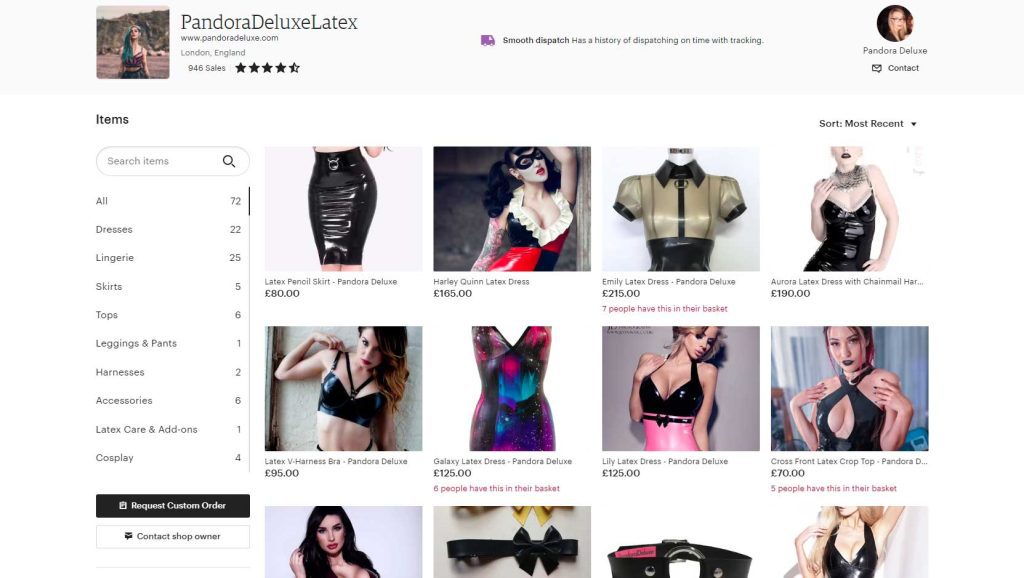 Eustratia means the "good" or "right" way in regards to the road that you follow. The concept behind the brand has always been the balance of opposites.
Eustratia features an amazing collection of underwear, dresses, bodysuits and stockings.
Catalyst Latex is your go-to source for all your rubber needs. The brand pride themselves in providing you with real clothes in rubber along with fun Cosplay and Party Dresses, all made with their UK sourced vegan-friendly sheet latex.
Catalyst Latex tailor-make all garments to inspire you to feel as confident in your own skin as you do your new Catalyst outfit.  They offer a unique range of clothing from Vintage inspired to Nightwear, all with a fashion centred sexy twists at their core.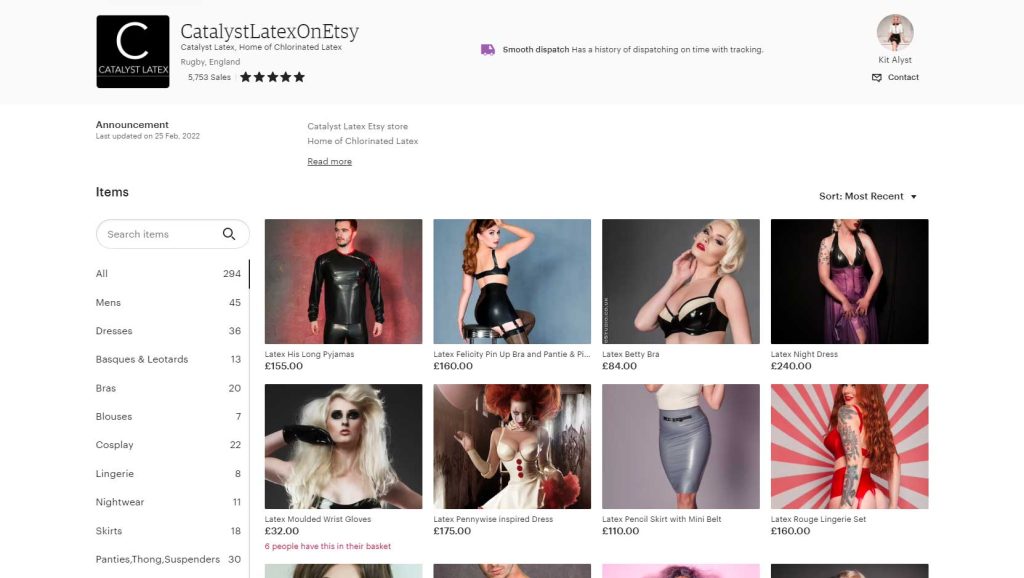 Latex clothing & accessories, all handmade with love. Check out stunning bodysuits, dresses, lingerie and blouses.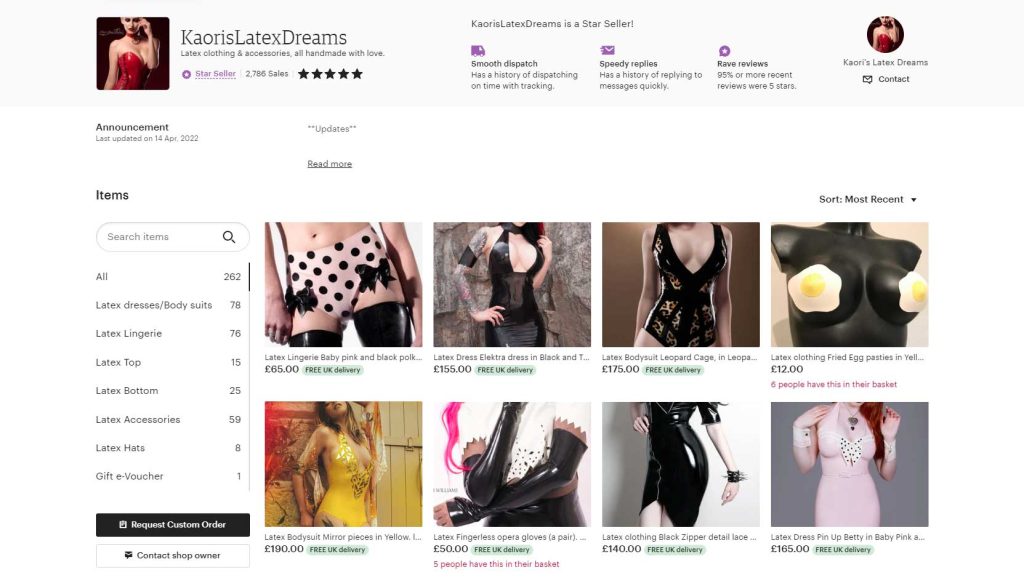 Dea Couture designs luxurious made-to-order latex clothing for anyone who wants to wear it which aims remove the stigma around latex. It's a unique and responsible material. Inclusivity and body positivity are at the heart of the  business. Creating latex styles that are made to measure, so all body shapes and sizes can enjoy their designs. No genders or sexualities are ever excluded at Dea Couture.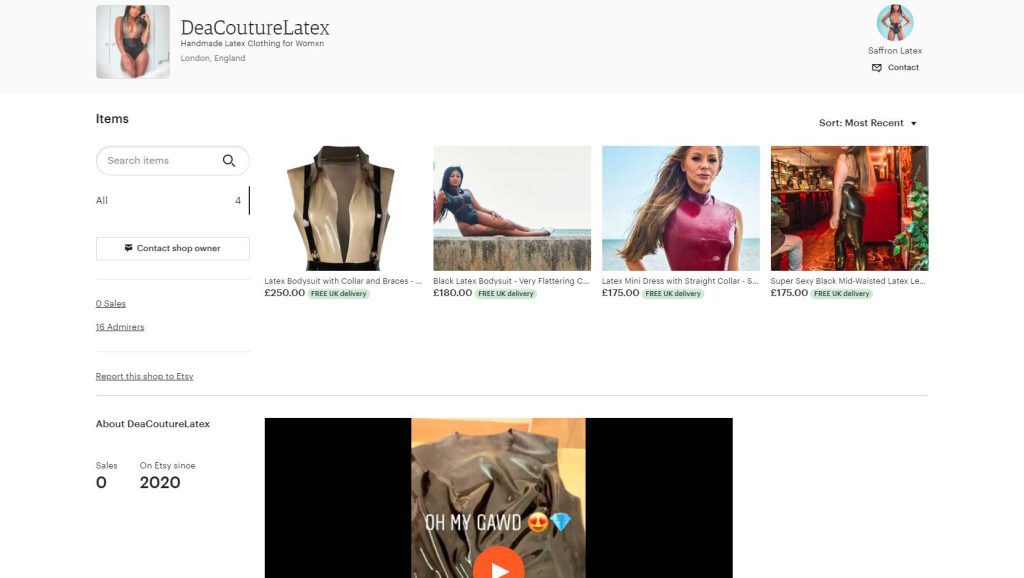 The home of couture latex. Using the finest quality latex to produce bespoke latex garments and accessories designed for you.
The brands Etsy store sells a range of latex garments; Latex Skirts, Latex Tops, Latex Underwear, Latex Dress, Latex Crop Tops.
Tight Side Latex is a Dutch brand with studios based in the heart of Amsterdam. Established in 2020, the brand specializes in creating feminine, sensual pieces that empower the wearer and bring latex clothing into the mainstream.
Producing both male and female latex, there is something for everyone.
Combining unique and eye-catching designs, including tops, bodysuits, dresses and skirts you are sure to find something at affordable prices.
The home of neon latex fashion!
Gorgeous bodysuits, dresses, skirts and tops are all available for purchase on the marketplace.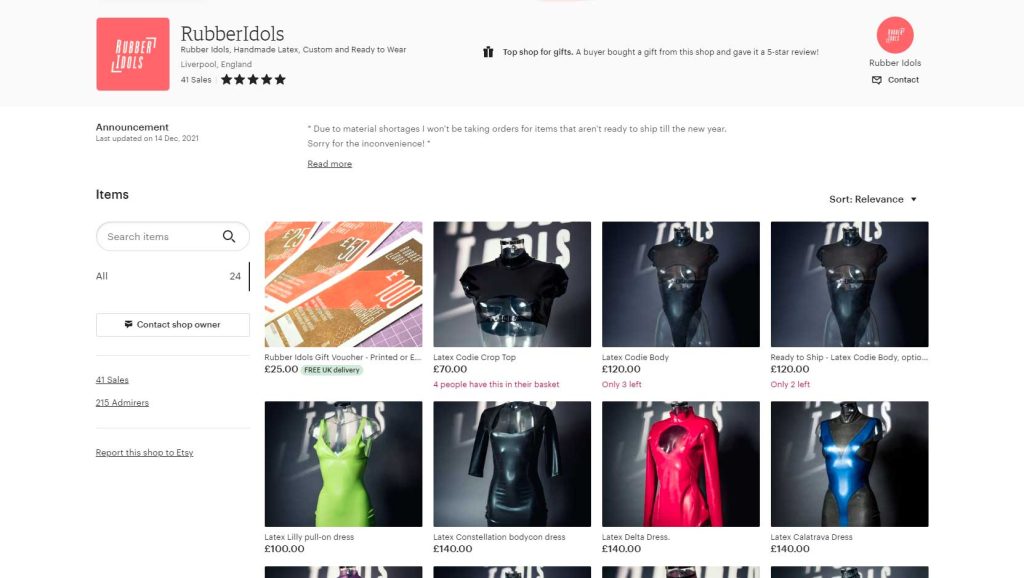 100% Handmade latex clothing, lingerie and accessories!
Producer of affordable latex underwear, two piece suits, corset tops and accessories.
Have you shopped for latex clothing on Etsy? What did you purchase? Would you consider purchasing a latex outfit from Etsy? Let us know in the comments section below.
Unsure how to style your new latex purchase? Then why not take a look at your How To & Style Guides articles.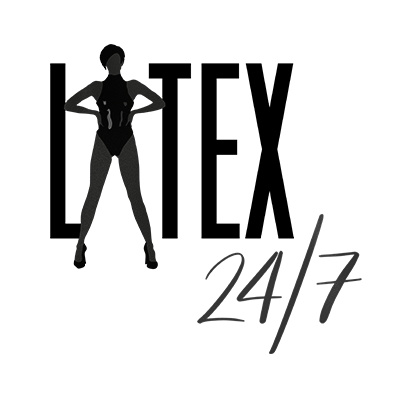 We're here, around the clock, bringing you the latest and greatest celebrity, designer, blogger, vlogger and modelling latex fashion news and reviews from around the world.  If it's shiny then we'll be covering it!