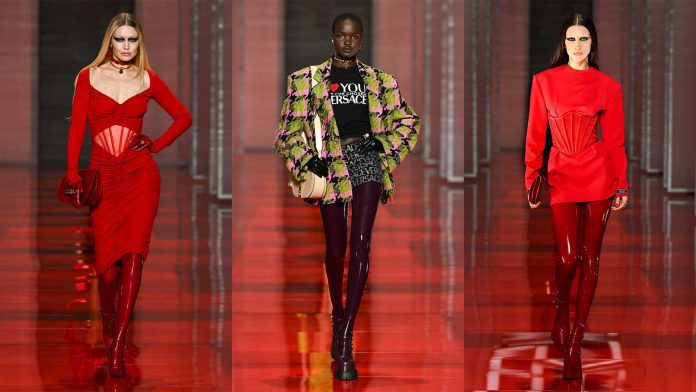 Iconic fashion house Versace unveiled a number of latex garments as part of their Spring-Summer 2022 collection and it seems that the brand is keen to continue this trend as they announce their Fall-Winter 2022 collection during this years Milan Fashion Week.
Did you know that Latex24/7 has its very own YouTube channel? Subscribe now for instant access to upcoming shiny latex clothing content.
With stars and celebs such as Kim Kardashian, Julia Fox, Chiara Ferragni and Amelia Hamlin attending the launch in Milan this week, the Versace runway was dominated by slinky satin dresses, latex leggings and waist-cinching boned corsets. Clearly, the Italian luxury brand's latest line is overflowing with outfits perfect for glamorous post-pandemic nights out.
The venue, decked out with a glossy red runway, provided an ideal backdrop for the launch of the new Versace range which features a colour palette of seductive deep reds, purples and olives, often combined with deep blacks. Latex leggings along with rubber tops and gloves remained constant throughout the Versace reveal, which were teamed with corseted dresses, jackets, blazers and skirts. The collection's latex offerings followed the rest of the range's colour tones of black, red and deep burgundy and provided an eye-catching shiny contrast to the often monotonal garments. Whilst designers such as Richard Quinn has integrated more fetish elements of latex clothing into their FW22 collection, the Italian brand certainly stuck to the basics of latex fashion – a decision we cannot put enough support behind.
Supermodel sisters Bella Hadid and Gigi Hadid donned matching red latex leggings, partnered with a corseted dress.
With their total versatility which can be combined with boots, heels or even a pair of trainers, it seems like 2022 may just be the year to replace those tight-fitting skinny jeans with a pair of form-fitting latex leggings.
As she did last year, Versace owner and designer Donatella Versace, ended the show to a standing ovation, wearing a full-length black latex gown. Can there truly be any greater recommendation than from an icon such as Donatella!
You can watch the entire launch show on YouTube below:
What do you think of the latex featured in the Versace FW22 collection? Do you think it will help to change perceptions on latex clothing and fashion on the high street? Let us know in the comments section below.
And don't forget to regularly check out our latex fashion news section for more shiny news and reviews.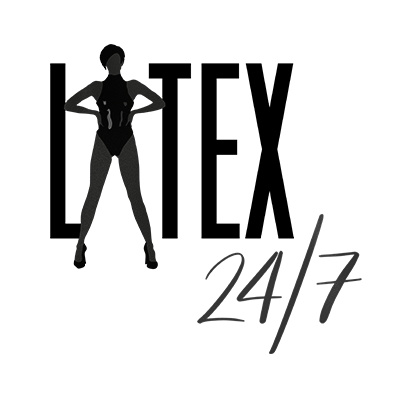 We're here, around the clock, bringing you the latest and greatest celebrity, designer, blogger, vlogger and modelling latex fashion news and reviews from around the world. If it's shiny then we'll be covering it!