Join us as we take a look at some of the shiniest and scariest latex Halloween costumes and outfits this year.
Did you know that Latex24/7 has its very own Discord server? Whether you are new to the world of latex fashion or have been adding to your wardrobe for many years, join our Discord community for hints and style tips, sales alerts and to share your greatest outfits.
Channelling her inner vampire Selene, StephJC wears a stunning Libidex catsuit for this amazing Underworld cosplay. The cause of many latex fashion converts, Kate Beckinsale had better watch out!
Here at Latex24/7 we can't get enough of this phenomenal set of images from the incredible kittykat83ii. Proving that "nature always wins", this amazing cosplay features latex from Eustratia Latex.
Bill had better watch out! Either he'll succumb to that sword or he'll have a heart attack 😛 The deadly assassin Latex Squid looks amazing in a corset from Libidex and leggings from TlcLatex.
For those who don't want to wear a full latex costume, and proving that latex can be worn just as well to accessorise, the brilliant Nekuma wears Libidex gloves and stockings in the super creepy image from Mai Aggestrup.
What's better than one latex Halloween outfit? Two! Here the gorgeous Latex Lady P shows off her devlish side wearing a Simon O catsuit and then she'll put a spell on you with her witchy costume from the talented Cathouse Clothing.
Adding a touch of steampunk to the pumpkin patch and a latex Halloween this year is Letitia-Ann wearing a shiny waistcoat and tails from the brilliant Affordable Latex. Photography by the always incredible Faces photography.
A latex Halloween countdown wouldn't be complete without a Wednesday Addams cosplay, this year provided by the amazing Evilyn13 wearing the Wednesday dress from deadly_couture. Photography by Jonny Ray.
Cheerleaders, zombies, Halloween; these shall always go together at this time of the year. Owner of Abattoir Latex, Abby Toir opted for the pre-zombie state in this amazing cheerleader costume.
Which is your favourite latex Halloween outfit or cosplay? Have you worn latex this October 31st or have you seen another costume you think is worthy of a mention? Let us know in the comments section below.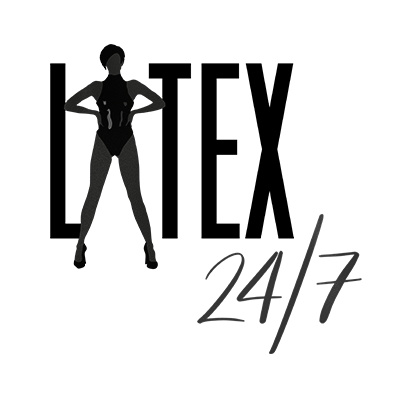 We're here, around the clock, bringing you the latest and greatest celebrity, designer, blogger, vlogger and modelling latex fashion news and reviews from around the world. If it's shiny then we'll be covering it!