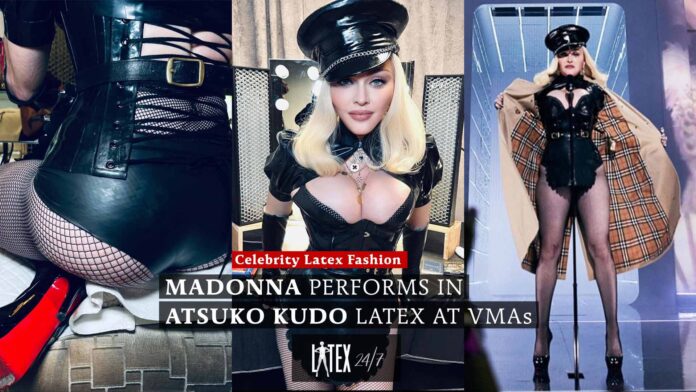 Singer Kim Petras wasn't the only celebrity to wear latex fashion to this weeks MTV VMAs, as superstar Madonna wore Atusko Kudo during her opening performance at the event.
Did you know that you can sign up to the Latex24/7 Newsletter and get the latest latex fashion news, reviews and guides direct to your Inbox? Simply head over to our Newsletter Sign Up page and enter your details.
The 63-year-old singer appeared on stage wearing a Burberry trench coat before revealing the latex fashion outfit underneath; a set comprising black latex briefs, bra and bolero finished off with a pair of fishnet tights. Also part of the singer's outfit was a custom Justine corset and military-style Queen cap, both of which were from the fantastic House of Harlot.
Whilst many may question her motives for wearing such an ensemble, our view here at Latex24/7 is that it once again proves that latex fashion is for everyone…no matter age, gender, ethnicity, or sexuality. There is only one word that can describe the latex outfit – empowering!
What do you think of Madonna's outfit choice for the VMAs? Let us know in the comments section below.
Be sure to keep up to date with the latest from Atsuko Kudo via their Facebook, Twitter and Instagram accounts.
And for all the latest shiny celebrity news check out our celebrity fashion news section.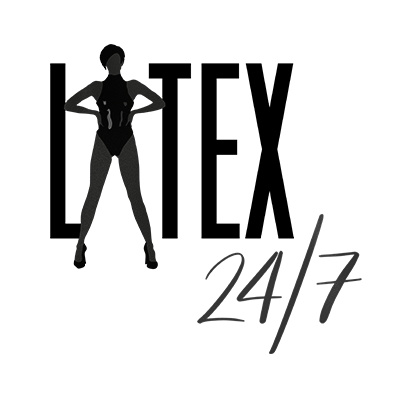 We're here, around the clock, bringing you the latest and greatest celebrity, designer, blogger, vlogger and modelling latex fashion news and reviews from around the world. If it's shiny then we'll be covering it!