Here at Latex24/7 we love a bit of Katy Perry. The American singer/songwriter never fails to impress with her wide and varied array of shiny outfits. Katy always looks stunning and she looks even more delectable whilst wearing the luscious material from designers such as the brilliant Abigail Greydanus, Dawnamatrix and the always awesome Atsuko Kudo.
In what may be her weirdest outing yet, which sadly didn't include Katy wearing any latex, she appeared in what can only be described as the world's first fetish fruit slot machine. Katy posed with a number of fruity headed dancers in a shot with Iris TheSpider (owner of Iris TheSpider Latex and House of Harlot) whilst appearing on the French version of the hit talent show The Voice. Katy was performing her latest single, Bon-Appetit, as part of the semi-final show.
Each of the twelve dancers wore a different colour latex bodysuit, all of which were beautifully made and contrasted Katy's plain white ensemble brilliantly. For once our eyes weren't on Katy!
The full performance in all its shiny goodness can be seen below: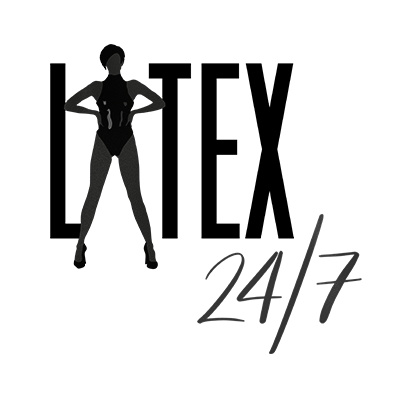 We're here, around the clock, bringing you the latest and greatest celebrity, designer, blogger, vlogger and modelling latex fashion news and reviews from around the world. If it's shiny then we'll be covering it!