UK based latex fashion designer TlcLatex have recently launched a number of incredible new latex garments. A unique "behind the scenes" video was filmed on a recent photoshoot for the brand.
Did you know that Latex24/7 has its very own Discord server? Whether you are new to the world of latex fashion or have been adding to your wardrobe for many years, join our Discord community for hints and style tips, sale alerts and to share your greatest outfits.
The awesome video, shot at the Simulacra Studio in London, was filmed by TlcLatex themselves and highlights just a small selection of the new outfits recently (or soon to be) launched:
Featuring in the video wearing TlcLatex are models Latex Nai, Pretty Dangerous UK, Bound2one, Bethan Black, Davina Diamantes and RubberEmily. Photography on the day was from the always fantastic Latexandlingerie.
The video includes a number of new items from TlcLatex which are now available to purchase on their website.

Modelled by Latex Nai

£140.00

This fabulous sleeveless collared six-panel dress features Tlc's trademark hidden back zipper with low cut shaped front, that fits your curves perfectly.

With Front and back Black Panels, this is incredibly slimming but accentuates your figure to the Max!

Damas side panels really elevate this dress to a high Wow Factor.

Pretty Dangerous Silver Leopard Print Dress

Modelled by Pretty Dangerous UK

£150.00

This fabulous latex leopard print dress is made from latex direct from Russia.

The Latex colour is silver on a black background.

This Hidden Back zipper dress is sure to show you off at your best.

Worn with boots or heels it looks amazing.

Modelled by RubberEmily

£55.00

This fabulously simple Halter top with back of the neck press closure can literally be worn with everything. It really needs little explanation. What you see is what you get!


Featuring a low back so it's easy to put on and take off.

Why wouldn't you buy one?
Want to see more?
Do you want to view even more exclusive BTS video from the day? Then head over to the TlcLatex YouTube channel now for more videos from the day. Don't forget to hit that Subscribe button to be informed when upcoming videos are launched.
And don't forget that you can always find more latex fashion news right here at Latex24/7.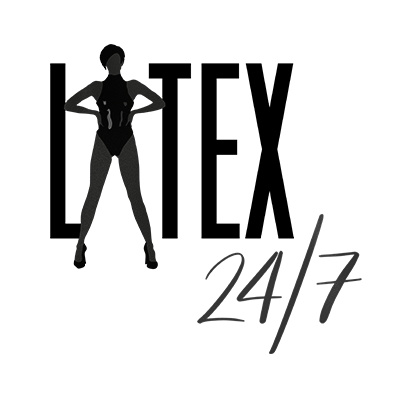 We're here, around the clock, bringing you the latest and greatest celebrity, designer, blogger, vlogger and modelling latex fashion news and reviews from around the world. If it's shiny then we'll be covering it!