After the success of our last Latex Fashion Q&A here at Latex24/7 we thought we'd raise the bar even further for our next interview. It's therefore with great pleasure that we have been able to talk to the hugely talented, and internationally published, Dante-Layla about her love of latex and modelling career.
Latex24/7: Firstly, thank you Dante-Layla for taking the time to talk to us about latex fashion.
Q: Please provide a short overview of yourself and your modelling career so far. For example, when and how did you first get into modelling?
A: I first got into modelling when I was 23 years old. I'd been wanting to do it for a few years but never had the confidence or encouragement to do so. Then in 2012, I found myself being dumped by my then-boyfriend, losing my job and being kicked out in the space of two weeks! So I was living on a mate's couch, no parents, boyfriend or job dictating my life so I thought you know what? I'll give modelling a go! Seven and a half years later, here I am!
Q: Can you describe what is involved with a typical modelling assignment? When do discussions begin around locations and themes, what does the day of a shoot normally entail?
A: It all depends on who you're working with. If you're working with someone you've worked with a few times and are familiar with each other, it can be a lot quicker and easier to organise a shoot and bounce ideas around as you can get on each other's wavelength a lot easier. If it's a first time working with someone, it can sometimes take a little longer, depending on how far away you are from each other as I've been known to travel long distance for shoots so it can require a little extra planning and that would come up early on in the discussion to ensure feasibility of getting to the location. But in alternative modelling, there's nothing really "typical" about a shoot haha! Or at least not for me as I like to broaden my spectrum of shoots as much as creatively possible!
Q: Throughout a models career there are often standout projects, and shoots, which a model is particularly proud of. What do you feel have been the highlights of your modelling career so far?
A: Ooh there's been a few! From getting my first publication back in 2013 to featuring in one of my favourite magazines three times – including getting on its cover this September! And I achieved my very first magazine front cover last September in 2018 too which I didn't even know was going to happen! And I'm now featured in two calendars for 2020 which is awesome! Getting to work with some incredible photographers is always a huge highlight for me! I do feel very lucky to have had some of the opportunities I've had.
Q: What is it that makes you keep coming back to modelling time and time again? Is it the people, the challenge, the sense of achievement, the positive comments?
A: Pretty much all of those things! I love being creative, I love making art, I love pushing myself artistically and seeing the results afterwards. And if they get in magazines even better! I do love the positive feedback too, it's really heart-warming when people respond positively to my work and support it. Some of those who started out as fans have become firm friends too that I would never have known had I never started modelling!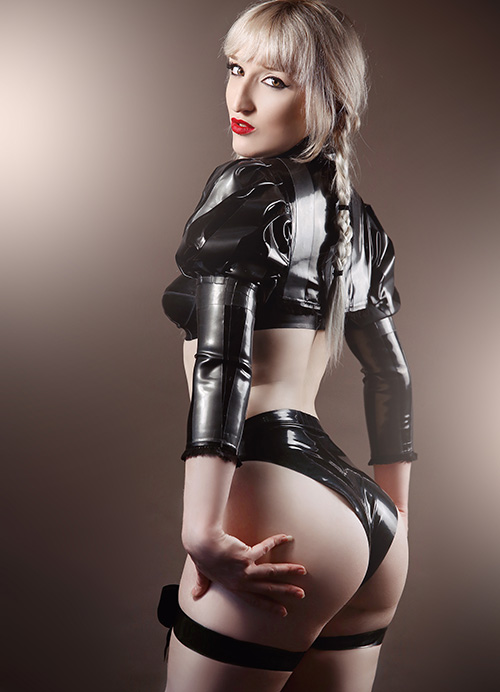 Q: Moving onto the world of latex fashion and the wonderful shiny stuff, how long have you been modelling latex outfits and adding the genre to your portfolio?
A: I first modelled latex in 2013, a year into my modelling endeavours. I fell in love with wearing it immediately! It's a wonderful material and I love seeing how it is coming more and more to the forefront of fashion and not being kept solely to the confines of dark fetish cellars or whatever. It's a hell of a lot more classy and versatile than a lot of people first perceive it to be.
Q: What first sparked your interest or first got you involved in modelling latex fashion garments? How did you discover the material? Was it a personal interest or intrigue, maybe seeing celebrities wearing outfits made from latex, were you approached by a designer?
A: I'd known about it for a while, since being in my teens. My first instance of coming across it was when I was about 15 years old and there was a beautiful latex formal suit on a mannequin outside a store in Afflecks Palace – back in the day when it was actually an awesome place to go! I was in awe of it! It was so beautiful! Then around 2008, I was reading Bizarre magazine a lot at the time and I came across Nina Kate and Jane Doe Latex and I instantly fell in love with her and her work! I still love her company to this day! And I'm eternally grateful to the latex designers I've had the privilege of working with!
Q: Which latex fashion brands have you worked, or collaborated with? What were their outfits like to model?
A: I've modelled for Amentium, Catalyst Latex, Strawberry Panda Latex, Eustratia, Catriona Stewart Latex, Pretty Deviant Clothing, and I've also bought items from Jane Doe, Honour Clothing, Little Rubber Cherry, Murray and Vern, Westward Bound and Dead Lotus Couture. I absolutely adore wearing their outfits! I say the same as everyone else – wearing latex makes you feel like a superhero! It's true, it absolutely does! Only time it doesn't is when you need to pee!!
Q: There are many latex fashion designers around the world who cover a wide and varied range of latex clothing styles. Who are you favourite designers? If you could model for any designer, or any style of latex clothing, what would it be?
A: Oh that would be Westward Bound, Iris the Spider, House of Harlot, Ausrie Fel, Jane Doe Latex and Dead Lotus Couture! It would be an absolute dream to work with those companies! But I'd happily work with all of my previous ones again!
Q: Latex is a unique material and totally different from the majority of other fabrics which are commonly used during the making of fashion garments. What was your reaction the first time you ever wore latex clothing? How does it make you feel?
A: Fantastic! First time I wore latex I was elated! I really did feel amazing! It really does make you feel like you can take on the world!
Q: With the uniqueness of the material, and like any form of niche modelling, there are often increased challenges which would not be present with traditional photoshoots. What challenges does latex pose for you as a model?
A: Latex is definitely challenging to model! It is merciless and will show up every lump and bump! So I've learned to make sure your stomach is sucked in! Definitely break out the hips and get that S shape going on! Curves in the right places flatter latex a great deal, you just have to learn where those right places are!
Q: What do you feel is the main appeal of latex fashion?
A: Its versatility! It can be made into anything for any occasion! It can be a cocktail dress, an evening gown, a wedding dress! It can be a sexy little number for the bedroom or a kinky setting. It can be lingerie, it can be a formal suit, it can be casual! I've seen latex robes and pyjamas! The possibilities with latex are endless!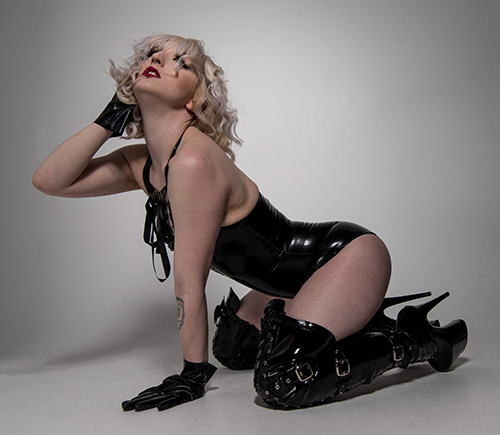 Q: Who is your biggest influence and who do you respect most in the genre of latex fashion?
A: Erm ooh good question! I think I respect them all in the sense that they're often small businesses run by just one person or maybe a very small team of people at most. I know that they work incredibly hard to create something that makes their brand stand out and be instantly recognisable from other brands. They put in hours to market their brand – websites, social media, etc. Generating customer attention and establishing themselves in a highly competitive, cut-throat world. It's no easy feat so I respect those who do it!
Q: Latex clothing means different things to different people, ranging from the empowering to the outlandish. What does latex fashion mean to you?
A: Definitely empowering but I do like being outlandish too. I love that latex allows for a whole other dimension to be introduced to shoots. It steps outside of the norm and challenges those ideals and ideologies of what fashion should be. I've never been a real shy, wallflower type person and I feel latex represents me as a person; I am a vibrant, unusual, visible person. I stand out, I am noticed, it adds to my presence. Without wishing to sound arrogant, it enhances the parts of me that make me a show off haha!
Q: What is the best reaction you have ever received whilst wearing the shiny stuff? How do those not used to latex fashion react? Is it generally positive or negative?
A: I'm lucky in the sense that they've generally been positive, though I did have a few binmen leering at me one day. One came over and asked me if I got a kick out of wearing latex outdoors and I just told him "no. I'm an artist, I make art", which was probably really pretentious, but it shut him up haha! I think he was expecting me to say yeah, I totally get off on it but I wasn't about to give him the satisfaction!
Q: Latex fashion has become more and more of a normality in mainstream thanks to the music, film and celebrity industries. Do you see this trend increasing or do you think outfits made using the material will always be a niche item? Do you feel there will ever be a day when latex garments will be mainstream and can be brought "off the peg" at normal high street stores and shops?
A: I've already seen it! I walked into House of CB and saw latex on the peg in there! Which is good in a sense but in another, I worry about the issues people who are not used to or educated on latex may face. For example, how to look after it, how to put it on, take it off, to not put it on metal hangers as latex reacts with certain metals. Also, to not allow it prolonged exposure to sunlight as it reacts to UV. Also, how to wash and store it. I do worry a lot of people may think it's just like wearing standard materials, but it really isn't. I think people need to learn a lot about latex and how to care for it before they go investing in it and before stores start selling it in house. Also, there is the side of missing out on bespoke, made to measure items which you often get when ordering garments from latex companies. But, in an ideal world, if latex could be sold off the peg and people had enough knowledge about it, I'd love to see that!
Q: What would you say to anyone interested in wearing the material? What would be your best piece of advice for anyone who is thinking of trying latex but hasn't done so yet?
A: Take it slow! Latex is a paradox as it is strong yet fragile so it's not something that you can put on in a rush. Get a good dressing aid and shiner too to assist in putting it on and bring out the best in the garment. Some garments do take wriggling to get into as well so, as I said, do not rush with it, take your time and be gentle. And for the love of god, watch your nails!!
Q: What do you feel are the biggest barriers for people who haven't worn latex fashion before? What stops them from taking the plunge?
A: I think it's all perception; I think a lot of people still think latex is just for sordid doings behind closed doors – heavy rubber in a basement somewhere. Which there's nothing wrong with and of course using it for that purpose is commonplace and totally acceptable. But people need to broaden their minds a bit and see that it is a very multidimensional material. As I previously mentioned, there are so many different occasional and purposes that people can wear latex for, it's not purely for fetish purposes anymore. But as I said, wearing latex for fetish purposes is totally fine and dandy too!
Q: How do you feel is the best way to integrate latex into an everyday "public" outfit. How would you mix it with other materials?
A: I've seen latex leggings mixed with a really cute top or blouse or vice versa. You can add a latex harness to give a plain top a bit more dimension and dress it up a bit. A latex belt on a pair of trousers. Some beautiful ruffled latex collars, cuffs and hair accessories are out there too so there's lots of ways that latex can be incorporated into an outfit without it being too intimidating.
Q: Returning to your experiences of modelling. For models new to latex clothing, or those who are about to shoot in it for the first time, what tips and suggestions would you give them?
A: Same as before. Take your time, don't rush, respect it and watch your nails!
Q: As a professional model, whose image is everything, what is it that keeps you returning to modelling latex clothing?
A: The way it looks, the versatility of the outfits and – this may be creepy – the smell! I love the smell of latex!! I know that's totally weird but I don't care! Hahaha!
Q: Are there any upcoming projects which you will be involved in, which you could give us a sneak peek of? Where should we look out for you next?
A: I don't have much on at the moment as it often goes quiet at this time of year in the run up to Christmas. But any happenings can always be seen on my social media profiles so always check in to keep up with my latest shiny shenanigans!
Be sure to follow Dante-Layla and her latex modelling on social media via Facebook, Twitter and Instagram.
Want to hear the thoughts of other people involved in the latex industry? Don't forget you can check out our other latex fashion interviews here on Latex24/7 for more questions, views and insider knowledge.
Do you feel the same way about latex as Dante-Layla? Does it give you the same buzz or are you too worried to try it? Who would you like to see us interview next? Let us know in the comments section below.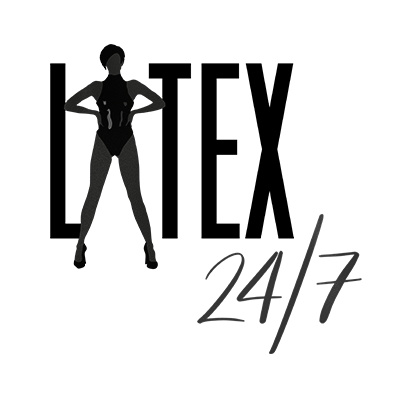 We're here, around the clock, bringing you the latest and greatest celebrity, designer, blogger, vlogger and modelling latex fashion news and reviews from around the world. If it's shiny then we'll be covering it!