Knowing how to style a latex skirt, and pair it with traditional fabrics, has to be one of the most accessible ways to start off your latex clothing collection and integrate latex fashion into your everyday outfits. Welcome to the first of many "Friday Five" articles, in which we run you through our top 5 ways to style our favourite individual latex items.
The skirt may be one of the most versatile pieces in any wardrobe. It goes with pretty much anything and can be worn in every situation, from casual to formal, and it's so easy to do the same when styling a latex skirt. Don't believe us? Then read on as we have teamed up with the wonderful Latex Couture to highlight our top 5 favourite latex skirt style tips. Oh, and don't forget to tell us which look is your favourite in the comments below!
And don't miss our exclusive giveaway offer in which you can be in with a chance of winning a fantastic £50 gift card from Latex Couture, which is sure to help you add a latex skirt to your wardrobe. Read on to find out how you can enter this amazing competition. Also, don't forget you can save 5% off any purchase at Latex Couture by entering code "LATEX247" at checkout at their website even if you're not lucky enough to win.
Top 5 Ways to Style a Latex Skirt
Juice it Up!

Nothing says summer quite like a crop top and skirt combo, so why not add some extra "shine" to the upcoming season with a juicy burnt orange circle skirt, without waistband.




Black is Always in Style

A new twist on an old classic. Pair a black latex mini skirt with a black crop top. Simple but classic.




Off the Scale!

Combining an off the shoulder cotton top with the shine of a mini skirt takes this otherwise simple, monochromatic look off the scale! Perfect for the warm weather.




Denim on

Denim

Latex

It's time for the classic denim on denim to move over. It's time for some shine!


Combining a black latex mini skirt with a white off the shoulder crop top and cropped black denim jacket. Denim has never looked so good.




The Night Out

Take it up a step by wearing a black mini skirt with a peplum style top. Perfect for a night out at the local pub (now that we're all allowed outside again).



Bonus Latex Skirt Styling Tips
As this is our first-ever "Friday Five" we thought we'd treat you all and offer a few bonus ideas for styling that latex skirt!

The Friday Night!

Need we say more? Take a contrasting cropped top, add in a latex mini skirt and you'll be ready to dance the night away.




Splash of Colour

Be bold and be the centre of attention, with this black latex mini skirt and striking red side tie top. Full of sass!




Shine Outdoors

Just in time for Spring, here's a fantastic way to wear a latex skirt on a springtime walk. Combine a skirt with black tights, boots, warm jumper and cute denim jacket.



Exclusive Giveaway Offer from Latex Couture
Our friends at Latex Couture have kindly provided us with an incredible £50 gift card to give away to one of our lucky readers. Closing date is 30th April 2021. To be in with a chance of winning this (perfect for your first latex skirt) simply follow the three steps below:
Be sure to head over to see the full range of latex fashion available at https://latex-couture.com/, and give them a follow on Instagram and Twitter. Don't forget that 5% off code "LATEX247" entered at checkout.
If you'd like to find out about other latex fashion how-to guides and styling tips, check out the full style guide series and let us know what you want to see us style 5 ways next time too in the comments below.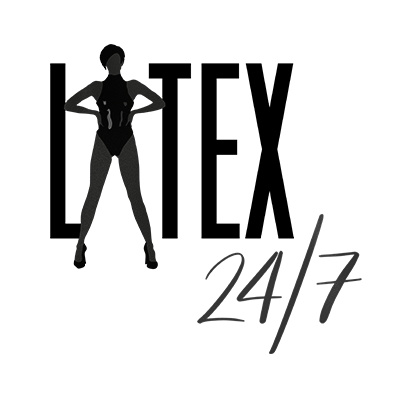 We're here, around the clock, bringing you the latest and greatest celebrity, designer, blogger, vlogger and modelling latex fashion news and reviews from around the world. If it's shiny then we'll be covering it!