We're not quite sure where this year has gone to (thank you pandemic) but the one thing we do know is that it's time for the release of every major brands winter 2020 collection. One such brand, the fashion-defining Yves Saint Laurent, have gone all-in with latex fashion for this season – their latest garments featuring over ** latex items.

The collection was designed and conceived by Anthony Vaccarello and features an eclectic mix of staple garments such as leggings, dresses and skirts.

We have recently seen Israeli actress, and Wonder Woman star, Gal Godot be featured in the November issue of Vanity Fair wearing a striking red midi dress from the collection. We were also treated to seeing Kylie Jenner wearing Saint Laurent Latex for Vogue Hong Kong, in which the celebrity wore a latex midi wrap dress.
Of particular surprise, for this winter 2020 ensemble, was the lack of latex fashion within the Saint Laurent mens collection. Given the immense resources available to the design house it would have been nice to have seen at least one or two items, to satisfy the male gender.
So what latex fashion is in the Saint Laurent Winter 2020?
Latex Pencil Skirt
Sometimes simple truly is the best and this stunning piece embodies that concept entirely. A high-waisted pencil skirt with the added flare of a unique waistband, easy to wear thanks to a back zip closure.

Available in black.

Available now from the Saint Laurent website.


High Rise Latex Leggings
An absolute essential for any wardrobe, these high rise latex leggings are designed to blend in and be combined with traditional fabrics or alternatively other latex garments, if you prefer. A slender cut provides smooth lines.

Available in black, plum, rubis and purple (shown left)

Available now from the Saint Laurent website.


Latex Racer Midi Dress
A knee-length, sleeveless midi dress combining a round neck and indented racer front and back. The dress features a rear zip enclosure and a single back vent. As worn by Gal Gadot in Vanity Fair.

Available in red.

Available now from the Saint Laurent website.

Latex Midi Wrap Dress
A plunging V neckline midi dress, padded shoulders and long sleeves. The dress is gathered at the waist with an adjustable eyelet belt and front belt enclosure with concealed snap buttons.

Available in plum.

Available now from the Saint Laurent website.

Saint Laurent took to Instagram to show off some of the shiny garments.

With the availability of a collection, from a brand such as Saint Laurent, it's extremely exciting to see the transition of latex fashion into the mainstream. Other brands are always known to take inspiration from brands like Saint Laurent, often designing and releasing their own versions of luxury brands.
Has latex fashions time finally arrived? We, for one, can't wait to find out.
For the latest latex fashion news be sure to check out our latex news section regularly.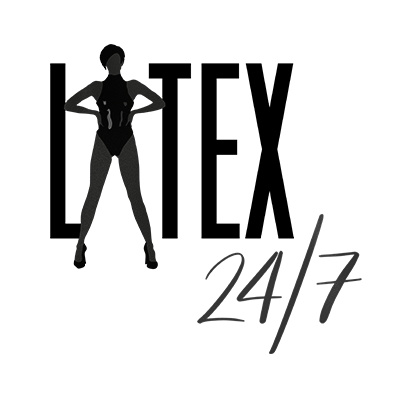 We're here, around the clock, bringing you the latest and greatest celebrity, designer, blogger, vlogger and modelling latex fashion news and reviews from around the world. If it's shiny then we'll be covering it!