The Kwaidan Editions duo of husband-and-wife team Hung La and Léa Dickely are well known for taking their latex stylings and inspiration from the outlandish, often citing the film by Japanese director Masaki Kobayashi from which they gained their name. And at the launch of the brand's new Spring 2022 collection, it was clear that their time during lockdown has only emphasised this approach.
Did you know that Latex24/7 has its very own Discord server? Whether you are new to the world of latex fashion or have been adding to your wardrobe for many years, join our Discord community for hints and style tips, sale alerts and to share your greatest outfits.
UK based Dickely and La often describe their approach to fashion as one which aims to break down barriers and to leave behind traditional female stereotypes providing an outlet for women to feel truly unencumbered. Their own website describes the brand as envisioning "a world where women can express their interiority and experience true freedom—freedom from boundaries, constructs, and expectations. The intention is to provide women with the visual language to reflect their own personal exploration of what it means to be a woman in today's society."
Whilst many brands have returned to the catwalk in recent weeks and orchestrated an in-person show to highlight their new collections, Kwaidan Editions opted instead to give it just one more season before returning to Paris and with the launch of new latex garments and designs, it is clear that that the designers love of floral patterns, tailoring and latex has only increased during the lockdown.
The new range features a number of contrasting designs; some with floral patterns whilst others encompass full black latex flares, tops and aprons – a nod to the horror roots of Kwaidan, no doubt. Another features a coat that has been cut in rubberized black cotton with a laser-etched flower pattern. A very unique approach to latex fashion.
Be sure to check out Kwaidan Editions Instagram profile for more incredible examples of their designs.
And don't forget you can always get the latest latex fashion news right here at Latex24/7.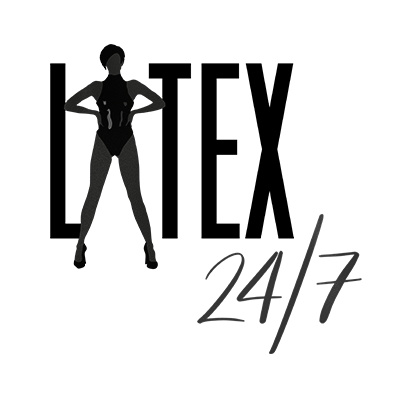 We're here, around the clock, bringing you the latest and greatest celebrity, designer, blogger, vlogger and modelling latex fashion news and reviews from around the world. If it's shiny then we'll be covering it!