At the back end of last year, the Kwaidan Editions duo of husband-and-wife team Hung La and Léa Dickely released their latex infused Spring 2022 collection which took inspiration from the outlandish, often citing the film by Japanese director Masaki Kobayashi from which they gained their name. Whilst their time during lockdown allowed them to perfect their craft the brand's new Fall 2022 collection provides a reset of sorts.
Did you know that Latex24/7 has its very own Discord server? Whether you are new to the world of latex fashion or have been adding to your wardrobe for many years, join our Discord community for hints and style tips, sale alerts and to share your greatest outfits.
Where the Kwaidan Editions Spring 2022 collection had a vibrant palette, the UK based duo have reverted to a far more neutral colour scheme instead opting for shades of beige, grey, and black. But that certainly doesn't mean that the upcoming Kwaidan Editions collection doesn't double down on including latex in their clothing range. There was more latex than ever: from shirt-and-tie kits, blazers and maxi skirts, and jackets including a thicker variant cut into a trench.
The brand's unique approach to latex clothing continues to feature loose, flowing garments that are both comfortable to wear and eye-catching. "We dug into luxury," Dickely said, "and we wanted a high level of craft." It's clear that they continue to approach latex fashion as one which aims to break down barriers and to leave behind traditional female stereotypes providing an outlet for women to feel truly unencumbered.
Be sure to check out Kwaidan Editions Instagram profile for more incredible examples of their designs.
And don't forget you can always get the latest latex fashion news right here at Latex24/7.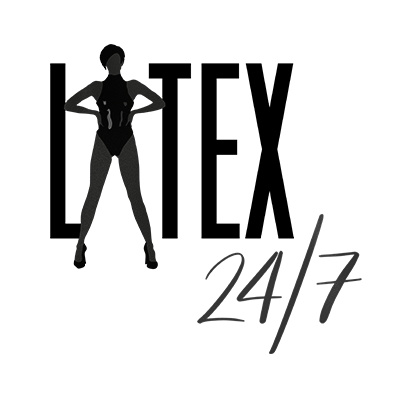 We're here, around the clock, bringing you the latest and greatest celebrity, designer, blogger, vlogger and modelling latex fashion news and reviews from around the world. If it's shiny then we'll be covering it!