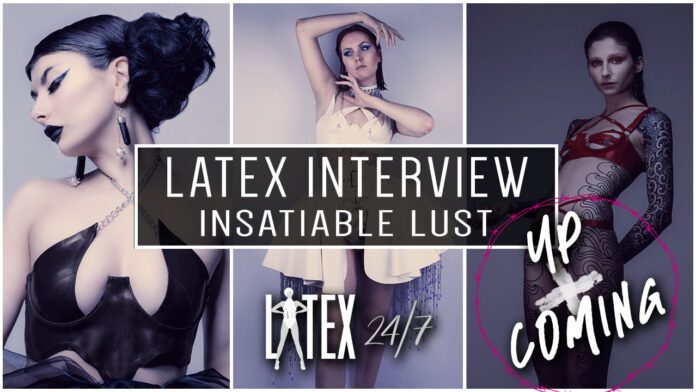 As part of our special "up + coming" series, where we focus on new, unique and exciting latex fashion designers we were recently lucky enough to get the opportunity to interview London-based Insatiable Lust Latex about their love of latex, setting up a new label and their hopes for the future.
The creation of Brenda Tamm, Insatiable Lust Latex are quickly becoming renowned for their exquisite, high-quality luxury latexwear for everyone and every-body. Their designs range from dresses to corsets and are designed with each individual client in mind.  Insatiable Lust has gained a huge following in the LGBTQ community.
Q: Please provide a short overview of yourself and your background in fashion and clothing design. For example, do you have specific qualifications and training which assist you in your current trade? How did you get into fashion design?
A: I have sewn from a young age and have always been interested in fashion, which is what pushed me to do the BA Fashion Contour degree at London College of Fashion. During this time I also worked at several London latexwear companies and developed a love for the material spurring me to start my own brand.
Q: What skills do you think are important for any fashion designer to hold?
A: Honesty, resilience and attention to detail – these are qualities that I find very important and use within my own brand.
Honesty – the fashion industry is full of bigger brands copying smaller ones (and sometimes unfortunately also small brands copying other small brands) which I stand firmly against. Furthermore, most of the fashion world is built around discounts and getting the best deal possible, but this leads to people questioning why the product cost that much in the first place. For this reason, I never hold sales, which ensures a fair price for the customer and means they will not have to worry about "missing" a bargain.
Resilience – never give up! There is always a brighter future ahead even when things seem bad. The ability to survive in this tough marketplace is a must!
Attention to detail – This is possibly the most important aspect as the quality and finishings of my garments is something I take great pride in. I strive to give my customers an outfit they can cherish forever. The era of throwaway-fashion has been disastrous to sustainability and I hope to combat this by offering something that can truly last.
Q: What was your biggest fear when going out and starting your own line?
A: I never really had any fears! Building my brand sort of happening naturally. As I kept practising, I just kept making more and more items and after I perfected this complex skill, I decided to start selling my creations!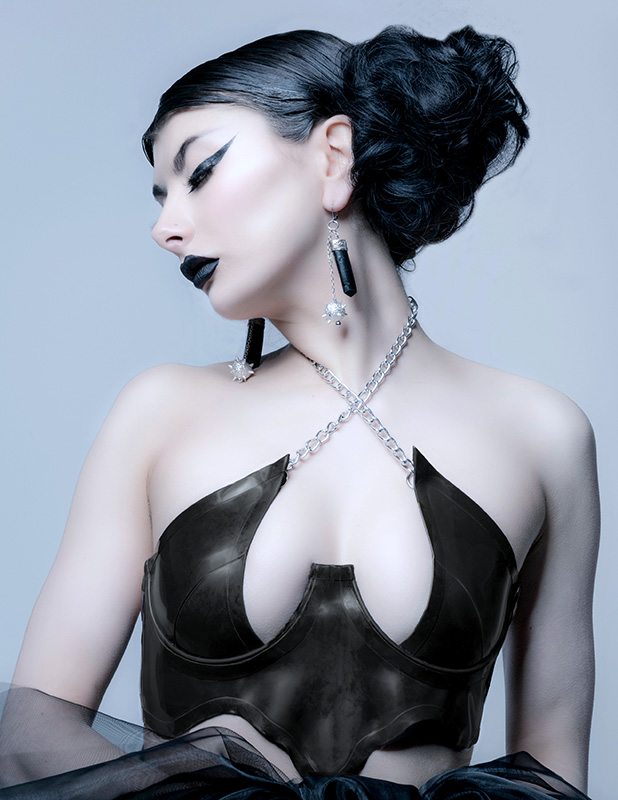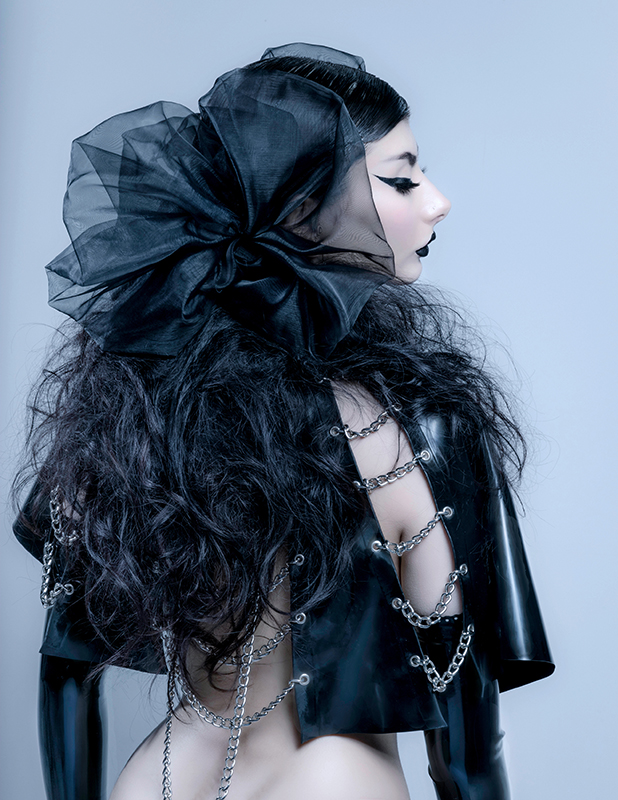 Q: How long have you been working with latex as a material? When did you first realise you wanted to pursue working with it?
A: I have been working with latex for about three years now. I just really liked the tactile feel of the material and how it was constructed so just kept experimenting with it until I was confident in my skill.
Q: What first sparked and started your interest in making latex fashion garments? How did you discover the material? Was it a personal interest or intrigue, maybe seeing celebrities wearing outfits made from latex?
A: I fell into it quite by accident when I found an intern position in a London latex brand. Once I started, I fell in love with latex instantly. Believe it or not, I had never really even thought about the fabric before or understood what it was.
Q: Can you describe what is involved with a typical latex garment design? What influences your initial design choices? What process do you follow? How long does it typically take to come up with and produce a new item?
A: My influences come from all over the place. My recent collections have taken ideas from Japanese folklore, couture fashion and western period clothing. The time it takes to make an item varies considerably. I often alter the design of the garment as it is made because what gets draw out on paper can sometimes be further improved when worn on a body. From design to completion it can take anything from a few days to a few weeks depending on the complexity of the garment.
Q: What do you enjoy most about working with latex? What are the biggest challenges when working with the material?
A: I love that it is such a hands-on craft! It is amazing what you can create with just your hands and a little glue. It definitely took me a while at the start of my journey to get the hang of the construction as it is very difficult for someone just starting out in the field. I really wanted to make sure my skills were up to par as I was determined to only start selling really high quality and long-lasting garments.
Q: Latex fashion tends to be associated with young, athletic and toned people. Do you feel there are any limits to who can wear the material; big and small, young and old?
A: In my mind, there are no limits to who can wear this fabulous material! This is also where my brand's motto comes from – 'latexwear for everyone and every-body'. As all of my garments are made to measure, I adapt to anyone's specific measurements and make everyone look amazing whatever their age, gender or size.
Q: Moving on to the customers who get to wear your awesome designs; how important is the reaction of your clients when they get to experience and try on their garment for the first time?
A: This is one of the best parts about the job! I love getting feedback about my customer service and how the garments fit and make them feel. It makes my day! That personal connection is so important as it is only me making all these clothes, not some big factory so I really strive to communicate with my customer to make sure their expectations are always exceeded.
Q: What is the best reaction you have ever received from a customer?
A: "I get SO many compliments on my custom lingerie set! Best purchase ever!"
"I love your collections and am excited for anything new you bring out!"
"The quality and craftmanship is impeccable!"
Q: What reactions have you seen, and how do those not used to latex fashion, tend to react to the use of the material and seeing it for the first time? Is it generally positive or negative?
A: People seem to be drawn to it because of its one-of-a-kind characteristics and look. I have always got really positive feedback from all of my tutors on my course as well – they were blown away about what can be done with this unique fabric.
Q: Turning to the material itself, how versatile is latex and how easy is it to create the designs of your dreams? Do you feel it is easier or more complex to do this than with traditional materials?
A: I definitely prefer latex over traditional materials but maybe that is just because I am so used to it. I have also sewn with traditional fabrics for most of my life but they just cannot beat latex for me. I just feel you can achieve so many unique shapes with latex that perfectly hug your curves. There is also still so much that can be done with this fantastic material and I just love experimenting and coming up with new unique construction methods and interesting additional details.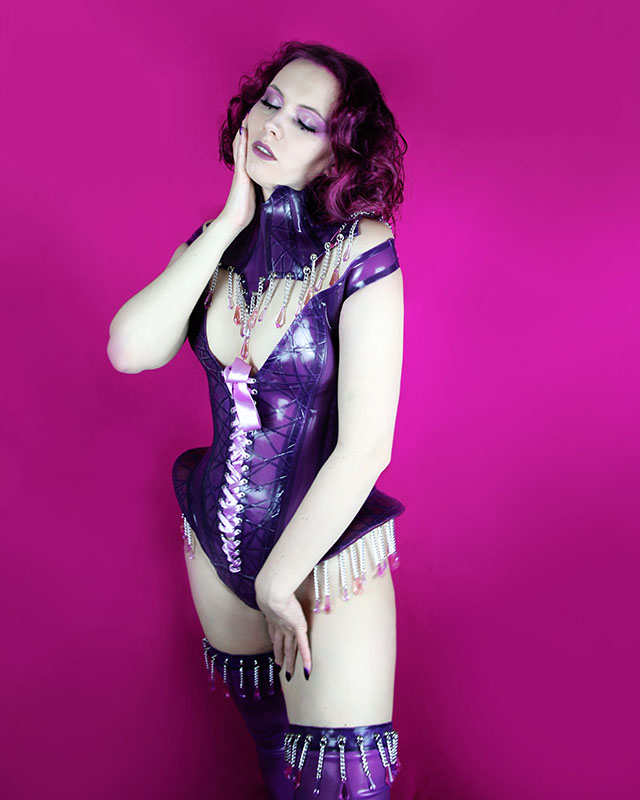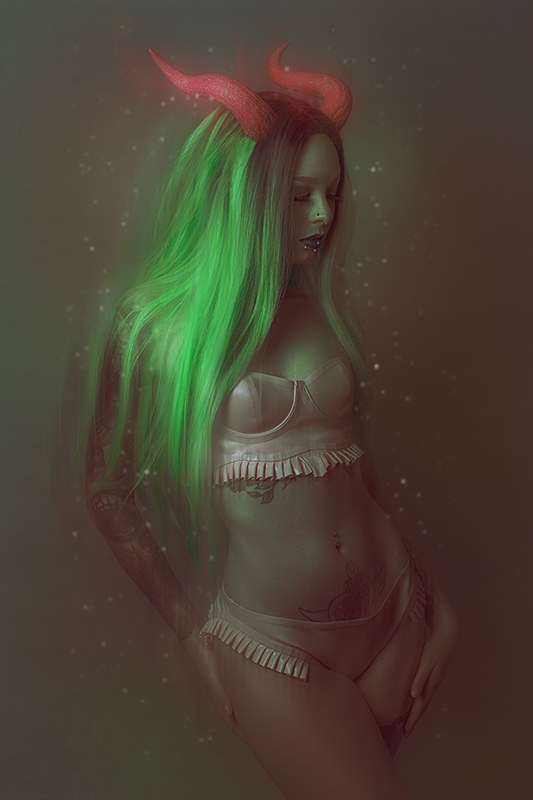 Q: What do you feel is the main appeal of latex fashion? What are your favourite elements and reasons for enjoying latex?
A: Latex has a stretch and a shine that really catch the eye, it is a uniquely sensual material. It has a feel, a scent and a fit that no other material can match.
Q: Who or what are your biggest influences and who do you respect most in the genre of latex fashion?
A: There are a lot of other amazing latex designers out there but I don't really tend to look at them for inspiration. I am mainly influenced by haute couture fashion so tend to look at more high fashion influences such as Mugler, Galliano and McQueen.
Q: Latex clothing means different things to different people, ranging from the empowering to the outlandish. What does latex fashion mean to you?
A: I believe that latex is no longer just for underground clubs like it used to be. With my innovative designs, I hope to bring latex to a mainstream audience. I really think that latex can have a mass appeal, which is why I have worked to create designs for everyone and every-body.
Q: Latex fashion has become more and more of a normality in mainstream thanks to the music, film and celebrity industries. Do you see this trend increasing or do you think outfits made using the material will always be a niche item? Do you feel there will ever be a day when latex garments will be mainstream and can be brought "off the peg" at normal high street stores and shops? If so, what items do you think would be included?
A: There has definitely been a massive surge with more and more celebrities wearing latex casually. I see this only increasing in the future and becoming more mainstream. For the everyday wearer, smaller items such as belts and bras can easily be worn over other clothing and skirts and trousers can easily be incorporated with traditional fabric tops. So I do think that latex items could become mainstream, the challenge is to demystify it to the public.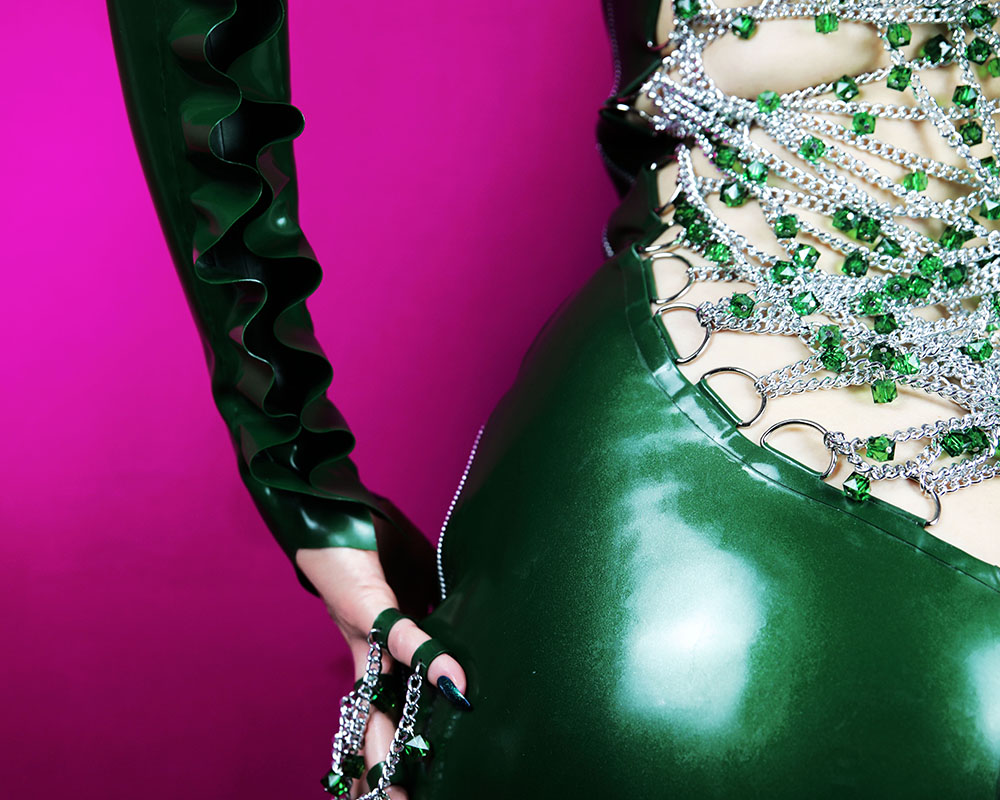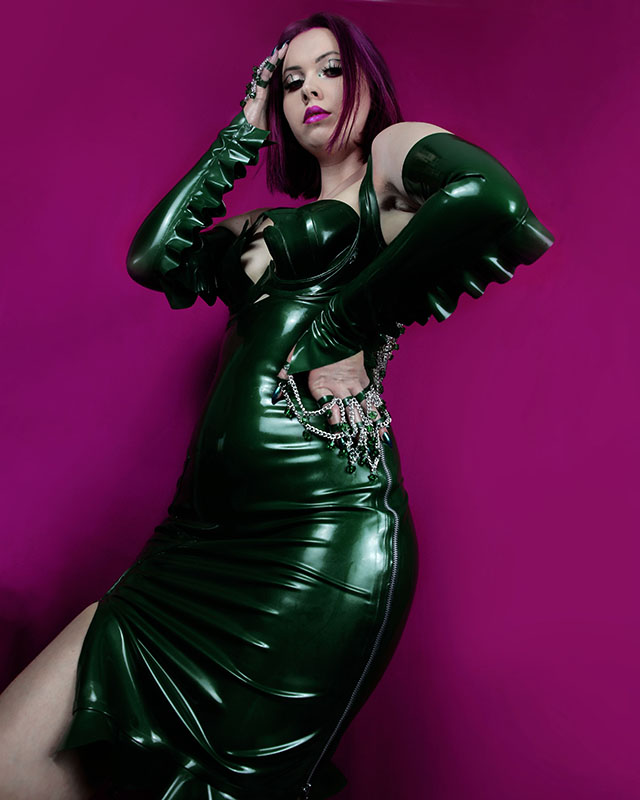 Q: How do you see the world of latex fashion changing over the next 5-10 years?
A: I see latex becoming more mainstream, there are many new designers taking it in exciting directions as well as a quickly expanding list of celebrities, performers and models whom have fallen in love with the material.
Q: If you could create a latex outfit for anyone in the world, who would this be for and why? Can you give a description of the outfit you would design for them?
A: I would love to make a custom outfit for Grimes, Violet Chachki, Nikita Dragun or Miss Fame. Any of these people would allow me to create something truly unique and avant-garde which are my favourite types of garments to create.
Q: What do you feel are the biggest barriers for people who haven't worn latex fashion before? What stops them from taking the plunge and wearing it? What would you say to anyone interested in wearing the material? What would be your best piece of advice for anyone who is thinking of trying to wear latex but hasn't done so yet?
A: People look at latex and feel intimidated. They don't know how to clean it, they don't know how to care for it and so are put off. But in reality, it is simple, you can rinse it in soapy water for a few minutes and then leave it to dry overnight or pat dry with a towel. After that, you should apply a little talcum powder to stop it from sticking to itself. Then just hang it up and get it shined when you're ready for your next outing. I would tell someone interested in latex to just buy a piece and they will quickly see how easy and low maintenance it is.
Q: What tips do you have for anyone who would like to include latex fashion into their "everyday" outfits? Is it possible to combine with other materials?
A: I often combine smaller accessories such as chockers, belts or earrings into my everyday outfits, which just gives that little bit of extra edge to take the outfit to the next level. I would probably advise the same to anyone else – start with the smaller items and grow your confidence to start wearing bigger items!
Q: Coming back to your work and output, which are the most popular items you design and sell? Are there frequent requests for particular types of garments?
A: I would probably have to say my Hone-Onna bra. I think it's the mixture between the alluring red colour mixed with the unique placement of chains that keep people intrigued by it! Other than that I also have a lot of request for custom designs which are my favourite as I get to design for a specific person and match the garment to their personality.
Q: Throughout a designers career there are often standout projects which the designer/team are particularly proud of. What do you feel have been the highlights of your latex producing career so far? What is your favourite item you have ever produced?
A: I am only at the beginning of my career and have only produced two collections so far, but I am particularly proud of my new couture collection. Specifically, the white latex crinoline with hundreds of chains and crystals coming down from it. When I originally had this idea I had no clue how to actually make it and it took quite a while to experiment with the construction so I am actually pretty surprised I managed to bring this idea to life. It is a real showstopper piece. I also really love the Aka Manto fiery red corset which has such an impact with the crystals and chains as well as the unique hip details.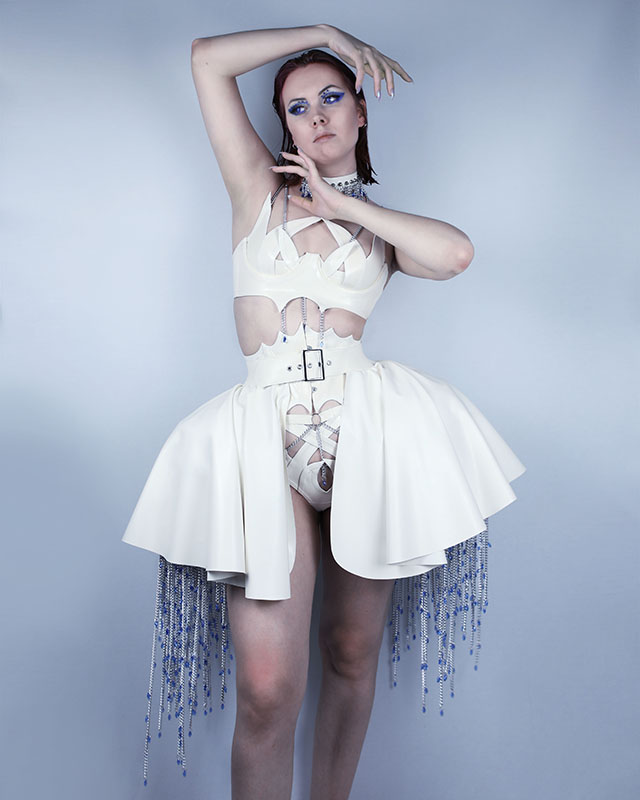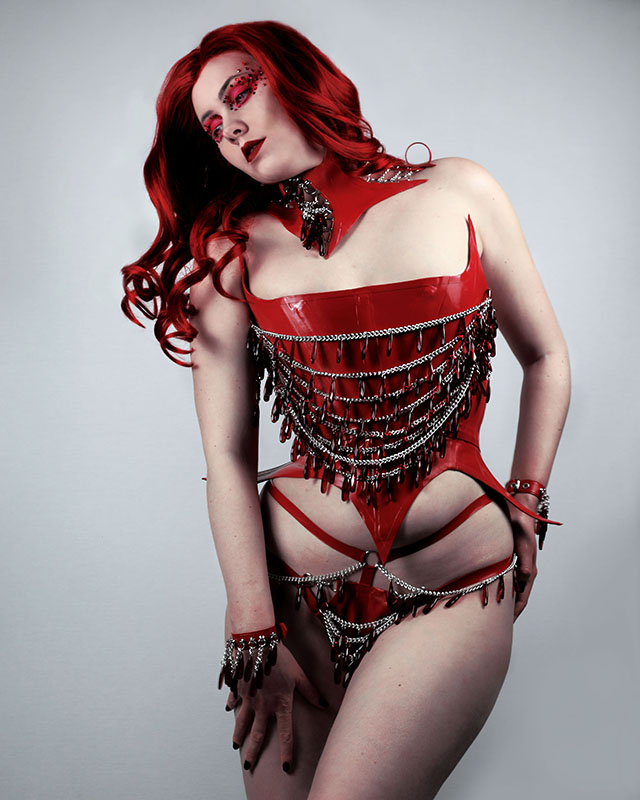 Q: What is it that drives you to continue to create new designs and collections?
A: Just pure love for the craft! I am a really hands-on person, so latex is the perfect material as it has such a practical and tactile construction process. I also love pushing the boundaries and always try to come up with new unique shapes to add to my collections.
Q: What are your short term and long term goals for your designs, output and business as a whole?
A: In the future, I'd love to work with more celebrities and get some more exposure as my brand is still very young and growing. Who knows what else the future is going to hold but I bet it will be very exciting!
Q: Are there any upcoming projects which you will be involved in, which you could give us a sneak peek of?
A: I am currently working on my next ready-to-wear inspired collection, which will feature more commercial and accessible looks for the everyday customer. However not to worry, it will still have that quintessential Insatiable Lust edge with some added chain elements. Too early to share any sneak peeks yet but keep an eye on my Instagram where I post updates about anything new!
Q: Where should we look out for you next?
A: As soon as everything goes back to normal, you can expect to see me at various different markets. I can't wait to see you all again in person! I would also love to actually show off my current couture collection at a fashion show but it is too early to say anything concrete about that yet.
Q: Now that you are about to launch your new collection, please tell us a little about it. What design elements does it include? Where has your inspiration been drawn from? How many pieces are in the collection? Please feel free to provide as much information as you would like.
A: This couture collection is inspired by Japanese folklore creatures, Yokai. This collection has four outfits, where each look is based on a different spirit, using different colour schemes. The collection, titled Devious Desires, explores the relationship between femininity and sexuality, fantasy and reality while encouraging viewers to question what real beauty means.
Many thanks for Insatiable Lust Latex for taking the time to speak to us.  You can check out their latest collections, and new releases, via their website at https://www.insatiablelust.co.uk and over on their Instagram profile.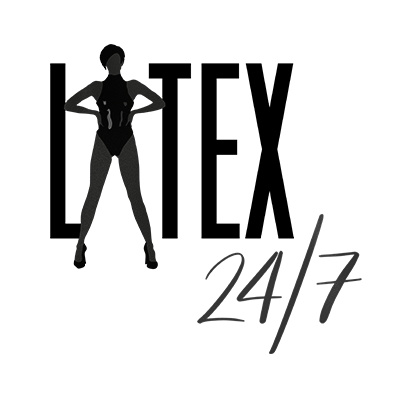 We're here, around the clock, bringing you the latest and greatest celebrity, designer, blogger, vlogger and modelling latex fashion news and reviews from around the world.  If it's shiny then we'll be covering it!