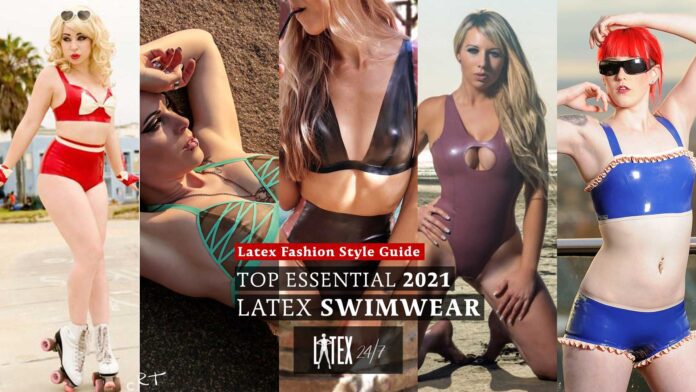 Days are getting longer, the weather is getting hotter and swimsuit season is nearly upon us, and the water is calling. And what better way to explore and show off the love for latex fashion than with one of our top essential latex swimwear for summer 2021. It's time for another Friday Five with our latex fashion style guide.
Did you know, you can now keep up to date with all the latest latex fashion news from Latex24/7 via the Google News App? Just head over to our publication or search "Latex24/7" in the app on your smartphone or tablet.
A classic one-piece or bikini never goes out of style, but summer 2021 brings forth a fresh batch of fun swim trends to try. From unique and detailed bikinis to sexy high-cut swimsuits and beyond, these are the top five latex swimsuit trends making a splash this season.
Essential Latex Swimwear this Summer Season
Latex Panel Briefs and Sheer Bralette

Combine a classic high waist fit pair of briefs with matching translucent, ruffled bralette for the ultimate summer fashion statement!

Turn heads at the waters edge wearing this stunning latex swimsuit, which features a cheeky cut out circle on the front.

Fancy and sexy at the same time, this latex bikini is lavishly decorated by hand with optical lacing. With transparent cups, an underbust band and the halterneck tied in the classic way.

Ruffled Bikini and Panties

Lounging by the beach has never been so shiny! This gorgeous ruffled bikini and panties combo are sure to have all eyes on you.

These bottoms are cute, classic, and hug every curve! Inspired by a flawless vintage
look and finished with a mock-belt style trim on top.
If you'd like to find out about other latex fashion how-to guides and styling tips, check out the full style guide series and let us know what you want to see us style 5 ways next time in the comments below.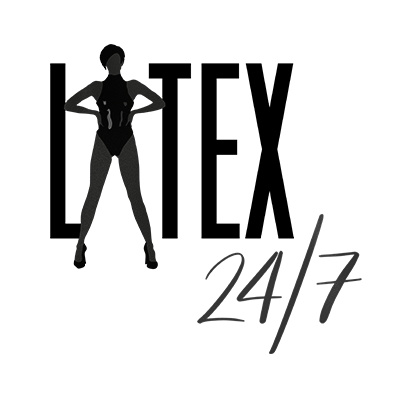 We're here, around the clock, bringing you the latest and greatest celebrity, designer, blogger, vlogger and modelling latex fashion news and reviews from around the world. If it's shiny then we'll be covering it!