In the ever-evolving world of fashion, staying on top of the latest trends and style tips is essential for any fashion enthusiast. One name that has been making waves in the fashion industry is Jheanelle Corine, a prominent fashion influencer and filmmaker known for her impeccable sense of style and creative content. In her latest YouTube video, Jheanelle Corine delves into the world of fall fashion, specifically focusing on the versatile and beloved wardrobe staple – leggings. As the leaves change colors and the temperatures drop, it's time to update your wardrobe with cozy and stylish outfits, and leggings are the perfect addition to your fall closet. In this article, we will explore Jheanelle Corine's latest YouTube video, where she educates her audience on how to wear leggings in the fall, the best colors and materials for fall leggings, and various tips and outfit ideas to help you embrace the beauty of autumn with confidence and style.
The Fall Fashion Essentials Video
Jheanelle Corine's latest YouTube video is an educational fashion tutorial that aims to provide viewers with the ultimate guide on how to wear leggings during the fall season. Fall is a season of transformation, both in nature and in fashion. As the leaves change colors, Jheanelle Corine encourages her audience to embrace the change by updating their wardrobes with cozy and stylish outfits, with leggings taking center stage.
Best Colors for Fall Leggings
One of the key aspects of nailing the perfect fall look with leggings is choosing the right colors. Jheanelle Corine highlights the importance of selecting autumn-inspired colors that complement the season's unique aesthetic. She suggests a rich and warm color palette that includes shades like rust, olive green, deep burgundy, and, prominently featured in her video, Supatex dark brown.
Supatex dark brown leggings are a particularly elegant choice for fall. This earthy tone exudes warmth and sophistication, mirroring the changing landscape of autumn. Jheanelle Corine demonstrates how this shade can be paired with various fall clothing items to create stunning and cohesive outfits. Whether you're going for a casual day look or a chic brunch ensemble with friends, Supatex dark brown leggings offer versatile options that can elevate your style.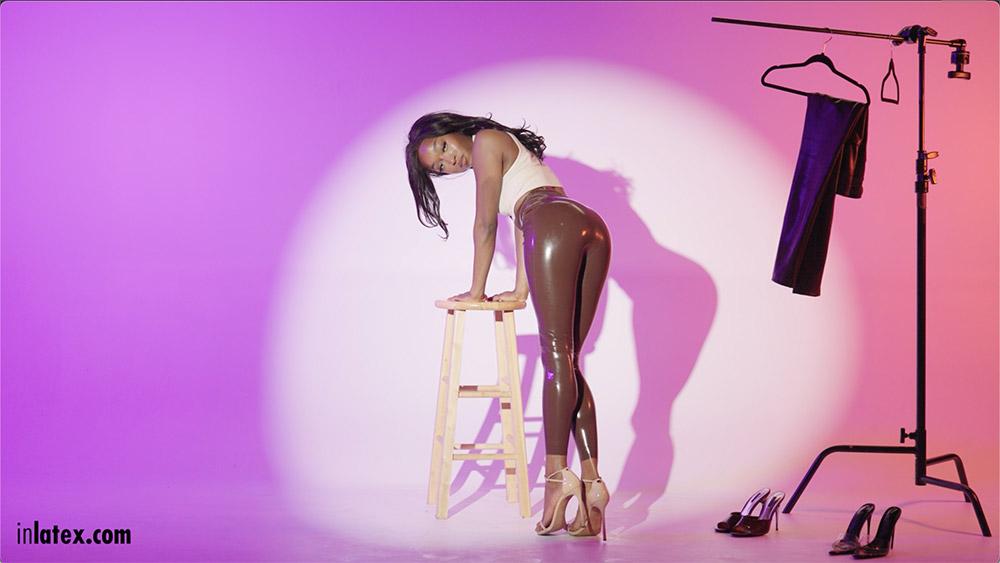 Materials Matter
In her video, Jheanelle Corine emphasizes that not all leggings are created equal, especially when it comes to materials. Understanding the different materials available is crucial for choosing the most comfortable and stylish option for your autumn wardrobe.
Faux Leather Fleece-Lined Leggings: Faux leather leggings have gained popularity in recent years for their edgy and chic appeal. Jheanelle Corine explains the benefits of faux leather leggings, such as their versatility and ability to add a bold statement to your fall look. Don't forget, fall often brings cooler temperatures, and staying warm is a priority. Jheanelle Corine recommends fleece-lined leggings for added insulation without compromising on style. These leggings are perfect for chilly days when you want to stay cozy and fashionable.
Latex Leggings: For those looking to add a touch of glamour to their fall wardrobe, shiny leggings are an excellent choice. Jheanelle Corine discusses how these leggings can catch the light and add a subtle sparkle to your outfit, making them suitable for both casual and dressier occasions. It's a perfect balance that allows you to stand out while maintaining an air of sophistication. The reflective quality of the rubber can make your legs appear longer and slimmer, enhancing your overall silhouette. Latex leggings are remarkably versatile and can be dressed up or down to suit various occasions. Jheanelle Corine encourages viewers to experiment with textures and colors when styling shiny leggings. She suggests pairing them with cozy knitwear, such as a chunky sweater or her signature Jonathan Simkhai cashmere crop top, to create an interesting contrast between the matte and shiny elements of your outfit.
Layering Tips
Fall fashion is synonymous with layering, and Jheanelle Corine provides valuable tips on how to layer leggings effectively. She suggests pairing leggings with cozy sweaters, crop top cardigans, and stylish heels to create a chic and warm ensemble. By mixing and matching different pieces, you can adapt your leggings to suit various occasions and weather conditions.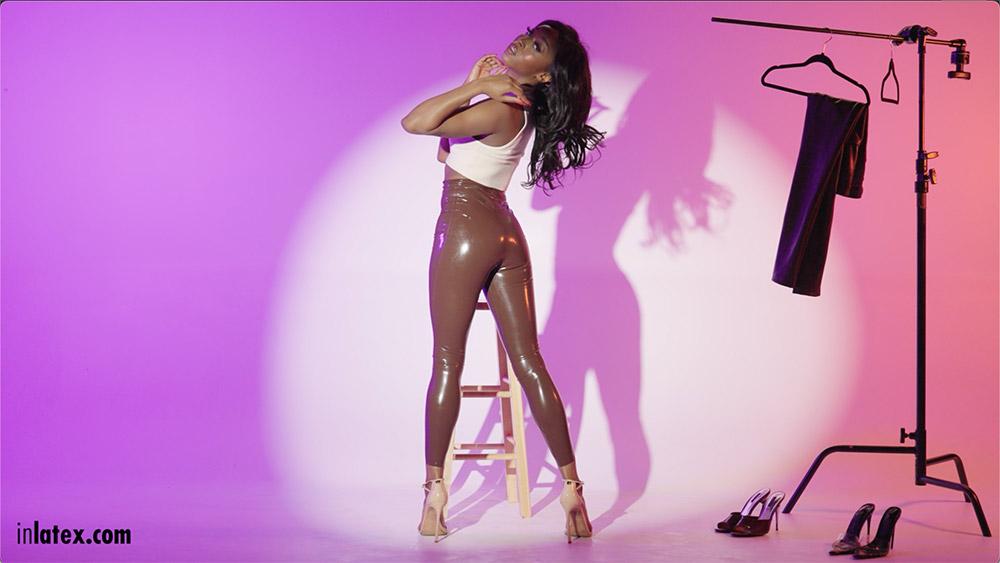 Accessorize Like a Pro
Accessories can elevate any outfit, and Jheanelle Corine is a pro at incorporating them into her fall leggings ensembles. In her video, she shares tips on accessorizing to perfection. Whether it's scarves and hats to statement belts and ankle boots, Jheanelle Corine discusses how the right accessories can add a personal touch to your fall look. By paying attention to details, you can take your leggings outfit from ordinary to extraordinary.
Outfit Ideas
To inspire her viewers, Jheanelle Corine provides practical outfit ideas for different fall occasions. Whether it's a casual day out, a cozy night in, or a stylish autumn brunch with friends, she showcases how faux leather and Supatex dark brown leggings can be styled in various ways. Her creativity and fashion expertise shine through as she effortlessly puts together outfits that are both comfortable and fashionable.
Conclusion
In Jheanelle Corine's latest YouTube video, she not only educates her audience on how to wear leggings in the fall but also offers valuable insights into the best colors and materials for this versatile wardrobe staple. Faux leather and latex leggings take center stage in her video as elegant and timeless choices for the autumn season. Jheanelle Corine's tips on layering, accessorizing, and outfit ideas provide viewers with a comprehensive guide to embracing fall fashion with confidence and style.
As the leaves change colors and the air turns crisper, Jheanelle Corine's educational fall fashion journey serves as a source of inspiration and knowledge for fashion enthusiasts looking to elevate their style game. With her guidance, you can rock leggings in style throughout the fall season, staying cozy, confident, and trendy. So don't forget to hit the like button, subscribe for more fashion tips, and leave a comment with your favorite fall fashion item as you embark on your own fashionable journey through the beautiful season of autumn.
For more latex clothes styling tips and how-to articles be sure to check out our style guide section regularly.

Jheanelle Corine's journey as a filmmaker and latex fashion influencer has redefined the perception of latex clothing. Through her captivating try-on hauls and expressive videos, viewers can get excited about a number of latex catsuits, jumpsuits, and outfits. Whether you're new to the world of latex or an avid enthusiast, Jheanelle's content offers a gorgeous gateway into the transformative power of our favourite fashion genre.