British designer Richard Quinn launches his Autumn 2021 collection, with a hint of latex fashion!
Did you know, you can now keep up to date with all the latest latex fashion news from Latex24/7 via the Google News App? Just head over to our publication or search "Latex24/7" in the app on your smartphone or tablet.
Quinn, who studied a BA Fashion Print course at Central Saint Martins and then went on to complete a MA Fashion course where he was awarded the Stella McCartney Scholarship and graduated in February 2016, is widely known for his riotous florals and fresh takes on latex. His style and output have always been about forward-thinking Womenswear and textiles. He established his namesake label in 2016 shortly after graduation and can count the Queen amongst his fans – on 20 February 2018 Queen Elizabeth II attended Quinn's Autumn/Winter 2018 runway show at London Fashion Week. After the show finished, the Queen presented Quinn with the inaugural Queen Elizabeth II Award for British Design.
For his latest collection, and with virtual catwalk launches being the "new norm", Richard and his team assembled an all-star cast to reveal his new Autumn/Winter 2021 collection in fine style. Described by Quinn as a "real labour of love", the designer commented "it's something which goes against the grain. I wanted to do something that was really creative, that was not a catwalk show, the usual." Within the collection, the clothes appear to be costumes. The recognisable, blown-up Richard Quinn vintage haute couture pastiche shapes "with everything crafted to within an inch of its life," as he put it. There were embroideries laden with pearls, bugle beads, sequins, and gemstones. A mini bride's dress and matching groom's bell-bottomed suit were sewn with gold crucifixes, padded love hearts, and tiny turtledoves. And on top of all that, he showed acres of printed pouf dresses, a whole wedding-turned-disco party packed with guys dancing in flowery suits among ball-gowned women. And all this against a backdrop of black latex catsuits!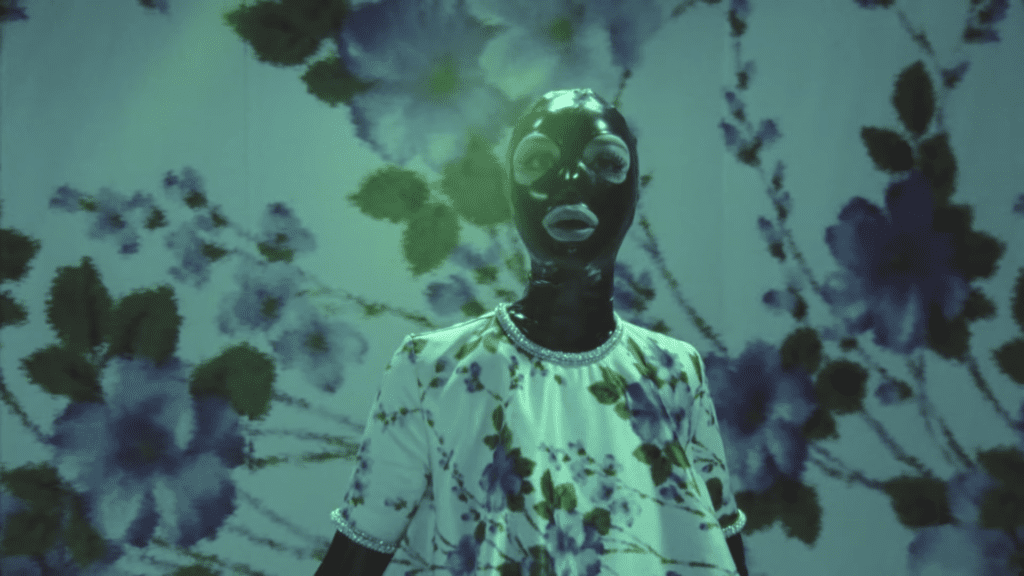 Lila Moss and Lily Cole take on the roles of Quinn's high-fashion S&M pin-ups, alongside Drag Race stars Tayce and Bimini, who look totally at home amongst the dancers, chorus lines and leather-clad pets. "I wanted to bring it to life in a way that didn't look pastiche, or like an imitation of a film you'd see in a cinema," says Richard. "From the depth of colour to the fine tuning of every detail, it's a really accomplished piece of work."
The full length video can be seen on YouTube below:
Be sure to keep up to date with all the latest news from Richard Quinn and his latex designs via his website and Instagram.
For all the latest shiny news check out our latex fashion news section.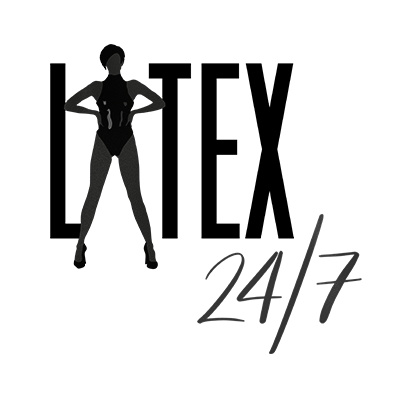 We're here, around the clock, bringing you the latest and greatest celebrity, designer, blogger, vlogger and modelling latex fashion news and reviews from around the world. If it's shiny then we'll be covering it!