World-renowned Honour UK, officially announces the launch of their fashion focused brand Honour Clothing.
Did you know that Latex24/7 has its very own YouTube channel? Subscribe now for instant access to all our upcoming shiny latex clothing content.
Having teased the news this week over on their Instagram profile, the new fashion-centric brand is aiming to flip alternative fashion on its head. Designed using alternative materials, including latex, PVC and vinyl, the core aim of Honours fashion arm is to focus on styles that push the boundaries of what is expected and to "change the way we look at fashion in a manner to empower individuality through what we wear", the brand comments. Honour Clothing clearly has its sight set on changing perceptions making the best use of its existing staple classic ranges and an exciting range of new garments being launched regularly. The brands' global reach, and manufacturing experience of over 30 years, has allowed the London based team to expand and diversify their ranges to create this new and exciting opportunity whilst maintaining their core values.
Speaking prior to the launch Mandy T, senior manager for Honour, commented to Latex24/7:
We've been working on Honour Clothing for over a year now. Honour Clothing is our fashion focused brand that focuses on individuality. Our design team has tripled and we're working with some really creative individuals to ensure cutting edge fashions. You'll be able to find all our classics as well as new styles. This new fashion focus on Honour Clothing will allow us to ramp what we've been doing for over 30 years up'. Think Latex, PVC, Wetlook, Corsetry and more!
Whilst the Honour Clothing brand clearly has an emphasis on daily essentials made from a variety of materials, latex fashion is well represented with clothing ranging from leggings to shorts and skirts to t-shirts.
20% Discount Sitewide
To celebrate the launch of the new brand, Honour Clothing currently has 20% off sitewide across https://www.honourclothing.com/. No need to enter a discount code, these incredible savings are made as soon as you add the items to your basket.
The Collection
The range features a number of staple latex garments, catering to both male and female, which are perfect for both that big night out or that cozy night in.
Available Online

£46.99 £37.59

This 'micro' length skirt sits at roughly the upper thigh level. Flatter yourself in this skirt design.


Available Online

£36.99 £29.59

A mysterious and classic style set of boxer shorts, made from our favourite shiny material.

Seamless Latex Mini Skirt

Available Online

£23.99 £19.19

Fastened around the waist and extending downwards, flatter yourself in this skirt design. The 'mini' length sits mid-thigh level.


Available Online

£85.00 £68.00

Featuring a classic style zip to ensure ease of getting into and out of these high-quality form-fitting bottoms.

Available Online

£69.99 £55.99

This t-shirt features a simple round neckline, often referred to as a crew neck. The design provides a shoulder-length style providing the perfect cover for the full arm. A high-quality top that can be worn for all sorts of occasions.

Latex Radia Pink Vest Dress

Available Online

£64.99 £51.99

This stunning dress features a simple round neckline, is sleeveless to expose the arms and sits at a mid-thigh level.

Launching Today!
The Honour Clothing brand officially launches today! Be sure to head over to https://www.honourclothing.com to take a look.
What are your favourite items from Honour Clothing? Will you be purchasing any? Let us know in the comments section below.
For all the latest latex fashion news, check out our always updated news section.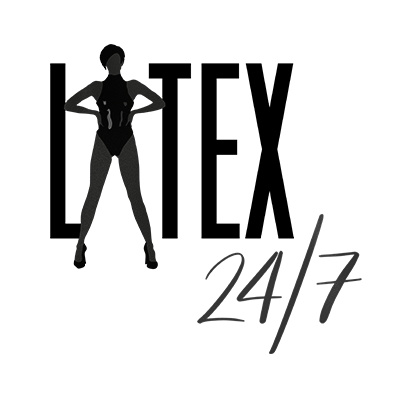 We're here, around the clock, bringing you the latest and greatest celebrity, designer, blogger, vlogger and modelling latex fashion news and reviews from around the world. If it's shiny then we'll be covering it!