Continuing our extremely popular series of latex fashion industry insiders, it gives us great pleasure to have recently spoken to latex modem Amigdala. This incredible model is based in Tuscany, Italy, a country not too well known for its love of latex but models, such as Amigdala, are aiming to change this perception. We can't really argue with this at all.
Latex24/7: Thank you so much Amigdala, for taking the time to speak to us about your love and experiences of latex fashion.
Q: Please provide a short overview of yourself and your modelling career so far. For example, when and how did you first get into modelling?
A: Since I was a teenager I've always been involved in the gothic and metal scene, and I've always had an interest for fashion and art in general, so very early on I developed a dark aesthetic taste. Then I started sewing clothing and accessories (I'm self-taught), and also started to have a taste for makeup and hair. In the meantime, a new phenomenon of photography began, a new concept of fashion photography based on alternative and extreme stylings/outfits, and an interest in the unconventional beauty. So in 2007 I wanted to start modelling too, driven by the passion for extreme fashion. My very first set was fetish, with some PVC outfits made by me: a studio shooting with a director friend of mine, who was interested in taking some pics of me dressed like I used to go to the local goth clubs. It was for fun, but also for a corset brand contest I entered.
Q: Can you describe what is involved with a typical modelling assignment? When do discussions begin around locations and themes, what does the day of a shoot normally entail?
A: I don't know exactly how a typical modelling assignment works in general, because I've always been an alt model. I can describe how I work:
I usually start thinking about a theme and I propose it to the photographer. If he likes, he takes care of looking for a location suitable with the theme, and then we start to discuss further (for example to do an indoor or outdoor shooting). In this phase sometimes we create and share image moodboards to help us to find a common concept. I enjoy this part of the job a lot, to create and share ideas with photographers about projects.
When we have a theme, I take charge of the clothing and wardrobe (sometimes doing it by myself or collaborating with other brands); I also take care of the makeup and the hair styling, which I always do by myself.
So when we have the location and all the wardrobe we can think about a shooting's date.
As you can see, I love to plan EVERYTHING, and it's not my style to do quick and impromptu shootings.
Q: Throughout a models career there are often standout projects, and shoots, which a model is particularly proud of. What do you feel have been the highlights of your modelling career so far?
A: First of all I have to mention my photo feature and little interview for Marquis Magazine website: OMG this is the leading magazine in the fetish world, and it was one of the very first fetish magazines I read, so it was really a HUGE surprise for me being featured even just in the website, wow!
Other big achievements for me are some alternative magazine covers with full pictures editorial and interview (Xpressions Magazine, Bedeseme, and two issues of Bad Girls Club Magazine). And last but not least my participation at German Fetish Ball 2018, catwalking for my beloved and talented friend Vin Noir Latex, definitely an experience I will never forget!!
All these things are dreams come true for me: I have done stuff I never would have dreamed I would've ever done 20 years ago…
Q: What is it that makes you keep coming back to modelling time and time again? Is it the people, the challenge, the sense of achievement, the positive comments?
A: No, it's only my basic need to create something. Fashion is a form of art, and modelling gives me the chance to express my creativity and give life to my fantasies.
Q: Moving onto the world of latex fashion and the wonderful shiny stuff, how long have you been modelling latex outfits and adding the genre to your portfolio?
A: I've always been fascinated with latex and fetish fashion: this genre has always been in my portfolio from the beginning.
Q: What first sparked your interest or first got you involved in modelling latex fashion garments? How did you discover the material? Was it a personal interest or intrigue, maybe seeing celebrities wearing outfits made from latex, were you approached by a designer?
A: As I mentioned before, I've always liked latex: as a teenager I grew up with Helmut Newton images in the fashion magazines, or reading Skin Two or Marquis, and going clubbing to alternative dancefloors like Torture Garden… The first time I bought a latex garment I was 20 years old and was in London: this city made me discover a lot of fetish fashion stuff (and not just this!).
Q: Which latex fashion brands have you worked, or collaborated with? What were their outfits like to model?
A: Vin Noir Latex, Skin Two, Westward Bound, Honour, Eustratia, Latexa, Pandora Deluxe, Corsette, Nina Dorushi Rubberwear, Pretty Deviant, Kaori's Latex Dreams, KinkyKex, Dead Lotus Couture, Catalyst Latex, Sacred Latex, Mico Couture Latex (I hope I haven't forgotten anyone!). I like all these brands, and all the dresses or accessories are very well done and accurate in every detail; high quality and durable.
Q: There are many latex fashion designers around the world who cover a wide and varied range of latex clothing styles. Who are your favourite designers? If you could model for any designer, or any style of latex clothing, what would it be?
A: I'm just blessed to model for one of my all time favourite brands, Vin Noir Latex, she does outstanding creations.
All the designers mentioned above are great, and hope to collaborate with them again.
I don't have a favourite designer, because I like them all: alternative designers are pushing themselves beyond the boundaries of fantasy, and latex fashion is now reaching a very high level!
Q: Latex is a unique material and totally different from the majority of other fabrics which are commonly used during the making of fashion garments. What was your reaction the first time you ever wore latex clothing? How does it make you feel?
A: The first time I was feeling like… greasy, tight and sweaty haha!!
Q: With the uniqueness of the material, and like any form of niche modelling, there are often increased challenges which would not be present with traditional photoshoots. What challenges does latex pose for you as a model?
A: The flexibility of the body just like the flexibility of latex. And this is a big challenge, so I have to do stretches every day.
Q: What do you feel is the main appeal of latex fashion?
A: The second skin appeal and the high glossy finish.
Q: Who is your biggest influence and who do you respect most in the genre of latex fashion?
A: One of my earliest influences was the iconic photographer Helmut Newton, who needs no introduction.
Second is definitely photographer Peter Czernich, the godfather of fetish photography: he was the first alternative photographer that I followed, and his iconic pictures in Skin Two and Marquis magazines introduced me to the shiny world of latex fashion.
And I cannot fail to mention Viktoria Modesta: I follow her from her beginnings in Torture Garden, and I take her as a reference not only for her outstanding style but also for the powerful messages she brings. In my opinion, she embodies the essence of alternative beauty.
Q: Latex clothing means different things to different people, ranging from the empowering to the outlandish. What does latex fashion mean to you?
A: Bizarre, super sexy, outstanding and empowering feminity.
Q: What is the best reaction you have ever received whilst wearing the shiny stuff? How do those not used to latex fashion react? Is it generally positive or negative?
A: I don't remember any particular reaction, but always positive, also by those are not familiar to latex fashion.
Q: Latex fashion has become more and more of a normality in the mainstream thanks to the music, film and celebrity industries. Do you see this trend increasing or do you think outfits made using the material will always be a niche item? Do you feel there will ever be a day when latex garments will be mainstream and can be brought "off the peg" at normal high street stores and shops?
A: I like it so much when designers use latex to create dresses that look like artworks, or when celebrities wear it and play it in the right way.
Latex deserves to be a spectacle because it's an outstanding and very unique material.
For this reason, I'm definitely not a fan of latex in everyday clothing, and think it should remain a niche item for special occasions.
I hope it won't get too commercial because I fear the popularisation of this material by people who wouldn't understand it at all. But I think it will never happen; first of all due to the very delicate design: it's not a ready-to-wear material, it's very delicate and it needs preparation to be worn, and also needs special caring for washing and keeping it in storage. In addition, this material makes you sweat a lot after a while.
And last but not least it's high priced and not affordable.
It's an expensive, fragile and not-that-simple to wear material, not made for wearing all day long.
In conclusion, I definitely think that Latex is not made for the masses.
Q: What would you say to anyone interested in wearing the material? What would be your best piece of advice for anyone who is thinking of trying latex but hasn't done so yet?
A: Take your time: start by oiling yourself, then oil the latex gear entirely inside and out, and very gently pull on… be calm and wear latex!
Q: What do you feel are the biggest barriers for people who haven't worn latex fashion before? What stops them from taking the plunge?
A: They probably think that latex is something gross and strictly related to BDSM scene…
Q: How do you feel is the best way to integrate latex into an everyday "public" outfit. How would you mix it with other materials?
A: As I mentioned before, I'm not a fan of latex in an everyday outfit, because It's not ready-to-wear and I'm much more of "dress to impress": I prefer to wear a total latex look for special occasions…
But if I should integrate it in a daily outfit, probably I would wear one, small, edgy accent, like a little waspie, or a harness, or a collar, or similar accessories, combined with some black basic or gothic stuff that I'm used to wearing…
Q: Returning to your experiences of modelling. For models new to latex clothing, or those who are about to shoot in it for the first time, what tips and suggestions would you give them?
A: To "Feel" the material and play the role that Latex suggests you.
Q: As a professional model, whose image is everything, what is it that keeps you returning to modelling latex clothing?
A: I don't know, I never asked myself the question… Basically I've always been an alternative model interested in gothic and fetish genres, and latex has been always involved in my photoshoots simply because I've always loved this material…
Q: Are there any upcoming projects which you will be involved in, which you could give us a sneak peek of? Where should we look out for you next?
A: This year there will be some new very interesting trials for me, but secrets are secrets, so just follow my social accounts to see what's new!!
Be sure to follow the incredible Amigdala, and to see more of her latex fashion images, via her social media on Facebook and Instagram.
Latex24/7 have many more interviews with those in the latex industry. Head over to our specially curated interviews section right now.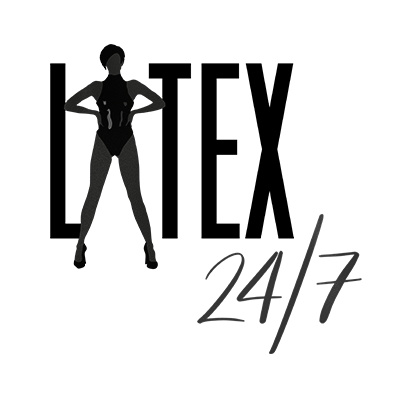 We're here, around the clock, bringing you the latest and greatest celebrity, designer, blogger, vlogger and modelling latex fashion news and reviews from around the world. If it's shiny then we'll be covering it!