Hot on the heels of the latest Saint Laurent Winter 2020 collection launch and Wonder Woman herself, Gal Gadot, wearing the new latex designs, celebrity couple Justin and Hailey Bieber have recently been snapped for Vogue Italia in which Hailey declares her love of latex fashion.
In the October 2020 issue of Vogue Italia, the pair are photographed together by Eli Russell Linnetz, and Hailey wears a number of the fashion houses new winter 2020 collection. The celebrity is captured wearing both the sublime and gorgeous latex racer midi dress and a pair of skintight high-rise latex leggings. The cover image features Hailey and Justin in a bed, Hailey wearing a long black Anthony Vaccarello designed dress.
It's important to note that the images all appear to feature Hailey being the one in charge, Justin's face shielded in them. Maybe a nod to the power of latex fashion? With the accompanying interview for the magazine, Hailey describes herself as a "latex lover." She explained to Vogue Italia, "When I wear it I feel sexy, bold. I embrace my body and my femininity. I see nothing wrong with it."
We really can only agree with that comment! This is what latex fashion means to many who wear it; empowerment and the freedom of choice. Ultimately this is what draws those, with a passion for latex, together.
Does Hailey's wearing of latex may mark a shift in the general perception of our favourite material? Vogue fashion writer Mark Holgate has described the new Vaccarello collection as "fetish-gl(e)am" due to its use of colourful latex…paired with traditional fabrics and garments.
What do you think of the latex fashion outfit choices which Hailey Bieber wore for the Vogue photoshoot? Would you wear something similar? Let us know in the comments below.
For more latex fashion celebrity news be sure to check out our celeb news section right now.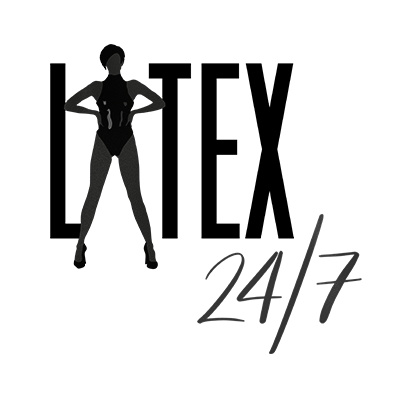 We're here, around the clock, bringing you the latest and greatest celebrity, designer, blogger, vlogger and modelling latex fashion news and reviews from around the world. If it's shiny then we'll be covering it!