Here at Latex24/7 we love hearing from and speaking to new latex fashion brands and designers. It's all part of our belief that latex fashion is ready to hit the mainstream! Many new designers share that view and are now creating latex garments and outfits designed to be worn alongside traditional materials. Newly formed Latex Couture are one such brand, and we were lucky enough to speak to them recently as part of our "Up + Coming" series, where we interview new and exciting latex fashion designers. Run by partners, Eden and George, Latex Couture Ltd are a UK based label hoping to publicise casual latex fashion garments that empower those wearing them.
Q: Please provide a short overview of yourself and your background in fashion and clothing design. For example, do you have specific qualifications and training which assist you in your current trade? How did you get into fashion design?
A: I have been studying fashion for 5 years, 2 years at college achieving a UAL Distinction and 3 years at the University of Lincoln where I came out with a first-class fashion degree. I have always wanted to have a career within the fashion industry and what better way than to run my own company, so I set up Latex Couture Ltd with my partner, George.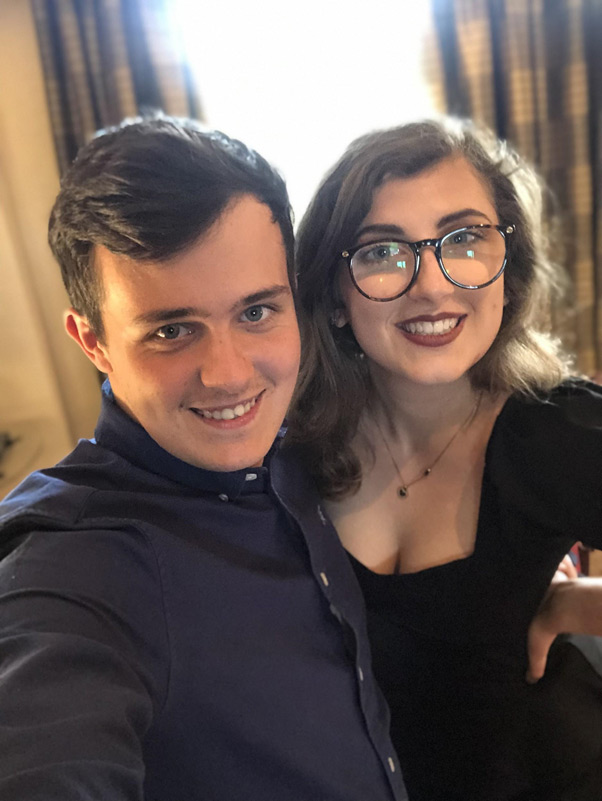 Q: What skills do you think are important for any fashion designer to hold?
A: There are many important skills for a fashion designer to hold, personally I think that it's important to be open to ideas. I'm constantly on the lookout for new ideas and I'm always taking photos of things that give me ideas of what to make next.
Q: What was your biggest fear when going out and starting your own line?
A: I think starting any small business there's always a fear of if the company is going to be successful. We started creating simple 'off the shelf' designs while we create more extravagant designs behind the scenes, as well as making custom orders for our valued customers.
Q: How long have you been working with latex as a material? When did you first realise you wanted to pursue working with it?
A: I started working with latex in my second year of university, although I didn't use the material within my university work I was constantly experimenting with the material and seeing what works and what doesn't.
Q: What first sparked and started your interest in making latex fashion garments? How did you discover the material? Was it a personal interest or intrigue, maybe seeing celebrities wearing outfits made from latex?
A: During my fashion studies I've had to analyse the market and I noticed how latex was coming to the market as casual wear, from this I was intrigued so started producing garments myself.
Q: Can you describe what is involved with a typical latex garment design? What influences your initial design choices? What process do you follow? How long does it typically take to come up with and produce a new item?
A: To start with any design, I come up with what style of garment I want to produce, such as a skirt, dress, top etc. From this, I create designs using computer-aided design and create roughly 10 examples. I then set about designing the pattern which can be used to create these, I initially make the pattern to my sizes so I can try out the garment and make adjustments if necessary. Once I'm happy with the design, I will adjust the pattern to enable it to be made in multiple sizes.
Q: What do you enjoy most about working with latex? What are the biggest challenges when working with the material? What has been your greatest learning experience since designing your first piece?
A: I like working with latex as with normal sewn fabric you have to design a hem to the edges of the garment, however with latex you can have a nice clean edge which I believe really enhances the garments. As for biggest challenges, we have a laser cutter to enable us to cut out intricate detail, this proved hard to set up to start with. My biggest learning experience has been the ability to resize my patterns for different body sizes. I'm quite tall so I have to factor that in when I change the designs from my sizes to normal sizes.
Q: Latex fashion tends to be associated with young, athletic and toned people. Do you feel there are any limits to who can wear the material; big and small, young and old?
A: Not at all! We do 'off the shelf' garments from sizes UK 6-22 and we also cater for plus sizes in our custom garments. No matter what body type you have, Latex Couture Ltd will be able to make a garment for you.
Q: Moving on to the customers who get to wear your awesome designs; how important is the reaction of your clients when they get to experience and try on their garment for the first time?
A: We love to hear customer feedback on their purchase. We are always on hand to help along the customer journey, whether that is a customer completely new to wearing latex or a latex wearing expert! We have a live chat feature on our website www.latexcouture.co.uk and will always get back to our customers, we will answer any general questions about latex such as shining advice, how to wear etc.
Q: What is the best reaction you have ever received from a customer?
A: We had a lovely unboxing video from one of our customers on Twitter! It's always good to get customer feedback, we've had so many nice messages and photos with people wearing our designs.
Q: What reactions have you seen, and how do those not used to latex fashion, tend to react to the use of the material and seeing it for the first time? Is it generally positive or negative?
A: It's generally positive! We have done a few outdoor shoots and while doing these we often encounter members of the public. They often ask questions about the material but nearly always compliment it and are intrigued by it!
Q: Turning to the material itself, how versatile is latex and how easy is it to create the designs of your dreams? Do you feel it is easier or more complex to do this than with traditional materials?
A: The material itself is very versatile, it sometimes just takes more time to be able to perfect the design.
Q: What do you feel is the main appeal of latex fashion? What are your favourite elements and reasons for enjoying latex?
A: I think the main appeal of latex fashion is how body enhancing the material is, it complements any curves and always enhances your best features.
Q: Who or what are your biggest influences and who do you respect most in the genre of latex fashion?
A: During my fashion studies I have analysed the fashion styles used by Lady Gaga so I would say that she is one of my biggest influences within the fashion industry.
Q: Latex clothing means different things to different people, ranging from the empowering to the outlandish. What does latex fashion mean to you?
A: I want to try and remove the stigma of wearing latex garments, I want to try and make casual items that can empower people to wear the garments in public settings. As well as making garments to go out in, such as dresses, skirts and plunge crop tops while creating pieces that are more fashion-forward.
Q: Latex fashion has become more and more of a normality in mainstream thanks to the music, film and celebrity industries. Do you see this trend increasing or do you think outfits made using the material will always be a niche item? Do you feel there will ever be a day when latex garments will be mainstream and can be brought "off the peg" at normal high street stores and shops? If so, what items do you think would be included?
A: I think the trend of wearing latex casually is increasing, more and more people are wearing it out to events like festivals/ raves. I don't think latex will ever be bought on high street stores however I do believe that in the near future it will be readily available online. I shall be striving to make more garments that are designed as casual wear that can be worn in public.
Q: How do you see the world of latex fashion changing over the next 5-10 years?
A: I think the fashion industry as a whole will change within the next 5-10 year and I believe we will see more latex garments appearing in the fashion world mainly being more bespoke or custom pieces that no one else will have.
Q: If you could create a latex outfit for anyone in the world, who would this be for and why? Can you give a description of the outfit you would design for them?
A: I would love to be in the position to make a garment for Lady Gaga, she has been inspirational to me in many of the garments I produced through my fashion degree. With that… I can't really give a description of the outfit as she's so out there but I'm sure it would be a crazy wild design!
Q: What do you feel are the biggest barriers for people who haven't worn latex fashion before? What stops them from taking the plunge and wearing it? What would you say to anyone interested in wearing the material? What would be your best piece of advice for anyone who is thinking of trying to wear latex but hasn't done so yet?
A: I think people are initially anxious about wearing the garments because they're so skin tight. However after they've taken the plunge and tried it on, people often fall in love with it and love how enhancing and empowering the garments can be. I would say that just go for it! If you see something you like then get it, don't be anxious about trying it as latex is so empowering to wear.
Q: What tips do you have for anyone who would like to include latex fashion into their "everyday" outfits? Is it possible to combine with other materials?
A: Hell yeah it is! We've had a lot of people combine our plunge neck crop top with normal garments and the mix looks great and could definitely be used as an everyday outfit.
Q: Coming back to your work and output, which are the most popular items you design and sell? Are there frequent requests for particular types of garments?
A: Our most popular designs are the plunge neck items, the dress and skirt are both very popular items. We get a few requests to change colours and add trim to garments, as for custom garments there's not really a trend and a lot are completely different.
Q: Throughout a designers career there are often standout projects which the designer/team are particularly proud of. What do you feel have been the highlights of your latex producing career so far? What is your favourite item you have ever produced?
A: I like the range of products we stock as each one has had a lot of time designing and perfecting. However, I did really like the 'Superwoman' top we created for one of our customers.
Q: What is it that drives you to continue to create new designs and collections?
A: I really want to eliminate the stigma of wearing latex in public, from this, I am constantly coming up with new ideas for garments.
Q: What are your short term and long term goals for your designs, output and business as a whole?
A: My short term goals are to continue creating new designs and garments for our online store. My long term goal would be to be in the position to be able to hire a new member to join the team to create the garments from the 'off the shelf' designs while I continue designing new items.
Q: Are there any upcoming projects which you will be involved in, which you could give us a sneak peek of? Where should we look out for you next?
A: We are looking to attend events when they start to reopen and are planning to travel to fetish events around the country to give attendees a chance to try on some of our garments. We are also making a range of garments available for hire for photographers and models.
To view more of the awesome designs by Latex Couture Ltd check out their website at www.latexcouture.co.uk and be sure to follow them over on Facebook, Twitter and Instagram.
Here at Latex24/7 we are always adding more latex fashion interviews to the site so be sure to check back frequently.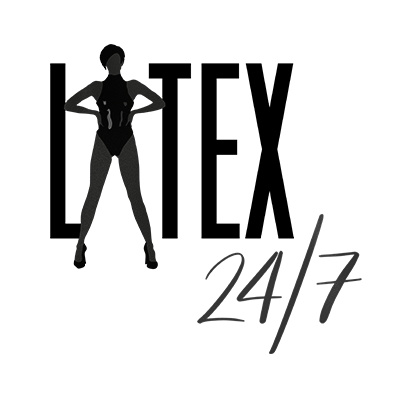 We're here, around the clock, bringing you the latest and greatest celebrity, designer, blogger, vlogger and modelling latex fashion news and reviews from around the world. If it's shiny then we'll be covering it!