It's no secret that wearing latex clothing in the summer may be challenging. But just because it's summer and the temperature is rising doesn't mean you can't wear your fave latex clothes. This "Friday Five" will explore our best suggestions for wearing latex in the summer.
We're now over on the new Threads social media platform! Be sure to give us a follow for more shiny content and to be the first to hear about new articles and content straight from your Threads feed. Head over to
our Threads page
to follow us.
Keep it Lightweight
Plan ahead of time and give some thought to what latex clothing you will wear, especially on a hot day. Dare to bare throughout the summer months by wearing lightweight, minimal latex apparel mixed with traditional stuff.
Choose thinner latex clothes for increased ventilation and comfort in the summer heat. Lighter latex will improve air circulation, lowering the danger of overheating. Sleeveless tops and open-back dresses or bodysuits can help keep you cooler by exposing more skin to the air.
Wear things that are light, breezy, and not too figure-hugging for the ladies. This allows your skin to breathe and eliminate any extra heat that has accumulated.

Rapture O Ring Bikini Latex Bra

With triangle bikini style cups and a halterneck, this Rapture O Ring Bikini Latex Bra is perfect for the summer heat, keeping you cool and shiny!


A unique latex swimsuit with cut outs on each panel. Be the talk of the poolside in this amazing latex piece!

Go for a spin in this retro styled all black Sandy Halter Latex Dress with a full circle skirt.






A twisto on that classic 50s look, this dress flows beautifully allowing the chance for your skin to breathe.


For the boys, keep in mind that less is more during the summer. Shorts and trunks are an excellent choice, especially for lounging by the pool!
Take a pair of latex boxer shorts, add a comfy T-shirt and you've got an excellent outfit for staying cool, and shiny!

It's not only the girls who should be able to lounge by the pool! With this pair of latex trunks, with eye catching contrasting stripe, the pool is definitely calling!
Lube Up!
To minimise excessive perspiration and chafing, apply a latex-friendly lubricant to your skin before wearing the latex garment. This will help to reduce sticking and chafing, making it simpler to put on and take off the latex and improve comfort levels.
We recommend applying Vividress latex dressing aid, from latex care company Vivishine, liberally to aid comfort levels.
Vividress Latex Dressing Aid

Vividress is the ideal dressing aid for all types of latex and rubber clothing. The skin-friendly liquid is highly viscous and allows the latex to slip playfully over the skin when dressing. Light pressure on the oval bottle makes it easy to dose and apply directly to the latex or skin.
Stay Hydrated
Drink lots of water to keep hydrated, as latex might cause you to sweat more than normal.
In terms of breathability, latex might be less forgiving than other textiles. To avoid overheating or feeling uncomfortable in hot conditions, remain hydrated.
Replacing bodily fluids lost via perspiration is an important procedure for your health; just make sure your latex clothing has a zip for those toilet breaks!
We all enjoy a drink in the summer sun but remember that drinking too much alcohol has been shown to dehydrate the body. If you intend to drink, make sure to replenish your water bottle on a frequent basis.
Dress in Layers
If you plan to spend long periods of time outside, try integrating latex into your layered clothes. To assist regulation of your body temperature, pair a lightweight latex top or bottom with other breathable materials.
Opt for latex garments with more open or exposed areas, like cut-out designs or perforated patterns. Or consider sleeveless or open-back styles.
Designers such as Sasha Louise and Shokushu Boutique produce mess, laser-cut designs which provide plenty of area of skin to breath and can easily be combined with a cute cotton jacket or chiffon trousers.
Sasha Louise Net Latex Bra Crop Top

A handmade net latex underwired bra which features a back opening.

Available in black or red.

A pull on net latex vest.

Available in black or red.




Shokushu Boutique Net Latex Skater Skirt

Laser-cut net skater skirt which is approx 12" in length.

Features a wide silver waistband
Take pauses and remove layers: If you're going to an event or wearing latex for a lengthy amount of time, take small breaks to remove layers and allow your skin to breathe.
Avoid Extended Exposure to Direct Sunlight
Because latex is sensitive to heat and sunlight, avoid prolonged exposure to direct sunlight to prevent the material from getting damaged or discoloured.While latex is somewhat resistant to sunshine, extended exposure to UV rays can cause fading and damage over time. Avoid as much direct sunlight as possible, and if you must go outside, try putting a light cover-up over your latex suit.
Whilst it is advisable to not expose your outfit to UV rays for too long without a break. Latex fashion care company, beGLOSS, produce a unique high shine gloss with added UV protection so you can not only be sure that your latex outfit shine in the summer, but that it is also protected.
Stay inside whenever possible because it is generally cooler than going outside. An air-conditioned atmosphere, where the temperature can be adjusted and kept cool, is ideal.
If you do go outside while wearing latex in the summer, try to stay in the shade as much as possible and avoid going out during the warmest hours of the day (usually midday to early afternoon).
Summary – Be Safe!
Wearing latex may be a daring and entertaining fashion option, but it's important to prioritise your comfort and well-being, especially in hot weather. Always listen to your body and take pauses if you get uncomfortable or hot. In the summer, be safe and have fun with your latex fashion.
Avoid extended exposure to direct sunshine: Because latex is sensitive to heat and sunlight, avoid prolonged exposure to direct sunlight to prevent the material from getting damaged or discoloured.
Consider utilising cooling sprays or mists to assist reduce your body temperature when wearing latex.
Be sure to take a look at our Practical Tips: Caring for Latex article for some great ideas to help keep your latex looking its best.
For more latex clothes styling tips and how-to articles be sure to check out our style guide section regularly.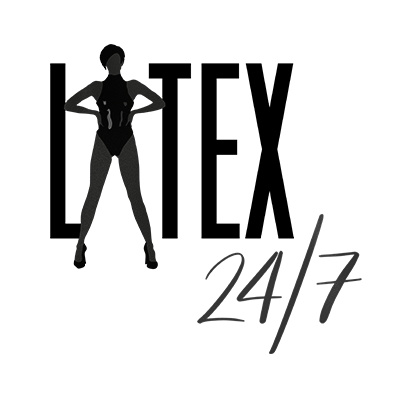 We're here, around the clock, bringing you the latest and greatest celebrity, designer, blogger, vlogger and modelling latex fashion news and reviews from around the world. If it's shiny then we'll be covering it!