Here at Latex24/7, we are often asked what the best way to include elements of latex in daily outfits is. If there's one piece you need in your wardrobe, as it is so versatile, it has to be a cute latex choker. It's the most accessible piece to add to just about any look to keep you feeling stylish. Don't believe us? Well then here are not one, but five ways to style a latex choker in this week's Friday Five.
Did you know, you can now keep up to date with all the latest latex fashion news from Latex24/7 via the Google News App? Just head over to our publication or search "Latex24/7" in the app on your smartphone or tablet.
Based in the Netherlands, Liquid Disco specialise in one of a kind, hand-dyed looks which are colourful, flowy and wild. We've teamed up with the young latex label to show you 5 incredible ways in which their Syzygy latex choker can elevate the style of any of your outfits.
Speaking about the brand's latex choker, owner and designer Elena Lovebite told us about the ethos of syzygy:
Syzygy is an alignment of three celestial objects – the sun, the earth, and either the moon or a planet: Syzygy in the sun-earth-moon system occurs at the time of full moon and new moon. It denotes a "close union" or fusion of items.
Well, we love the fusion of this gorgeous choker when worn with a variety of daily styles.
5 Ways to Style the Syzygy Latex Choker
Milk styled her SYZYGY choker with a cute pinup skirt and top. The belt she's wearing is matching the gold in her choker. Her red lip gives the outfit such a classy touch!

Stephanie styled her SYZYGY choker with her casual goth attire. With cool sunglasses and a pretty black dress, the choker and the belt harness tie the look together.


Elena styled her SYZYGY choker with a latex kimono jacket and a LED headdress. Underneath she's wearing burgundy lingerie. The choker gives it a sensual feel, and on a night like this, might have more than just the visual aspect to it.

Fuxtelswild styled her SYZYGY choker with a stunning mesh top and a cool strappy bra.

Looking chique and stunning, she's ready to hit the town.

Lara is pairing her SYZYGY choker with a cool black blouse. Paired with slicked back, wet-look hair, Lara is looking ready to close deals in any meeting.
Be sure to give Liquid Disco a follow via their Instagram profile.
And let us know in the comments section below how you'd style this cute choker? What latex fashion style tips would you like to see next?
If you'd like to find out about other latex fashion how-to guides and styling tips, check out the full style guide series and let us know what you want to see us style 5 ways next time in the comments below.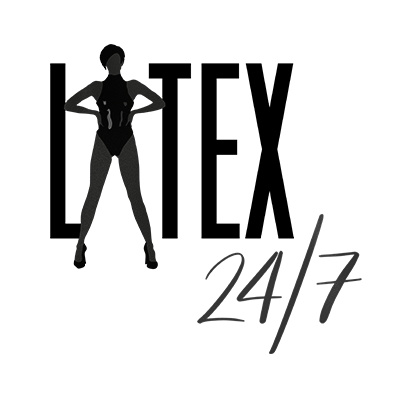 We're here, around the clock, bringing you the latest and greatest celebrity, designer, blogger, vlogger and modelling latex fashion news and reviews from around the world. If it's shiny then we'll be covering it!