YouTube channel Philosophy Tube takes on the future as presenter Abigail STUNS in Dead Lotus Couture latex in their latest video.
Have you followed the Latex24/7 Instagram page yet? Be the first to hear about new articles and content straight from your IG feed. Head over to our IG page to follow us.
Philosophy Tube is a YouTube channel dedicated to exploring famous philosophical texts and questions and has previously covered topics such as ignorance and censorship, vaccines and freedom and idealogy. Presented by Abigail Thorn, the latest episode of the show discusses the topic of transhumanism; where inventions, technologies and medicines could be used to transform people into something they are not or overcome the shortcomings of being human.
Well known for using costumes and characters to explain her research and thoughts in a highly entertaining and accessible format Abigail was aptly dressed for this futuristic topic, choosing to wear a number of latex garments from Dead Lotus Couture which come together to form a "future of fashion" look. The Philosophy Tube presenter combined a latex leotard with an elegant contrasting geometric pattern with the brands versatile ARMA harness creating a fascinating layering and extra dimension to the outfit. Topped off with a pair of fingerless black latex gloves and stockings Abigail definitely gave us "future vibes".
You can watch this extremely insightful and interesting (we highly recommend doing so) full video over on YouTube below:

You can check out Philosophy Tube's other amazing videos over on their YouTube channel, Twitter and Facebook.
Get the Look
AKUTA Leotard Bodysuit is a latex leotard with an elegant contrasting geometric pattern which helps define the natural curves of the feminine body.

Sensual and original, the design incorporates a long and practical back zipper.

Transform any outfit with the versatile ARMA Harness. The neck corset, shoulder structures and two buckled straps on the waistband create fascinating layers and add an extra dimension to your wardrobe.

Elegant and simple, these long latex gloves are a seductive accessory for any outfit.



Extra Long Fingerless Gloves are made from the highest quality natural latex rubber.

Elegant and simple, these latex tights with stirrups are the perfect leg accessory to complete any outfit.

Unlike many other latex tights, Stirrup Tights are specifically designed to prevent them from rolling down from the top, or riding up from the bottom.
Be sure to follow Dead Lotus Couture on social media over at Facebook, Twitter and Instagram.
For all the latest latex fashion news, check out our always updated news section.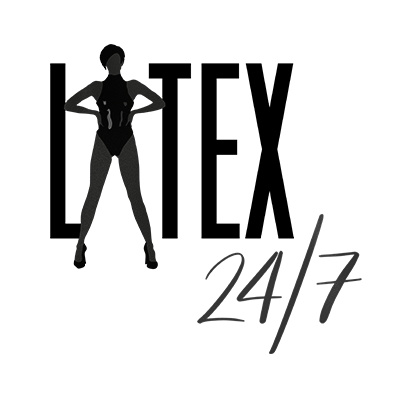 We're here, around the clock, bringing you the latest and greatest celebrity, designer, blogger, vlogger and modelling latex fashion news and reviews from around the world. If it's shiny then we'll be covering it!