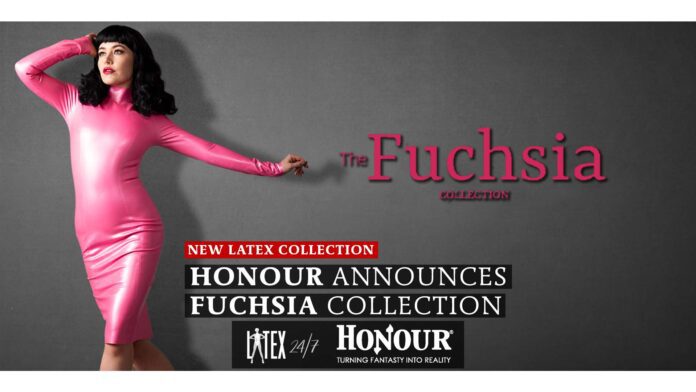 Latex fashion brand Honour Clothing have today announced the official launch of their new latex collection, entitled "Fuchsia". The new designs are inspired by the beautiful, and unique, fuchsia petal and it's clear to see that the amazing team at Honour have clearly captured the essence of nature within these new releases.
Be sure to follow Latex24/7 over on Instagram for the best latex fashion news, reviews and shiny images on the Internet.
The culmination of six months worth of design, sampling and production, the new fuchsia range is designed to combine both femininity and boldness, alongside unique designs all made from high-quality fuchsia coloured latex. Each piece is lovingly made to order to allow the wearer to stand out from the crowd and, the statement pieces, are designed to be enjoyed as one of life's luxuries.
Sleeveless Midi Dress in Fuchsia

Combining femininity and boldness, with its high neck and midi length. You'll look sweeter than cotton candy in this luxury garment - perfect for events where you plan on being the centre of attention. Feel the tight rubber against your skin, and the perfect amount of restriction against your legs as you strut.

Latex Bandeau Bra in Fuchsia

Simple yet sexy, and in a fun bubblegum pink - this tube top looks sweet coupled with a fuchsia skirt, for a night out full of elegance and excitement. With its sweetheart neckline and slip-on design, this top knows how to tease onlookers.

Silver Zip Latex Vest Top in Fuchsia

Made with love, for you to love - the Silver Zip Latex Vest Top in Fuchsia features a contrasting full-length zip and contour seaming, meaning this is a piece that makes an impression.

The Fuchsia Latex Briefs feature a rear seam, thong back and are oh-so-sweet. These are a standout pair of briefs, perfect paired with the Latex Bandeau Bra in Fuchsia. Add a splash of colour to the bedroom, and you'll never look back.
You can view the entire latex fuchsia range over at honour.co.uk.
Exclusive Discount Code
To celebrate the official launch of their new Fuchsia collection, Honour are kindly offering readers of Latex24/7 an incredible 10% OFF ALL ITEMS on their website. Simply enter code "LATEX247" at checkout, code valid until 18th August 2021.
Which statement piece is your favourite? Let us know in the comments section below.
To keep up to date with all the latest latex fashion sales and special offers, head over to our Sales & Offers section regularly.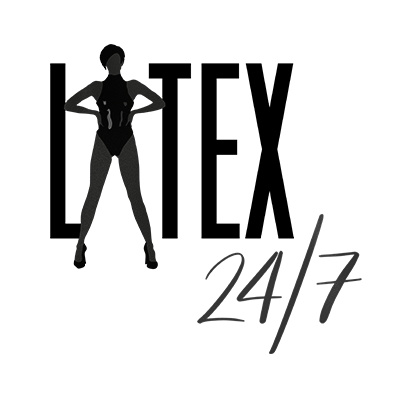 We're here, around the clock, bringing you the latest and greatest celebrity, designer, blogger, vlogger and modelling latex fashion news and reviews from around the world. If it's shiny then we'll be covering it!