Hailey Bieber is no stranger to making bold fashion statements, and her Halloween costume for 2023 was no exception as the model channeled her inner Flintstones with a latex version of the cartoon character's signature lime green top and teal bloomers. The skin-tight outfit accentuated her curves and gave her a retro-chic vibe.
Did you know that Latex24/7 has its very own YouTube channel?
Subscribe now
for instant access to upcoming shiny latex clothing content.
Clearly Hailey has a fondness for latex fashion as we have previously seen the model and makeup mogul dressing up as Britney in Busted Brand Latex and wearing Versace latex dress for a date night with husband Justin.
Attending the party hosted by magazine editor Vas Morgan and actor Michael Braun in Los Angeles. Hailey Bieber channeled her inner cartoon character by dressing up as Pebbles Flintstone and Justin was dressed as Bamm-Bamm Rubble, who are eventually married in the "Flintstones" franchise. Hailey put a modern twist on Pebbles' classic look by sporting a custom latex version of the character's signature lime green top and teal bloomers, from celeb favourite Venus Prototype. Her outfit consisted of a green crop top with a black half-moon pattern and a blue, skintight miniskirt with a jagged hemline. She completed her transformation with a red bob wig with choppy bangs, white heels, and her signature "B" diamond-encrusted necklace.
And, don't forget, for more celebrity latex fashion news, be sure to check out our specially curated celeb latex news section regularly.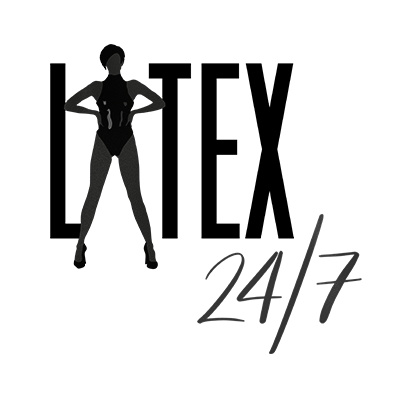 We're here, around the clock, bringing you the latest and greatest celebrity, designer, blogger, vlogger and modelling latex fashion news and reviews from around the world. If it's shiny then we'll be covering it!