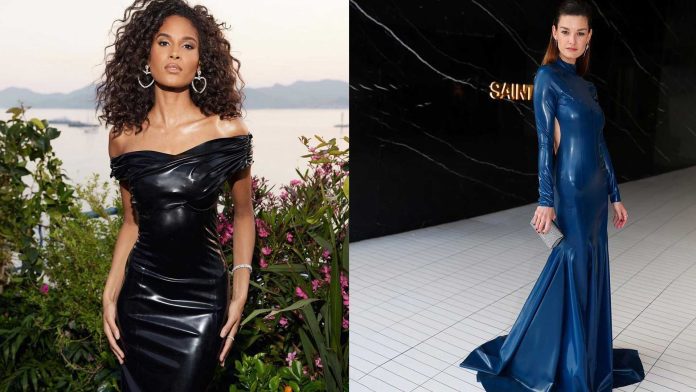 As if there wasn't enough glitz and glamour on display at this years Cannes Film Festival, the designs of French based luxury latex clothing designer Arthur Avellano have added some extra shine to those out on the French riviera.
Did you know that Latex24/7 has its very own YouTube channel?
Subscribe now
for instant access to upcoming shiny latex clothing content.
After Romeo Beckham's girlfriend Mia Regan stunned in AVELLANO latex earlier in the week, it was already clear that the French Riviera can't get enough of the Parisian designers work, but this was further emphasised as AVELLANO was worn by two French models.
Cindy Bruna
Attending the British Vogue party at Hotel Martinez, the French fashion model wore an all-black off-the-shoulder full-length latex dress from the AVELLANO Fall-Winter 2023 collection during her visit to Cannes. Bruna oozed elegance and class as the latex dress, which features a bodycon fit and rear zipper showed off the models figure superbly.
Ophélie Guillermand
Not to be outdone by Cindy, Verdun born model Ophélie Guillermand was in attendance at the Cannes premiere of "La passion de Dodin bouffant" and the model chose an AVELLANO backless full-length, turtle neck sleeved latex dress in nightshade blue for the occasion. The same dress, previously worn by Trinity Rodman, was the pefect choice.
We absolutely love both of these amazing outfits as it once again goes to prove that latex clothing can be both elegant and classic. What do you think about the AVELLANO garments worn at Cannes? Let us know your thoughts in the comments section below.
And, don't forget, for more celebrity latex fashion news, be sure to check out our specially curated celeb latex news section regularly.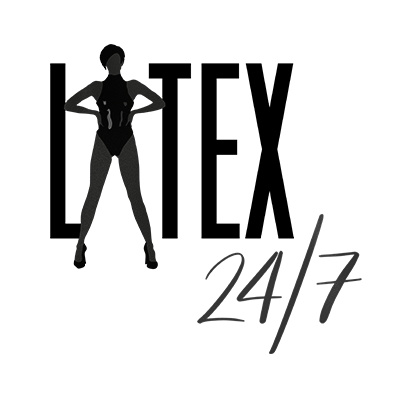 We're here, around the clock, bringing you the latest and greatest celebrity, designer, blogger, vlogger and modelling latex fashion news and reviews from around the world.  If it's shiny then we'll be covering it!