Social Media
You can follow William Wilde online via the following links:
Brand Information
William Wilde is a London based designer and costumier who specialises in exquisite hand-made rubber clothing and accessories, elegant and distinctive his collections are seen and rarely forgotten.
Inspired by Glamazons and Showgirls, Wilde has enjoyed a life-long obsession with costume and clothing that in 2010 amounted to the arrival of his debut latex clothing collection, 'Madame Boucherie'. A collection that exploded onto the scene and made immediate headlines with celebrity fans including Rihanna, Daisy Lowe and Paloma Faith to name a few.
Passionate about fashion and costume from an early age; after graduating from the University of Westminster, Wilde has specialised as a bespoke Bridal wear cutter, fetish wear designer and costume designer at luxury Soho nightclub, The Box. Since his launch, William has worked for a spell in Vegas, designing costumes for a show, featured in International publications, shown during London Fashion Week, and now also counts Kylie Minogue, Lilly Allen & Miley Cyrus amongst his clients.
Lavish and unprecedented, his collections are cut and hand-glued from latex rubber and have been extremely well received on account of their quality and style. Distinct also for William's use of latex combined with luxury fabrics, signature prints and unique detailing, his clothing is both provocative and unmistakably Wilde…!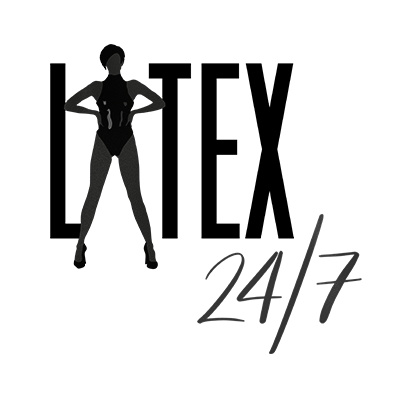 We're here, around the clock, bringing you the latest and greatest celebrity, designer, blogger, vlogger and modelling latex fashion news and reviews from around the world. If it's shiny then we'll be covering it!
Genders Catered For
| | |
| --- | --- |
| | Female |
Stock Information
Currently, William Wilde sells the below garments and accessories:
Womenswear
Accessories
Bodysuits
Bras and Underwear
Corsets and Bodices
Dresses
Jackets
Leggings
Skirts
Tops
Locations Dispatched To

Worldwide
*Worldwide, Afghanistan, Africa, Albania, Algeria, Andorra, Angola, Antigua and Barbuda, Argentina, Armenia, Asia, Australia, Austria, Azerbaijan, Bahamas, Bahrain, Bangladesh, Barbados, Belarus, Belgium, Belize, Benin, Bhutan, Bolivia, Bosnia and Herzegovina, Botswana, Brazil, Brunei, Bulgaria, Burkina, Burma (Myanmar), Burundi, Cambodia, Cameroon, Canada, Cape Verde, Central African Republic, Chad, Chile, China, Colombia, Comoros, Congo, Congo, Democratic Republic of, Costa Rica, Croatia, Cuba, Cyprus, Czech Republic, Denmark, Djibouti, Dominica, Dominican Republic, East Timor, Ecuador, Egypt, El Salvador, Equatorial Guinea, Eritrea, Estonia, Ethiopia, Europe, Fiji, Finland, France, Gabon, Gambia, Georgia, Germany, Ghana, Greece, Grenada, Guatemala, Guinea, Guinea-Bissau, Guyana, Haiti, Honduras, Hungary, Iceland, India, Indonesia, Iran, Iraq, Ireland, Israel, Italy, Ivory Coast, Jamaica, Japan, Jordan, Kazakhstan, Kenya, Kiribati, Korea, North, Korea, South, Kuwait, Kyrgyzstan, Laos, Latvia, Lebanon, Lesotho, Liberia, Libya, Liechtenstein, Lithuania, Luxembourg, Macedonia, Madagascar, Malawi, Malaysia, Maldives, Mali, Malta, Marshall Islands, Mauritania, Mauritius, Mexico, Micronesia, Moldova, Monaco, Mongolia, Montenegro, Morocco, Mozambique, Namibia, Nauru, Nepal, Netherlands, New Zealand, Nicaragua, Niger, Nigeria, North America, Norway, Oceania, Oman, Pakistan, Palau, Panama, Papua New Guinea, Paraguay, Peru, Philippines, Poland, Portugal, Qatar, Romania, Russia, Russian Federation, Rwanda, Saint Kitts and Nevis, Saint Lucia, Saint Vincent and the Grenadines, Samoa, San Marino, Sao Tome and Principe, Saudi Arabia, Senegal, Serbia, Seychelles, Sierra Leone, Singapore, Slovakia, Slovenia, Solomon Islands, Somalia, South Africa, South America, South Sudan, Spain, Sri Lanka, Sudan, Suriname, Swaziland, Sweden, Switzerland, Syria, Tajikistan, Tanzania, Thailand, Togo, Tonga, Trinidad and Tobago, Tunisia, Turkey, Turkmenistan, Tuvalu, Uganda, Ukraine, United Arab Emirates, United Kingdom, United States, Uruguay, Uzbekistan, Vanuatu, Vatican City, Venezuela, Vietnam, Yemen, Zambia, and Zimbabwe

Product Examples