The latex fashion community has many strong advocates and inspirational members amongst it and Latex Nai is undoubtedly part of this growing trend. As a model, and champion of latex fashion, Latex Nai has done an incredible amount to highlight the material to a wider audience across the globe. It's therefore only fitting that we took time recently to speak to Nai as we sat down to find out a little more about her experience and love of latex fashion, and how she sees trends changing over the next few years.
Did you know, you can now keep up to date with all the latest latex fashion news from Latex24/7 via the Google News App? Just head over to our publication or search "Latex24/7" in the app on your smartphone or tablet.
Q: Please provide a short overview of yourself and your modelling career so far. For example, when and how did you first get into modelling?
A: I'll tell you first about my latex modelling as anything I did before modelling latex is totally different compared to the last 2-3 years! I've made a lot of friends who are incredible artists – whether designers or photographers during this time. A lot of the content I create is a product of these friendships which is what has made this experience so enjoyable.
I did my first latex fashion show with House of Harlot in 2018 for their Iris the Spider brand. I got to wear a custom leotard with a majestic tail belt. Since then I was in another one of their shows at the London FemDom ball in 2019. I've done other fashion shows, but one of the most exciting ones was being able to walk for Unartig Boutique in Munich in November 2019 — simply because the designs were so exquisite but also because the whole event was so much larger in terms of scale and production!
I'm a huge fan of wearing latex in public, so my social media channels include this, plus a mix of professional and material content done at home.
Before I modelled latex, I did some hair and makeup modelling. I also enjoyed alternative modelling, mostly for artistic projects featured at various exhibitions and music festivals. This work was often inspired by B movies and Horror.
Q: Can you describe what is involved with a typical modelling assignment? When do discussions begin around locations and themes, what does the day of a shoot normally entail?
A: For me, this depends on the type of assignment/shoot I am booked for. For example, if a commercial shoot, there's a lot of formal communication prior to the day of the shoot or event. In this type of scenario, I just make sure that I follow all guidelines provided to me in advance – makeup, hair, what to bring, time & place, expectations, etc. This is likely to involve a contract or some form of release you will need to sign as a model. The shoot will usually be held at a studio or other commercial premises. At the end, you may not get photos but may only receive a few to share where appropriate.
If I'm participating in a collaboration, there's usually a discussion beforehand regarding the concept, outfits, makeup, purpose for shooting, etc, likely involving the whole team. I've done collabs on very short notice (1-2 days) and some have taken months to plan! Location for collabs will vary greatly! I've done some in abandoned churches, cemeteries, abandoned industrial estates, palaces – you name it!
If it's a project done for editorial purposes, the publisher will have guidelines that must be observed, so these will be observed by everyone.
Most shoots require preparation, good communication, understanding the requirements of the client or team — and finally keeping up! Most shoots will fly and it's important to keep the pace going and keep your team or photographer motivated – they will do the same! At the end, there's usually a lot of packing involved and making sure that you're not leaving anything behind. Staying organized is key but also it's important to enjoy yourself. I usually walk away buzzing after a shoot!
Q: Throughout a models career there are often standout projects, and shoots, which a model is particularly proud of. What do you feel have been the highlights of your modelling career so far?
A: I will highlight a recent shoot. In October 2020, I had the chance to shoot with Alejandra Guerrero (a.k.a. Corporate Vampire). I've admired her photography for many years. She's photographed some incredible icons I look up to and models that inspired me when I was younger.
We did an Eric Stanton inspired shoot while in Chicago – split this between a cemetery and a studio location. The results were amazing! She also signed my copy of her Wicked Women book, so I have a nice memory from the shoot.
Q: What is it that makes you keep coming back to modelling time and time again? Is it the people, the challenge, the sense of achievement, the positive comments?
A: It's everything — I've been fortunate to meet and work with so many inspiring artistic people!
Modelling isn't my full-time job but it's a hobby and sometimes part-time work. I love dressing up, practising my makeup skills, different hairstyles and being able to create beautiful images! It's something I really enjoy doing and I love a good challenge & pushing myself!
Q: Moving onto the world of latex fashion and the wonderful shiny stuff, how long have you been modelling latex outfits and adding the genre to your portfolio?
A: My first professional latex images were from 2014 but I didn't really get into latex modelling until 2018.
Q: What first sparked your interest or first got you involved in modelling latex fashion garments? How did you discover the material? Was it a personal interest or intrigue, maybe seeing celebrities wearing outfits made from latex, were you approached by a designer?
A: I've owned latex for a long time. I didn't really appreciate latex fashion until about 4 years ago. House of Harlot helped me squeeze into an amazing leotard when I wasn't feeling very confident. After seeing how amazing my curvy body looked in their designs I was hooked! After that, I started checking out other latex brands and figuring out what I liked to wear. For me adding latex to my existing wardrobe felt natural — I already owned a lot of fetish-inspired garments and footwear by the time I started collecting more latex.
Q: Which latex fashion brands have you worked, or collaborated with? What were their outfits like to model?
A: I've worked with a few but I'll name some brands I've not listed already.
TLC Latex – I was lucky to shoot with them during their last two model group shoots. They are a pleasure to work with. I love how they incorporate classic fetish fashion into their designs and especially their use of textured latex is amazing! I love how they come up with something totally unique that is perfect for me every time we shoot.
Ectomorph – I was lucky to work with Krystina during a London LeBoutique Bazaar. She dressed me in the most incredible orange quilted outfit. I already owned a gown by her and I'm always impressed by her stitching and patterns she created on latex with all her sowing skills!
Pandora Deluxe – The first time I worked with Pandora Deluxe was February 2019. This was also the first time I got to work with the lovely model Psycatt. Since then we've done a second shoot for Pandora Deluxe. I had a chance to finally try laser-cut latex and many designs for their new collection. I feel in love with their impeccable perfectly put together garments that I've had to acquire many more since then!
Amentium – I collaborated with Amentium a couple of times but most recently during a trip to Berlin in September 2020. I love their patterns – unlike any other designer! They just make me look so good! During this specific shoot, I got to wear some new designs – the sexiest black leotard and a green glittery jumpsuit.
Fantastic Rubber – I had the opportunity to team up with them and try on some of their new designs – blouse, boots and finally get fitted for a catsuit! I wish I could win the lottery one day so that I can get every design of theirs in every colour combination! I'm a convert and I love the zip free look of the neck entry catsuits.
Q: There are many latex fashion designers around the world who cover a wide and varied range of latex clothing styles. Who are you favourite designers? If you could model for any designer, or any style of latex clothing, what would it be?
A: I have too many favourite designers! The list is endless. All of the ones I've already listed are in my favourites list, plus I really like Torture Garden Latex, Bondinage, and Jane Doe Latex.
I would like to do more corset modelling. I have not worked with HW Design and would love to. I love their corsets and chokers. I'm a huge fan of corsets and I hope to be able to see their designs in person so that I can try them on! I have a soft spot for bondage fashion, especially large silver zippers, grommets, spikes, D-rings and studs. The more metal, the better!
Q: With the uniqueness of the material, and like any form of niche modelling, there are often increased challenges which would not be present with traditional photoshoots. What challenges does latex pose for you as a model?
A: Yes! If there's a lot of lights you're working with, this increases the heat around you and it makes you sweat even more! Keeping cool is key so I often make sure that we're working somewhere with ventilation or a fan.
If shooting outdoors, avoid the sun as much as you can. It's not nice to boil in your latex while you're outdoors and it makes the material vulnerable to damage depending on the level of exposure.
There is also the thing we call "lube hair" – latex shine will inevitably win over hairspray. Depending on your hairstyle, you will eventually end up with lube hair if this comes in contact with your latex. Your hair will look extra shiny though (dare I say greasy!), but it's not a look I like particularly.
Q: What do you feel is the main appeal of latex fashion?
A: Latex is transformative for so many people and that is the main appeal to me. It can look naughty, fierce or anything you want it to be depending on how you style it. Apart from making it ultra-shiny, it's a really nice experience to wear. You can make any outfit jump by adding some shiny latex!
Q: Who is your biggest influence and who do you respect most in the genre of latex fashion?
A: I have several, but mostly from artwork I've come across that inspires me. Discovering online archives of heavy rubber photos from AtomAge inspired my fashion taste — combine that with Giger and biomechanical art then you are there! I've been a goth for 20 years and fetish fashion has always been part of my style, so I've always gravitated towards pleather, leather, PVC and latex. I love anything that makes me transform into something totally obscene! That said, I have a huge admiration for Dayne Henderson's designs. I love the unusual and avant-garde. I cannot wait to see what he comes up with next!
Q: Latex clothing means different things to different people, ranging from the empowering to the outlandish. What does latex fashion mean to you?
A: It's expression — being able to transform yourself is what I love about latex. There are very few materials that have this effect on me.
Q: What is the best reaction you have ever received whilst wearing the shiny stuff? How do those not used to latex fashion react? Is it generally positive or negative?
A: I live in London at this time. Wearing latex isn't something strange to people here. Most people are just polite and ignore you or compliment you subtly. Most reactions are neutral to be honest.
Q: Latex fashion has become more and more of a normality in mainstream thanks to the music, film and celebrity industries. Do you see this trend increasing or do you think outfits made using the material will always be a niche item? Do you feel there will ever be a day when latex garments will be mainstream and can be brought "off the peg" at normal high street stores and shops?
A: I see the trend increasing. However, latex fashion as inspired by celebrities can sometimes be problematic. It's great if it helps out fashion houses, to smaller designers and especially to those producing latex garments ethically. The negative side is that celebrity-driven fashion drives up the poor production of garments and can lead to intellectual property infringements when designs are copied by imitators. I've seen so many designs copied that have landed on sites like Alibaba claiming to be latex which it might not be.
Maybe one day there will be "off the peg" designs available! More likely than not, the lingerie world has already embraced some off the peg designs in the past, and latex is no stranger to high fashion. My guess is that this existing trend is likely to continue.
Q: What would you say to anyone interested in wearing the material? What would be your best piece of advice for anyone who is thinking of trying latex but hasn't done so yet?
A: Think about your style and what you might like already. I started out with corsets, but that's because I already wore them. Adding one in latex was natural to me. If you are into dresses, then maybe start out with something that you might really like. Latex cocktail dresses are very popular and can look incredible on a night out!
If you're not sure or have a specific style, then start small, then see if you like it. Many people start with gloves or socks. Some gloves start at about $15-$20 from rubberfashion.de or honour.co.uk.
Q: What do you feel are the biggest barriers for people who haven't worn latex fashion before? What stops them from taking the plunge?
A: Speaking personally – I think it's confidence that stops people from wearing! Latex isn't for everyone – some people are allergic to it for example! Not everyone likes the sensation of wearing rubber so latex isn't everyone's cup of tea. I love to see people embrace the fashion, especially when they can break barriers. I have friends that wear latex in their 20s and some in their 70s. I love meeting people that have collected eccentric fashion pieces and have made museums out of their home, especially rubberists who have collected for many decades!
As a side point, the stigma of wearing latex is also problematic. I've encountered many people who believe that wearing latex is an invitation to act inappropriately towards you or solicit an unwanted response. I can understand why someone would be put off if they have only seen latex on adult websites, but this is a minority. To compound to this issue, social media's response to censoring latex fashion is a reflection of the stigma that we need to fight.
Q: How do you feel is the best way to integrate latex into an everyday "public" outfit. How would you mix it with other materials?
A: Wear something that makes you feel comfortable and dress for the occasion! I frequently wear latex leggings with a casual top. Or I may wear my thigh-high rubber boots with a casual fabric outfit. There are so many fabrics that imitate the look of latex already within fast fashion and many people take inspiration from this while integrating latex into their wardrobe.
Designers often have stock photos of their work and many have examples around styling latex with other materials. For example, RoseNoir often provides examples of how latex garments can be easily styled and integrated into your existing wardrobe. I also love her approach to sustainable fashion.
Q: Returning to your experiences of modelling. For models new to latex clothing, or those who are about to shoot in it for the first time, what tips and suggestions would you give them?
A: If you have the garment ahead of the shoot, try it on and see how it looks on you! Make sure that you have someone helping you dress if you have never worn latex before and you think you will need assistance while putting it on, or dealing with a zipper you cannot see or access easily. Take your time and don't rush the dressing or undressing stages.
Make sure that you have dressing aid and polish available for your shoot unless this is being provided by someone else! Powder is to be avoided as it may show up on the shots, also it's not nice to leave a powdery mess behind as it's difficult to use powder neatly. Same with latex polish. Always take a towel with you to a shoot if you're shooting indoors so that you can protect the floor while polishing your latex. There's nothing worse than causing an accident or damaging someone's floor because you were careless with silicone lubricant.
Lastly, pay attention to how you wash, store and return the latex. Some latex designs can be quite delicate, and you should always discuss with the designer how they want to receive their garments back.
Latex is a very unique and striking material – you'll feel amazing wearing it!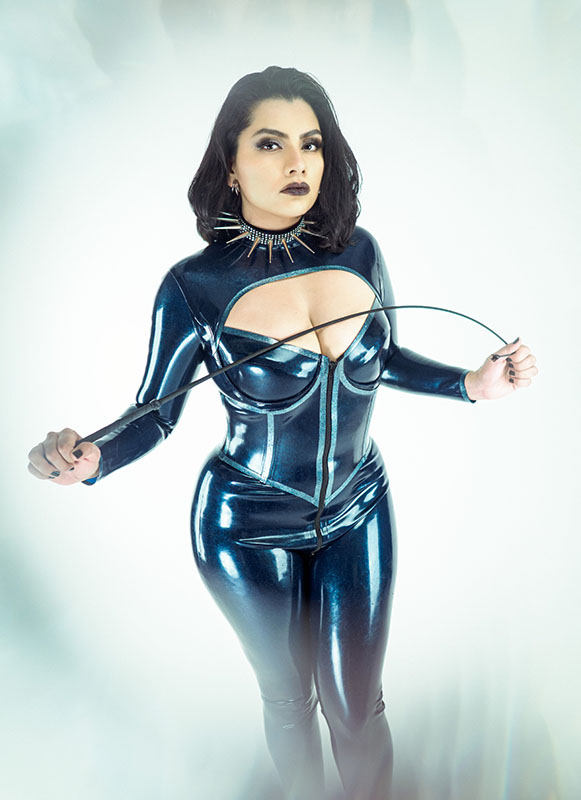 Q: Are there any upcoming projects which you will be involved in, which you could give us a sneak peek of? Where should we look out for you next?
A: I have a few events I'm planning to attend this year, but it's uncertain if they will go ahead. I don't want to jinx it! I will also be participating in a shoot with a brand I already worked with – again it all depends on lockdown and whether travel is permitted!
I have some shoots I've booked for April and May 2021 which I'm excited about! One with a nautical theme and another requires me to transform into a rubber creature – head to toe, you won't even see my natural eye colour!
Well we, here at Latex24/7, can't wait to see the results of those shoots.
Do you agree with Latex Nai's comments on latex fashion? Are you a seasoned latex fashion wearer, or thinking about purchasing your first item? Let us know in the comments section below.
Be sure to follow Latex Nai over on her social media profiles at Instagram, Twitter and Facebook.
Check out our specially curated latex fashion interviews section for more shiny Q&A's.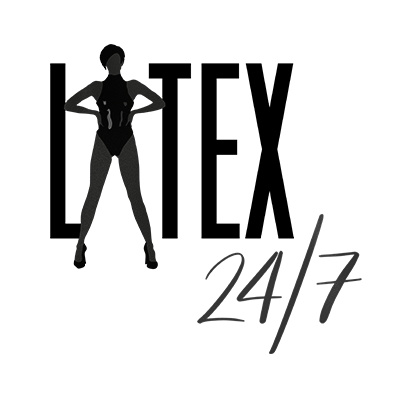 We're here, around the clock, bringing you the latest and greatest celebrity, designer, blogger, vlogger and modelling latex fashion news and reviews from around the world. If it's shiny then we'll be covering it!