One of the things we love about latex fashion here at Latex24/7 is it's unique ability to infuse the lives of anyone who wears it from any walk of life, career, gender or lifestyle. We especially love it when it empowers those who wear the material. One such model is the stunning Latex Raven Rose and we were lucky enough to recently chat to her and discuss her love of latex, what it means to her and how it makes her feel.
Q: Please provide a short overview of yourself. For example, when and how did you first get into modelling?
A: I'm just a normal girl who has a passion for latex and I love modelling it. I've only just started out really, only been modelling it for a year but I've been wearing it casually for 4 years. My boyfriend just started taking pictures of me in it out and about which is why I started my Instagram account.
Q: What is it that makes you keep coming back to modelling time and time again, often on a daily basis? Is it the people, the challenge, the sense of achievement, the positive comments?
A: Well I like how it challenges me. I suffer from social anxiety so I force myself into uncomfortable situations and then after I feel proud of myself after I have done a shoot.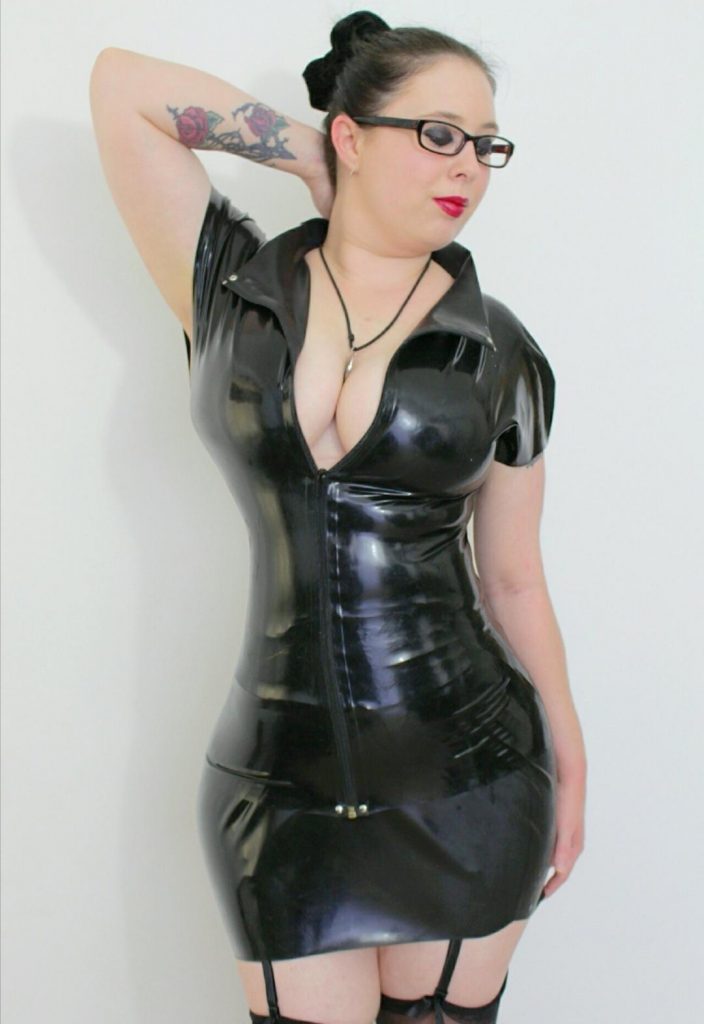 Q: Moving onto the world of latex fashion and the wonderful shiny stuff, how long have you been modelling latex outfits and adding the genre to your portfolio?
A: I've not been doing it long, only for a year.
Q: What first sparked your interest or first got you involved in latex fashion garments? How did you discover the material? Was it a personal interest or intrigue, maybe seeing celebrities wearing outfits made from latex, were you approached by a designer?
A: Well I've always liked the look of it but never had the confidence to wear it myself, but I met my boyfriend and he loves it. He brought me my first piece and it's just gone from there really. I wish I was approached by a designer lol
Q: Which latex fashion brands have you worked with or worn? What were their outfits like to model?
A: I haven't had the chance the work with any brands or designers yet but I would love to. I have items of latex from Honour Clothing, Catalyst Latex, Latex Catfish and Cathouse Clothing and I love them all. They all provide good quality latex.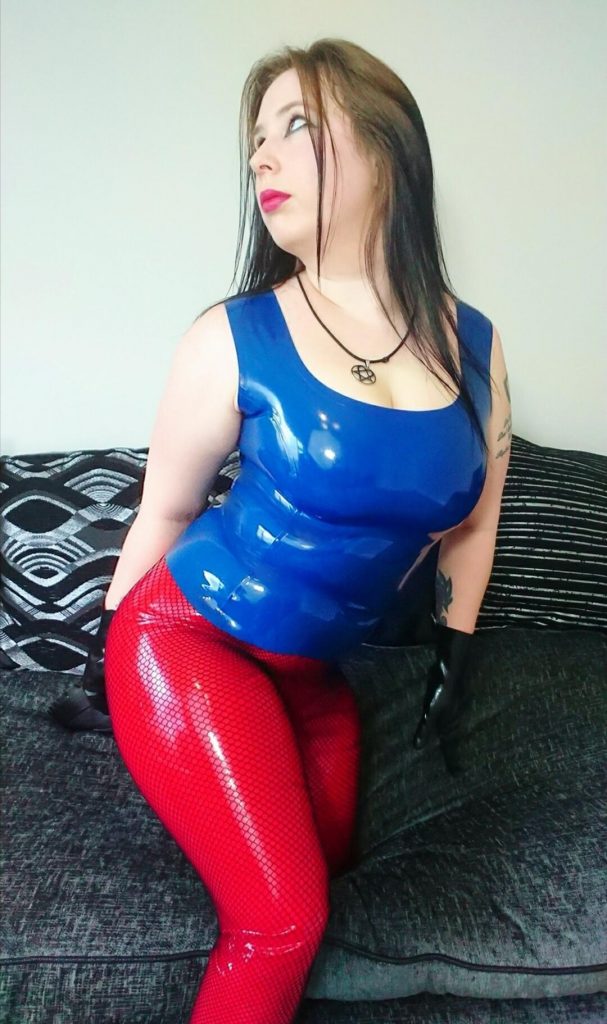 Q: There are many latex fashion designers around the world who cover a wide and varied range of latex clothing styles. Who are your favourite designers? If you could model for any designer or any style of latex clothing, what would it be?
A: Any really would be amazing really, I'd love to try more from Cathouse Clothing and Breathless have some amazing latex too.
Q: Latex is a unique material and totally different from the majority of other fabrics which are commonly used during the making of fashion garments. What was your reaction the first time you ever wore latex clothing? How does it make you feel?
A: When I first tried latex on I thought it was cold lol but after I got over that I thought it was an awesome fabric. The way it clings to your body like a second skin is amazing. It feels tight but has stretch to it. It makes me feel empowered and sexy.
Q: With the uniqueness of the material, and like any form of niche modelling, there are often increased challenges which would not be present with traditional photoshoots. What challenges does latex pose for you as a model?
A: I haven't come across any major challenges yet, it can get a bit sweaty in the summer and very cold in the winter but that's it really.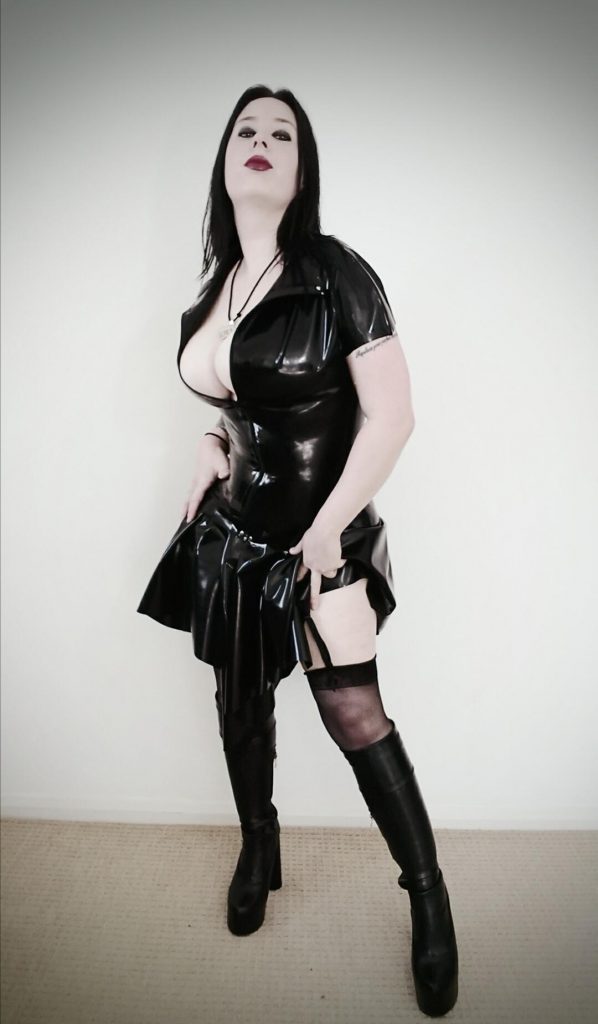 Q: What do you feel is the main appeal of latex fashion?
A: I think it's different but it's amazing that you can wear with anything and it just looks cool and edgy.
Q: Who is your biggest influence and who do you respect most in the genre of latex fashion?
A: I don't really have any influence but there are some amazing and beautiful models out there that do such great work. People like Purplemuffinz, Miss Metnal and Psylocke Model to name a few.
Q: Latex clothing means different things to different people, ranging from the empowering to the outlandish. What does latex fashion mean to you?
A: It means empowerment and freedom. People have this image of latex being a material used in fetish, and it is, but it's so much more than that. Latex is such a universal material and it's so flexible you can pair it with anything or wear it on its own
Q: What is the best reaction you have ever received whilst wearing the shiny stuff? How do those not used to latex fashion react? Is it generally positive or negative?
A: It's a mixture of both really. I've had some really positive responses when wearing it but I've also had some bad responses. It can knock your confidence but you just have to think everyone is entitled to their own opinion. I had someone come up to me whilst on a shoot and say that I looked gorgeous in the latex outfit I was wearing and she had no idea latex could look so stylish.
Q: Latex fashion has become more and more of a normality in the mainstream thanks to the music, film and celebrity industries. Do you see this trend increasing or do you think outfits made using the material will always be a niche item? Do you feel there will ever be a day when latex garments will be mainstream and can be brought "off the peg" at normal high street stores and shops?
A: Id like to think of a day where that could happen but who knows really, more and more celebrities are wearing it and that normally is how trends are started.
Q: What would you say to anyone interested in wearing the material? What would be your best piece of advice for anyone who is thinking of trying latex but hasn't done so yet?
A: I'd say just do it. Start off with something small like maybe some gloves or a skirt. It is an amazing material.
Q: What do you feel are the biggest barriers for people who haven't worn latex fashion before? What stops them from taking the plunge?
A: I think it's the reputation it has. People think it's what people wear in fetish or dominatrixes wear but that's only a small part of it.
Q: How do you feel is the best way to integrate latex into an everyday "public" outfit. How would you mix it with other materials?
A: I wear it with a cotton top, with a latex skirt or latex leggings or I've worn a latex top under a netted top.
Q: Returning to your experiences. For people new to latex clothing, or those who are about to shoot in it for the first time, what tips and suggestions would you give them?
A: Just have fun with it, don't take yourself or it too seriously. It's a gorgeous material to shoot in, the lighting can capture it in so many different ways.
Q: Are there any upcoming projects which you will be involved in, which you could give us a sneak peek of? Where should we look out for you next?
A: Not at the moment, I'm having a quiet period. But I'm always posting on my Instagram and OnlyFans page.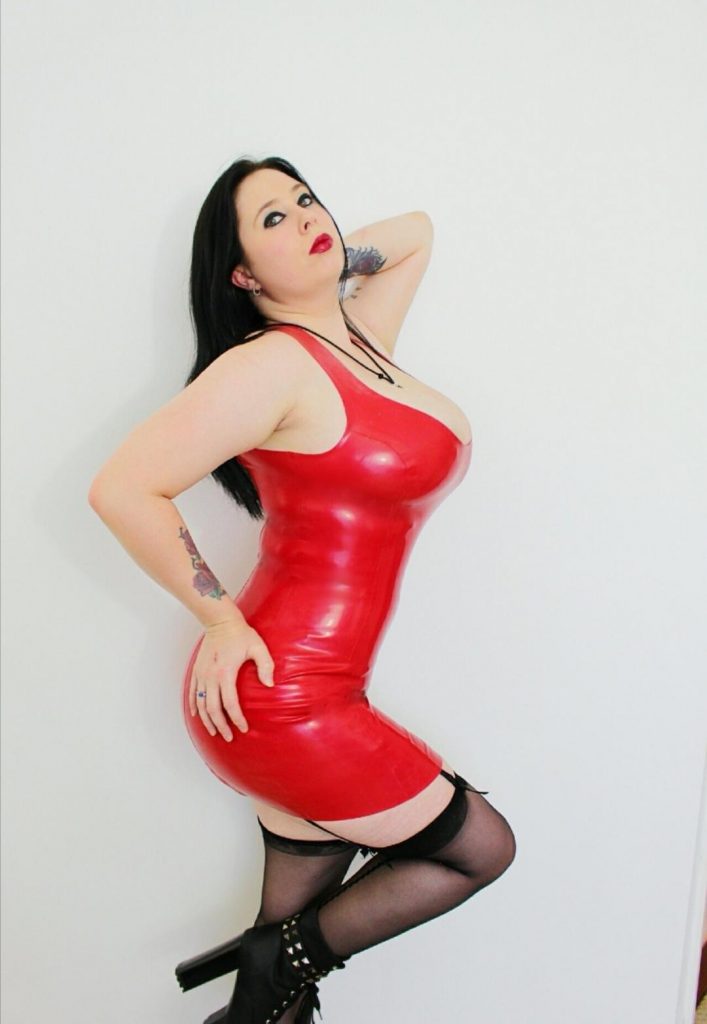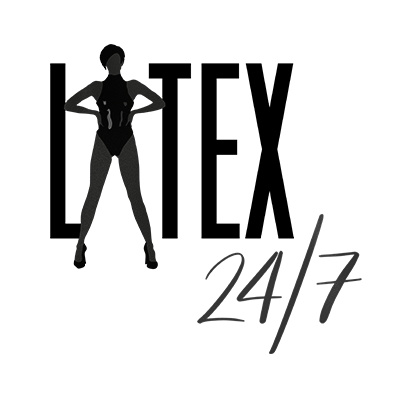 We're here, around the clock, bringing you the latest and greatest celebrity, designer, blogger, vlogger and modelling latex fashion news and reviews from around the world.  If it's shiny then we'll be covering it!