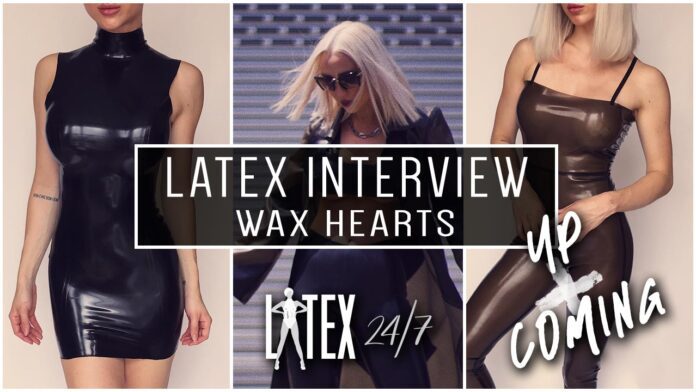 As part of our special "up + coming" series, where we focus on new, unique and exciting latex fashion designers we were recently lucky enough to get the opportunity to interview London-based Wax Hearts Latex about their love of latex, setting up a new label and their hopes for the future.
Q: Please provide a short overview of yourself and your background in fashion and clothing design. For example, do you have specific qualifications and training which assist you in your current trade?  How did you get into fashion design?
A: My name is Tannis Kennedy and I'm from Minnesota in the states. I studied fashion at the College of Design back in Minnesota and did a term here in London at London College of Fashion too. 😊 Clothing has always been a huge source of joy in my life as cheesy as that sounds. Whenever I couldn't find exactly what I was looking for in stores, I would try to make it myself. That's how I fell into my current line as well. I thought there was a space in the latex market for a brand like mine – latex that you can wear anywhere from the grocery store to the club.
Q: What was your biggest fear when going out and starting your own line?
A: For a long time, I wanted to wait until I felt 'ready'. And of course I was terrified that people wouldn't like it and no one would buy anything. But at the end of the day, I'm really making these looks for myself, because they're things I want to wear! So if someone else likes them and wants to wear them, that's just a bonus.
Q: How long have you been working with latex as a material?  When did you first realise you wanted to pursue working with it?
A: Latex is a relatively new material in my tool belt. I've always loved working with leather and PVC, and it was less than a year ago that my partner suggested that I start to work with latex. It was kind of an 'aha!' moment. It just felt right. So, I began teaching myself how to fuse and work with latex less than a year ago, and now here we are. 😊
Q: What first sparked and started your interest in making latex fashion garments?  How did you discover the material?  Was it a personal interest or intrigue, maybe seeing celebrities wearing outfits made from latex?
A: Growing up in a small town in the Midwest, I had little to no exposure to latex. It wasn't until I met my current partner and moved to London that I really dove into it. We love getting dressed up in our most ridiculous latex looks for events like Torture Garden, Klub Verboten and Inferno. I wanted to bring some of the energy that these nightlife looks gave me into the daylight.
Q: Can you describe what is involved with a typical latex garment design?  What influences your initial design choices? What process do you follow?  How long does it typically take to come up with and produce a new item?
A: My design process, for Wax Hearts latex, is very relaxed. I try not to put too much pressure on myself to churn out newness as I want to keep it fun. Basically, if I think of something I want to make, I'll sketch it out, create a pattern, and usually make the garment all in the same day. When I'm excited about something I never want to stop until it's finished.
Q: What do you enjoy most about working with latex?  What are the biggest challenges when working with the material?  What has been your greatest learning experience since designing your first piece?
A: Latex is by far my favourite material I've ever worked with. It requires a great deal of attention to detail and patience, luckily I have a lot of both. Proportions have to be spot on. You don't want one area to be loose and another to be too tight. And you also want the wearer to feel completely comfortable moving around in it. But in the end, it's just so satisfying to see the finished piece stretched tightly across a body!
Q: Latex fashion tends to be associated with young, athletic and toned people. Do you feel there are any limits to who can wear the material; big and small, young and old?
A: Absolutely not. Latex is for everyone. 😊
Q: Moving on to the customers who get to wear your awesome designs; how important is the reaction of your clients when they get to experience and try on their garment for the first time?
A: This is everything to me! I love creating these pieces knowing how sexy and confident they'll make my customers feel.
Q: What is the best reaction you have ever received from a customer?
A: Someone once said that a custom piece I made for them was, "better than anything they could buy in a store" which really made my heart melt.
Q: What reactions have you seen, and how do those not used to latex fashion, tend to react to the use of the material and seeing it for the first time? Is it generally positive or negative?
A: People's initial reactions have usually been "wow, this looks great!", often followed by, "where are people wearing this?" Which always gives me a laugh because I'm wearing these pieces EVERYWHERE.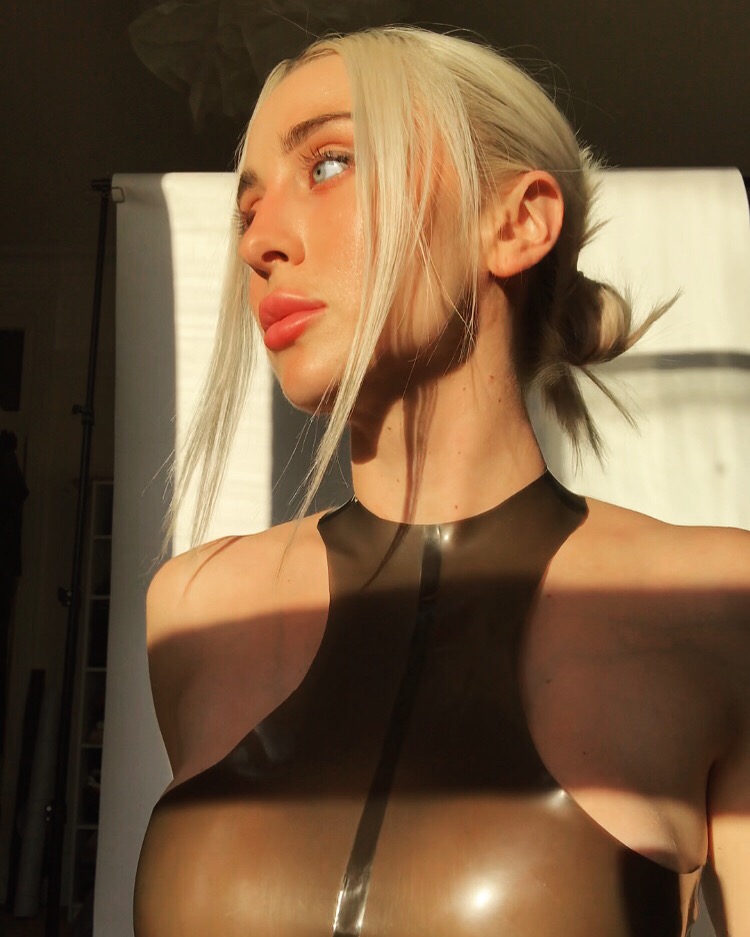 Q: Turning to the material itself, how versatile is latex and how easy is it to create the designs of your dreams?  Do you feel it is easier or more complex to do this than with traditional materials?
A: I found it so much more natural to create with latex rather than traditional mediums. It was a learning curve of course, but now that I've mastered it I feel pretty unstoppable- like there is no limit to what I could create.
Q: What do you feel is the main appeal of latex fashion?  What are your favourite elements and reasons for enjoying latex?
A: It just looks f***ing fantastic, doesn't it?
Q: Who or what are your biggest influences and who do you respect most in the genre of latex fashion?
A: Oh gosh, this list is very long! There are so many incredible latex designers out there who I look up to so much. Vex Latex, Busted Brand, Elissa Poppy, Hanger, and Dead Lotus Couture are my very favourites.
Q: Latex clothing means different things to different people, ranging from the empowering to the outlandish. What does latex fashion mean to you?
A: There is always a sense of provocativeness that comes with latex, which I really enjoy. Why wear boring clothes when you can wear latex? Even my more 'casual' designs made with latex will turn heads.
Q: Latex fashion has become more and more of a normality in mainstream thanks to the music, film and celebrity industries.  Do you see this trend increasing or do you think outfits made using the material will always be a niche item?  Do you feel there will ever be a day when latex garments will be mainstream and can be brought "off the peg" at normal high street stores and shops? If so, what items do you think would be included?
A: A part of me hopes that latex will always be a niche item because to me this makes it even more special. But honestly, I can see it becoming more and more widely accepted and I think that's great! I could see classic latex leggings and corsets becoming mass wardrobe staples.
Q: If you could create a latex outfit for anyone in the world, who would this be for and why?  Can you give a description of the outfit you would design for them?
A: Paris Hilton has been my celebrity crush for as long as I can remember. If she wore a Wax Hearts latex piece, I think my life would be complete. I'd love to make her a corseted mini skirt with a cropped blazer top. That way she could still look like the business queen she is, while keeping it sexy. I'm also obsessed with Brooke Candy's look and I think she would look incredible in every single one of my pieces. I'd love to make her something with a translucent latex so that you could still see all of her tattoos. I think I would make a pair of trousers with some cut-outs and chain details and the top could be relatively simple.
Q: What do you feel are the biggest barriers for people who haven't worn latex fashion before?  What stops them from taking the plunge and wearing it? What would you say to anyone interested in wearing the material? What would be your best piece of advice for anyone who is thinking of trying to wear latex but hasn't done so yet?
A: I think many people write it off as strictly fetish wear, but that is so limiting! I would say that if you've thought about it, just purchase something simple to start. A pair of shorts or a dress to wear around your house and admire your reflection. I promise it will make you look and feel amazing and you will be searching for excuses to wear it more and more.
Q: What tips do you have for anyone who would like to include latex fashion into their "everyday" outfits?  Is it possible to combine with other materials?
A: Absolutely! The jumpsuits I've made are so easy to throw on with a pair of boots and maybe a jacket and that's your whole outfit. I've worn latex tops out with denim for a more casual look, and I think latex leggings/trousers with knit tops are such a cute combination.
Q: Coming back to your work and output, which are the most popular items you design and sell?  Are there frequent requests for particular types of garments?
A: The Minneapolis dress has received so much love, which I was super excited about. It's a very classic design (high neck, sleeveless, mini latex dress), but it's such a fantastic cut and I use 0.6mm latex which is much thicker than most latex dresses I've bought in stores. This extra structure really adds something special and makes it hug the body perfectly.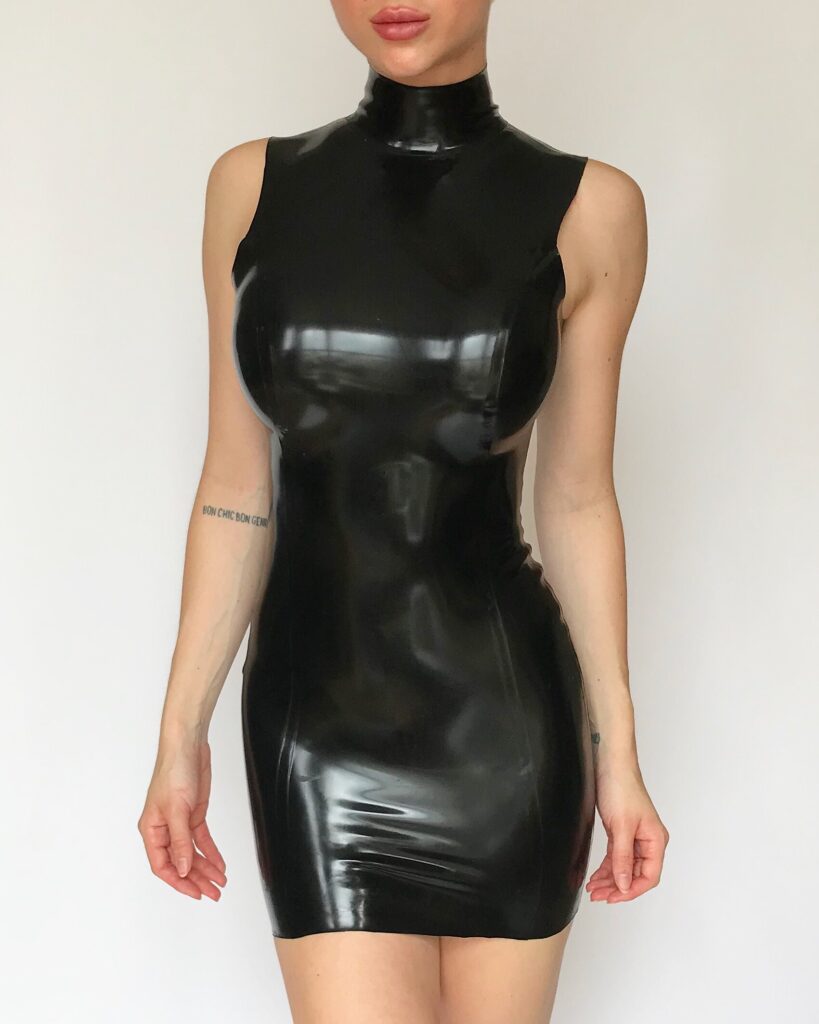 Q: Throughout a designers career there are often standout projects which the designer/team are particularly proud of. What do you feel have been the highlights of your latex producing career so far? What is your favourite item you have ever produced?
A: I've only launched a few months ago, so I'd like to think my most exciting moments are still ahead of me! But I think the minnetonka trench is my favourite item in the store. The two-toned diamond patchwork is so pretty and would look great in any wardrobe.
Q: What are your short term and long term goals for your designs, output and business as a whole?
A: Short term I'm just enjoying seeing my new brand grow. It's really exciting! Long term I would like to be able to do this full time and have my own studio/showroom. I hope to see my designs being featured in music videos and worn by celebrities (hopefully, Paris Hilton)!
Q: Now that you are about to launch your new/first collection, please tell us a little about your collection.  What design elements does it include? Where has your inspiration been drawn from?  How many pieces are in the collection?  Please feel free to provide as much information as you would like.
A: I don't really think of my designs in terms of collections. My goal is to make latex clothing that people could wear anywhere from the grocery store to club. The handful of items on my shop were the things I was most excited about creating/wearing at the time. But I already have so many new ideas in my brain that I can't wait to make. My goal is to just keep producing and releasing things as I go.
Be sure to follow Wax Hearts latex over on their Instagram profile and check out their amazing online website to view more of their stunning designs.
Don't forget we have many other latex fashion interviews now available here at Latex24/7.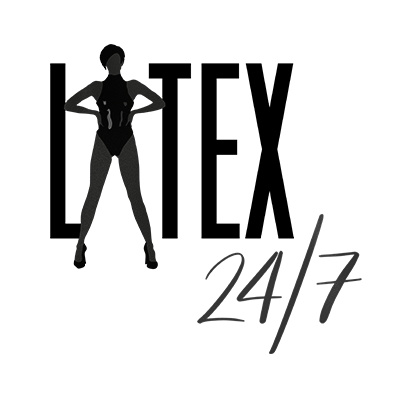 We're here, around the clock, bringing you the latest and greatest celebrity, designer, blogger, vlogger and modelling latex fashion news and reviews from around the world.  If it's shiny then we'll be covering it!