In 2020 we've been lucky enough to speak to a number of exciting and innovative "Up + Coming" latex fashion designers, including Tight Side Latex, Insatiable Lust and Wax Hearts Latex, who are looking to put their mark on the world of shiny fashion. To add to this list were we recently fortunate enough to speak to Saffron, owner and chief designer, at newly launched brand Dea Couture Latex.
Did you know, you can now keep up to date with all the latest latex fashion news from Latex24/7 via the Google News App? Just head over to our publication or search "Latex24/7" in the app on your smartphone or tablet.
Dea Couture designs luxurious made-to-order latex for women all over the world, with a strong belief that everyone deserves to feel both sexy and sexually empowered.
They only use British-made latex for their designs, and each of their pieces is hand made to order in the brand's intimate Bristol studio. Sustainability is also very important to Saffron, which is why Dea Couture Latex always uses ethically sourced natural rubber.
Latex24/7: Firstly, thank you for taking the time to sit down and speak with us.
Q: Please provide a short overview of yourself and your background in fashion and clothing design. For example, do you have specific qualifications and training which assist you in your current trade? How did you get into fashion design?
A: It was totally random really. I did computing at university but I wasn't satisfied doing this. Like many people in their early twenties, I was so under pressure to pick a career… after a few other ventures, I turned to fashion. In particular latex fashion. From my first ever outfit I made I knew I had finally found my passion and have not looked back.
Q: What skills do you think are important for any fashion designer to hold?
A: Attention to detail for sure. It's noticing the little things.
Q: What was your biggest fear when going out and starting your own line?
A: Failure! So much time effort and investment went into launching Dea Couture. It was scary to think it could flop.
Q: How long have you been working with latex as a material? When did you first realise you wanted to pursue working with it?
A: My working with cloth was very short-lived. As soon as I started working with latex I stuck with it. I find it much more enjoyable.
Q: What first sparked and started your interest in making latex fashion garments? How did you discover the material? Was it a personal interest or intrigue, maybe seeing celebrities wearing outfits made from latex?
A: Personal interest. I'm not sure why I didn't think to start making my own latex clothing sooner, to be honest.
Q: Can you describe what is involved with a typical latex garment design? What influences your initial design choices? What process do you follow? How long does it typically take to come up with and produce a new item?
A: Every design is different. I don't have a regimented process as such. I get inspiration from all kinds of things.
Q: What do you enjoy most about working with latex? What are the biggest challenges when working with the material? What has been your greatest learning experience since designing your first piece?
A: TRYING ON MY SAMPLES! After thinking of a new design I always test the pattern on myself. I absolutely love trying them on. Not really sure if I can think of the biggest challenge… obviously latex is a very unique material so comes with a few challenges but nothing they can't be overcome by practice.
Q: Latex fashion tends to be associated with young, athletic and toned people. Do you feel there are any limits to who can wear the material; big and small, young and old?
A: Absolutely not. Inclusivity and body positivity are at the heart of our business. We specifically create latex styles that are made to measure, so all body shapes and sizes can enjoy our designs. No genders are excluded and no sexualities are ever denied here at Dea Couture. For my next collection, I'm on the hunt for more diverse models to dispel this myth.
Q: Moving on to the customers who get to wear your awesome designs; how important is the reaction of your clients when they get to experience and try on their garment for the first time?
A: Well, very important of course. Our mission is to remove the stigma around latex. It's not just for kinksters anymore, it's for anyone who wants to reconnect with their body and their sensuality.
Q: What is the best reaction you have ever received from a customer?
A: It can sometimes be difficult being an online retailer as it's more difficult to see people's reactions. I have had some great reactions when doing personal fittings though. It's nice seeing somebody's face light up because they feel good about the way they look. I always love to see images of people wearing my designs on social media, it makes it all worth it.
Q: What reactions have you seen, and how do those not used to latex fashion, tend to react to the use of the material and seeing it for the first time? Is it generally positive or negative?
A: Most people find if kinky or exciting.
Q: Turning to the material itself, how versatile is latex and how easy is it to create the designs of your dreams? Do you feel it is easier or more complex to do this than with traditional materials?
A: It difficult to compare latex with traditional materials, and I moved from making everyday garments very quickly. I've never made anything complex with fabric.
Q: What do you feel is the main appeal of latex fashion? What are your favourite elements and reasons for enjoying latex?
A: I can't answer for anyone but myself, I like latex because of the way it feels and moulds to your body. It is so flattering. I love the smell, the feel and the look.
Q: Who or what are your biggest influences and who do you respect most in the genre of latex fashion?
A: I don't know any of these designers personally so I think to say I respect them would be a little disingenuous of me. I do really love the work of Lady Lucie, Atsuko Kudo and William Wilde.
Q: Latex clothing means different things to different people, ranging from the empowering to the outlandish. What does latex fashion mean to you?
A: To be honest I just think it's fashion. It's versatile. Anyone can wear it.
Q: Latex fashion has become more and more of a normality in mainstream thanks to the music, film and celebrity industries. Do you see this trend increasing or do you think outfits made using the material will always be a niche item? Do you feel there will ever be a day when latex garments will be mainstream and can be brought "off the peg" at normal high street stores and shops? If so, what items do you think would be included?
A: This has already happened. House of Celeb Boutique, for example, along with YSL and Balmain. All using latex in their collections. They are luxury brands so it's sustainable but for cheaper brands doing this, I'm really not sure how they can sustain selling latex for such a low price.
Q: How do you see the world of latex fashion changing over the next 5-10 years?
A: Probably it will go really mainstream then, like most fads, it'll die a death. The price will get more competitive, then I think high street brands who are selling latex far too cheap will realise how unsustainable it is and stop.
Q: If you could create a latex outfit for anyone in the world, who would this be for and why? Can you give a description of the outfit you would design for them?
A: Christine Quinn!!! – something that would look amazing with her incredible shoe collection.
Q: What do you feel are the biggest barriers for people who haven't worn latex fashion before? What stops them from taking the plunge and wearing it? What would you say to anyone interested in wearing the material? What would be your best piece of advice for anyone who is thinking of trying to wear latex but hasn't done so yet?
A: The biggest objection I seem to get is people thinking they need to lose weight before buying an outfit. I think there is no need for this but respect people's goals.
Q: Why did you start your brand, Dea Couture Latex?
A: I started Dea Couture because I love latex – the way it looks, feels and smells. I also wanted to show people that anyone can wear latex and feel good. Stop waiting to lose weight or get those abs, latex looks good on EVERYBODY. My main aim in life is to make people feel great about themselves in latex. That's why I created a made to measure brand, so every customer could get their perfect fit.
To keep up to date with all the latest happenings and new releases from Dea Couture Latex, be sure to check back frequently. And don't forget to follow them over on
Facebook and Instagram.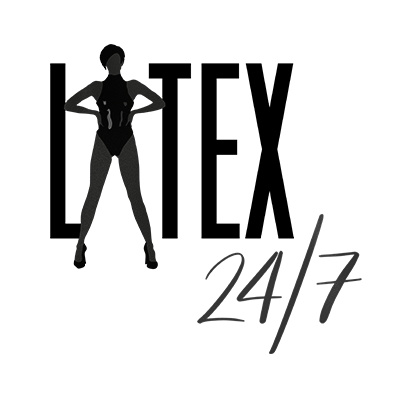 We're here, around the clock, bringing you the latest and greatest celebrity, designer, blogger, vlogger and modelling latex fashion news and reviews from around the world.  If it's shiny then we'll be covering it!